PSC Professor Participates in EDI Office's Efforts to Boost UMB Faculty Diversity, Development
Championing equity, diversity, and inclusion in faculty recruitment, retention, and promotion is a key part of the office's mission.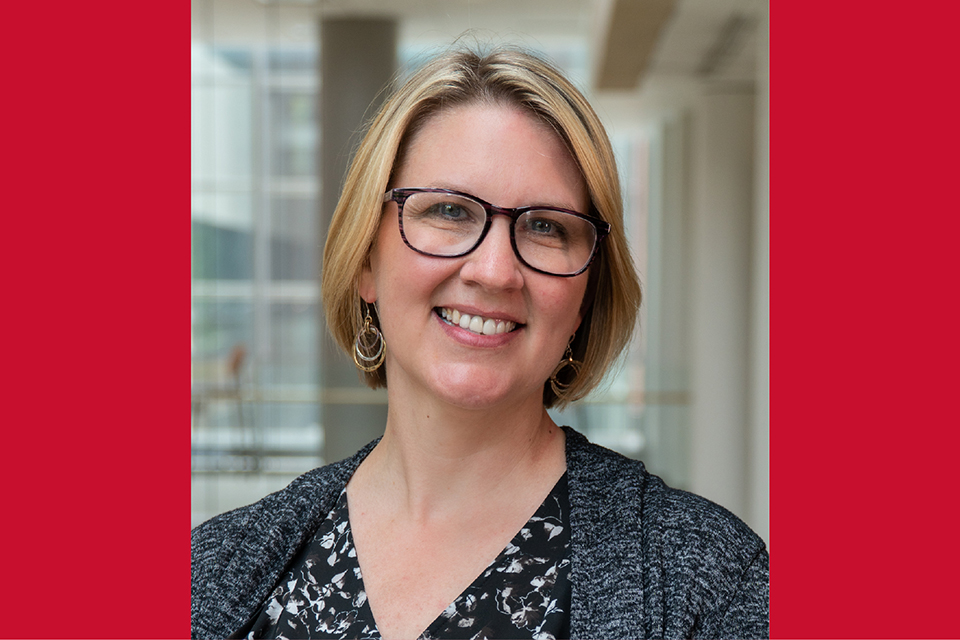 By Lou Cortina
July 8, 2022
The University of Maryland, Baltimore's (UMB) Office of Equity, Diversity, and Inclusion (EDI) is dedicated to providing leadership, building capacity, and cultivating collective action to advance sustainable, systemic change that promotes equity and justice at UMB. A key part of that mission is championing the advancement of faculty diversity and development.
"Diverse faculty development and success are critical to advancing equity, diversity, and inclusion at UMB," said Diane Forbes Berthoud, PhD, MA, the University's chief EDI officer and vice president. "It's also critical to enhancing the student experience as well as the teaching, learning, and research experience on campus. We are doing as much as we can to improve the experience of our underrepresented faculty members — to equip them and provide opportunities for growth and development that help to advance UMB's overall goals, as well."
Promoting greater diversity and development among UMB faculty also aligns with two themes from UMB's 2022-2026 Strategic Plan: University Culture, Engagement, and Belonging (Theme 3), and Student Growth and Success (Theme 2). The EDI office will soon lead the University in a process to formulate UMB's first-ever Diversity Strategic Plan, Forbes Berthoud says.
"An EDI strategic planning committee will be formed in the fall that will include areas related to faculty development as it relates to equity, diversity, and inclusion," said Forbes Berthoud, who joined UMB in July 2021. "In addition, a Faculty of Color Network is being formed and will be launched in the fall. We anticipate having special speaker events and new faculty receptions for various affinity groups so they can feel welcome and appreciated."
Assessing diverse faculty hiring, development, promotion, and retention also will be one part of an overarching institutional dashboard being developed to track key metrics related to EDI at UMB, says Forbes Berthoud. She says that a dashboard demonstration has been reviewed by University deans, vice presidents, academic leaders, and others in the UMB community. It will be launched this fall, as well.
"This dashboard will help us to understand representation and faculty experience, so we'll know where the areas of focus and priorities need to be," said Forbes Berthoud, who saw a need to champion faculty diversity from a Universitywide perspective when she arrived last year.
"There is a lot of great work happening in the schools on this topic, but there is a greater need for cohesion and collaboration at the University level," she said. "There is also a greater need for women and faculty of color to be more involved in not only University life, but also in understanding more about the requirements of their roles in terms of promotion, tenure, and grant writing."
Among the first steps on this path, Forbes Berthoud worked with school deans to sponsor and encourage faculty members to take part in the National Center for Faculty Development and Diversity's (NCFDD) Faculty Success Program (FSP) this past spring.
"In some STEM and social sciences fields, women and people of color are underrepresented in their fields at mid- to senior-levels," Forbes Berthoud said. "This program is designed to support and promote diverse faculty development, retention, and advancement. The feedback we've received from UMB faculty who've participated is extremely positive."
Delivered online over a 12-week period, the spring 2022 FSP program was designed to help participants achieve academic success and better work-life balance. It offered one-on-one coaching sessions; access to weekly training modules to learn skills, strategies, and practices to help participants align their time and spark productivity; and accountability calls to discuss goals and progress toward achieving them.
According to the NCFDD website, a survey of the spring 2022 cohort found that 95 percent experienced improved writing productivity, 96 percent were satisfied overall, and 89 percent reported achieving better work-life balance. Six faculty members representing five UMB schools participated, and they were duly impressed.
David Benavides, MD, PhD, assistant professor in the Department of Neurology at the University of Maryland School of Medicine, and Amanda Oglesby, PhD, associate professor in the Department of Pharmaceutical Sciences at the University of Maryland School of Pharmacy, both described the experience as "transformative."
"The highlight of FSP was the opportunity to connect with other faculty in small groups," Benavides said. "This enhanced the skills-building curriculum, and I'm grateful to have made deep and meaningful connections with these faculty. We shared experiences and offered support across many domains relevant to diverse faculty.
"I was honored to be nominated and selected for the program, and I highly encourage UMB faculty to take advantage of resources available from NCFDD, including the Faculty Success Program. These types of programs complement programming available on campus for professional development and skills-building."
Said Oglesby: "I've participated in targeted skills-building seminars and workshops, particularly involving grant writing. Those were great, but absolutely nothing like this. FSP provided an integrated approach to think about my career as well as my personal life, develop concrete goals for each, and work through strategies to meet those goals.
"FSP provides a safe space to explore challenges that are unique to each individual. This is invaluable for historically underrepresented groups, who have many additional hurdles compared to those in the majority."
Yolanda Ogbolu, PhD, CRNP, FNAP, FAAN, associate professor and chair of the Department of Partnerships, Professional Education, and Practice at the University of Maryland School of Nursing (UMSON), appreciates that the program expanded upon UMSON's commitment to diverse faculty development.
"Since I arrived at the School of Nursing in 2010, the number of diverse faculty joining our faculty has increased and most diverse faculty have been retained, in part due to the dean's commitment to faculty development and creating an environment that is welcoming and inclusive," she said. "My participation has been one strategy in a larger toolkit to ensuring the success of diverse faculty. FSP is an excellent program, and I would highly recommend participation of faculty at all levels of their career."
Related News Stories