CERSI Conference Spotlights New Applications for Top-Down Mass Spectrometry
Researchers from academia, government, and industry examine benefits and new methods associated with emerging technology.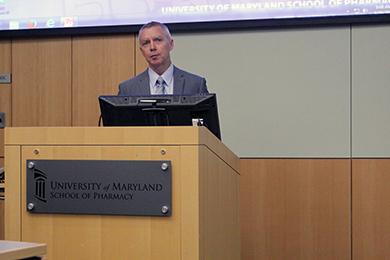 By Malissa Carroll
June 30, 2014
On June 20, the University of Maryland School of Pharmacy welcomed researchers from academia, government, and industry to "Top-Down Analysis of Antibodies," a conference sponsored by the University of Maryland Center of Excellence in Regulatory Science and Innovation (M-CERSI) and the Food and Drug Administration (FDA), in collaboration with the Waters Corporation. Organized by Young Ah Goo, PhD, research assistant professor in the Department of Pharmaceutical Sciences (PSC) and associate director of the School's Mass Spectrometry Center, and David Goodlett, PhD, the Issac E. Emerson Chair in PSC and director of the Mass Spectrometry Center, this conference spotlighted the use of top-down mass spectrometry to analyze antibodies for the development of new, targeted therapeutics.
"The Mass Spectrometry Center at the School of Pharmacy strives to accelerate discovery by providing investigators with access to cutting-edge technologies in mass spectrometry," said Goodlett in his welcoming remarks to conference attendees. "New grants and a recent partnership with the University's Center for Vaccine Development have offered us the opportunity to begin characterizing antibodies using mass spectrometry, and top-down proteomics is an emerging field that we have only just begun to explore. The insights shared by today's presenters will be invaluable in helping all of us expand our knowledge in this area and continue advancing drug discovery and development around the world."
Top-down proteomics allows researchers to analyze intact proteins in close to native form using a mass spectrometer. Researchers can access the complete amino acid sequence from which the protein is formed, as well as locate and characterize post-translational modifications within the protein. Identifying and understanding these proteoforms and post-translational modifications is crucial to helping researchers develop new drugs to treat a wide range of illnesses.
John Schiel, PhD, research chemist in the biomolecular measurement division at the National Institute of Standards and Technology (NIST), kicked-off the conference with a presentation highlighting his organization's effort to develop a universal reference standard that researchers in government, academia, and industry could use to assess monoclonal antibodies (mAb) – a relatively new class of targeted drug therapies used to treat cancer.
"Our goal is to work with scientists from across the country to facilitate new technological developments using reference standards as a primary mode of action," said Schiel. "Making available a standard mAb molecule to which all researchers have access is a great way for us to assist in the adoption of new technology and better understand the advantages associated with that technology. It is my hope that the members of today's audience will use this molecule in your own work and continue building upon our data to move biopharmaceutical development forward."
Michael Boyne, PhD, research chemist in the Division of Pharmaceutical Analysis at the FDA, followed Schiel's presentation with an assessment of current top-down approaches in mass spectrometry to identify and characterize active pharmaceutical ingredients, perform chemical comparability or similarity assessments, conduct surveillance, and assist with process development. He noted that it is the research being conducted in academic laboratories across the country — including those at the School of Pharmacy — that is driving this technology forward. "We want to bring the new technologies that your laboratories are developing into the FDA, where we can evaluate them for their utility in enhancing the regulatory process or responding to public health emergencies," he said.
Antibody-drug conjugates — a new class of highly potent biopharmaceutical drugs used to treat patients with cancer — were spotlighted in the lecture delivered by Shawna Hengel, PhD, scientist at Seattle Genetics. She provided an overview of the conjugation process and discussed the wide range of mass spectrometry platforms currently used to analyze these molecules, explaining how the top-down approach, which is currently in the exploratory phase at her organization, could improve researchers' efficiency.
"Mass spectrometry is an essential tool for all aspects of our analyses," said Hengel. "The molecules analyzed in our laboratories are very complex, which requires our researchers to perform a lot of multi-tiered characterizations — all of which use mass spectrometry. Our goal is to use this tool more efficiently to develop a drug with higher efficacy and greater specificity, ultimately leading to fewer adverse effects for patients."
Yury Tsybin, PhD, assistant professor of physical and bioanalytical chemistry and director of the Mass Spectrometry Service Facility at École Polytechnique Fédérale de Lausanne in Switzerland, and Christoph Borchers, PhD, chief scientific officer for MRM Proteomics, Inc., and professor and director of the Genome British Columbia Proteomics Centre at the University of Victoria in Canada, offered additional insights on the use of top-down mass spectrometry to perform structural analysis and characterization of proteins.
"The top-down approach to mass spectrometry is applicable to a wide range of analyses," said Tsybin. "I continue to be amazed by the level of information that we are able to access using this approach."
Shifting the focus of the conference, Michael Gross, PhD, professor of chemistry, immunology, and internal medicine at the Washington University School of Medicine, highlighted how protein footprinting can be used to solve problems in the field of biophysics. "In our lab, we employ the same mass spectrometry-based tools used to answer standard questions of proteomics, including protein sequence, post-translational modifications, and biomarkers, to acquire new knowledge about the biophysics of the protein," he said.
Protein footprinting is a type of biochemical analysis that uses mass spectrometry to investigate protein structure, assembly, and interactions with larger molecules. Gross spoke about current projects in his lab that employ this technique and provided details about the two methods used by his team to conduct this analysis.
"We're currently working to implement a new method to perform protein footprinting that would allow us to conduct this analysis one step, instead of using the standard differential method that requires us to complete a heavy and light labeling of the protein," added Gross. "Is this original? No, it is a very well developed method within proteomics. However, I believe it will become a very important strategy in this field, too."
Jenny Brodbelt, PhD, the William H. Wade Endowed Professor and Chair of the Department of Chemistry at the University of Texas at Austin, brought the conversation back to top-down proteomics as she described the development of UV photodissociation (UVPD) for the analysis of biological molecules. She highlighted the need for fast, efficient, and robust ion activation methods and development of UVPD for studying intact proteins to achieve deeper fragmentation and, as a result, high sequence coverage.
To conclude the conference, Vicki Winsock, PhD, an Ohio Eminent Scholar, professor in the Department of Chemistry and Biochemistry at Ohio State University, and director of the University's Chemical Instrument Center, provided an overview of surface-induced dissociation (SID) and ion mobility, which can be used to characterize non-covalent complexes. She described how single-step SID activation can provide researchers with more access to different dissociation pathways, allowing them to avoid multiple sample preparation processes.
Top-Down Analysis of Antibodies followed the American Society for Mass Spectrometry's annual conference in Baltimore, which was held June 15-19. In addition to informative lectures, conference attendees were treated to a tour of the School's Mass Spectrometry Center, which currently houses 15 state-of-the-art mass spectrometers. At the conclusion of the conference, attendees were invited to participate in a joint EU-US MSLife meeting, which focused on the integration of mass spectrometry tools with applications in life sciences.
Related News Stories