Prestigious Award Honors UM Pharmacist's Innovative Research
The Brain & Behavior Research Foundation recognizes Dr. Deanna Kelly with its 2017 Maltz Prize for Outstanding Achievement in Schizophrenia Research.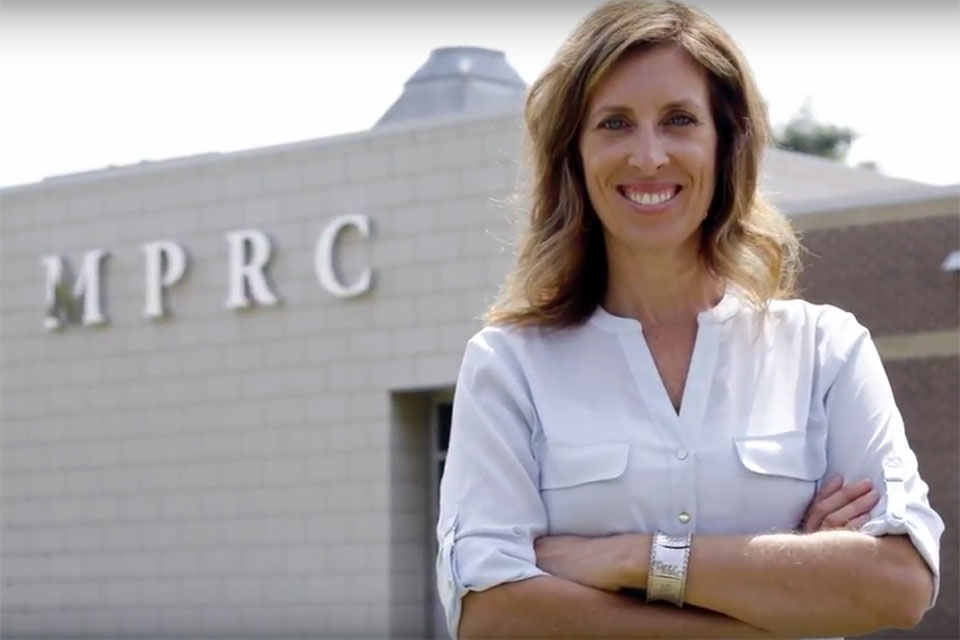 By Malissa Carroll
December 11, 2017
Deanna L. Kelly, PharmD, BCPP, affiliate professor in the Department of Pharmacy Practice and Science (PPS) at the University of Maryland School of Pharmacy, has been named the 2017 recipient of the Maltz Prize for Innovative & Promising Schizophrenia Research by the Brain & Behavior Research Foundation. Established in 2005, the Maltz Prize provides $40,000 to an investigator who has undertaken innovative and promising research in schizophrenia. It is one of the most prestigious awards presented to researchers in the field of psychiatric disorders.
Kelly is the first pharmacist to be recognized by the Brain & Behavior Research Foundation for advancements in the field of schizophrenia research.
"Dr. Kelly is a tremendously talented researcher whose work has significantly informed our understanding of both pharmacologic and non-pharmacologic treatments for schizophrenia," says Jill A. Morgan, PharmD, BCPS, BCPPS, associate professor and chair of PPS. "We are fortunate to have her as a member of our faculty and congratulate her on this extraordinary achievement."
Kelly received her Doctor of Pharmacy (PharmD) from Duquesne University School of Pharmacy and completed her residency in psychiatric pharmacy at the University of Maryland School of Pharmacy under the mentorship of Raymond C. Love, PharmD, BCPP, FASHP, professor and vice chair for collaborative initiatives in PPS and director of the Mental Health Program at the School. A psychopharmacology researcher with more than 20 years in the field, Kelly has led numerous clinical trials aimed at advancing treatments for individuals diagnosed with schizophrenia and received continuous funding from the National Institutes of Health for the past 15 years.
She currently serves as a research mentor for the PGY-2 Psychiatric Pharmacy Residency Program at the School.
"Faculty and staff across the Mental Health Program were thrilled to learn about this well-deserved recognition for Dr. Kelly," says Love. "As a resident in our psychiatric pharmacy residency program, Dr. Kelly proved herself to be not only an adept learner, but also a promising researcher. We are grateful that she has continued her association with our School as a colleague, friend, and generous collaborator on many joint projects, and we offer her our heartfelt congratulations on this incredible accomplishment."
Through her joint appointment with the University of Maryland School of Medicine as professor of psychiatry, Kelly directs the Treatment Research Program at the Maryland Psychiatric Research Center, where her research focuses on personalizing clinical trials to treat subgroups of people who may most benefit from certain treatments. One of her current studies includes a large, multinational clinical trial that aims to examine the efficacy of clozapine in the treatment of patients with schizophrenia of African descent who may have a genetic predisposition to certain side effects. She also recently concluded a collaborative study with researchers from Johns Hopkins University and Harvard University that examined a subgroup of patients with schizophrenia who exhibited a high degree of inflammation and unique immune response to gliadin – a protein found in wheat and other foods – to determine whether inflammation and psychiatric symptoms can improve when gluten is removed from the diet.
Kelly has authored and co-authored 16 books and book chapters, published 169 peer-reviewed articles, presented more than 140 posters, and delivered more than 135 invited lectures. She is vice chair of the Maryland Department of Health Institutional Review Board and current president of the College of Psychiatric & Neurologic Pharmacists.
"I am incredibly honored and humbled to have been named this year's recipient of the Maltz Prize for Innovative & Promising Schizophrenia Research," says Kelly. "Although we as researchers know that we cannot treat all patients the same, we also understand that we can make many different discoveries – all of which are incredibly important – but, unless we are able to experiment with them in the clinical trial design, we are never going to be able to translate those discoveries into treatments for our patients who are in need. This award represents a truly amazing opportunity for my team and reinforces our belief that the focus of our research matters."
Kelly received her award at the Brain & Behavior Research Foundation's International Awards Dinner and 30th Anniversary Celebration in October.
Video courtesy of the Brain & Behavior Research Foundation.
Related News Stories