PHSR Professor and Chair Retires From School of Pharmacy
Colleagues, family, and friends gather in Pharmacy Hall to celebrate Dr. Ilene Zuckerman's 30 years of service to the School.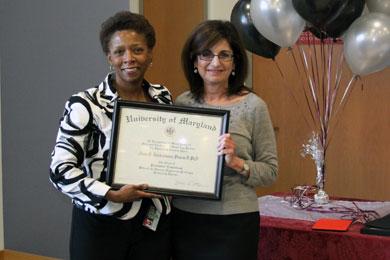 By Malissa Carroll
January 8, 2014
Colleague, teacher, mentor, and friend – these are just some of the words that describe Ilene Zuckerman, PharmD, PhD, professor and former chair of the Department of Pharmaceutical Health Services Research (PHSR), who retired from the University of Maryland School of Pharmacy at the end of December after 30 years of service.
"Dr. Zuckerman has been a trusted advisor in my role as dean, and I will miss her input and expertise," says Natalie D. Eddington, PhD, FCP, FAAPS, dean and professor of the School of Pharmacy. "Her reputation as a pharmacist-scholar, educator, and mentor has helped to bolster the reputation of PHSR, its graduate program, and the School. The teaching, research, and service initiatives to which she has contributed also reflect her sincere commitment to the School, interprofessional collaborations, new knowledge, and the future of the pharmacy profession. She is leaving a strong foundation that will serve the department and the School for many years."
A graduate of the School of Pharmacy, Zuckerman became a member of its faculty in 1983. She has spent her entire career at the School, rising to the rank of professor and previously serving as associate dean for research and graduate education and as chair of PHSR for more than five years.
"Quite frankly, Ilene is brilliant," says Robert (Buzz) Kerr, PharmD, professor emeritus at the School of Pharmacy, one of Zuckerman's professors, and the person who first hired her to work at the School. "It is always great to watch your students go on to do amazing work in their careers, and Ilene is one of those people who is doing great work, and will continue to do great work. That's who she is, and I could not be more proud of her."
Magaly Rodriguez de Bittner, PharmD, BCPS, CDE, FAPhA, professor and chair of the Department of Pharmacy Practice and Science (PPS) at the School, was one of Zuckerman's classmates in the School's post-baccalaureate Doctor of Pharmacy (PharmD) program in 1983. "Ilene was always very kind to me, introducing me to Baltimore and the local culture after I moved to the United States from Puerto Rico. More recently, we shared experiences as faculty members and chairs of our respective departments. I will miss my colleague very much," she says.
Zuckerman also mentored numerous graduate and pharmacy students, post-doctoral fellows, and junior faculty, who have gone on to successful careers in academia, industry, and government. She launched and managed Pharmaceutical Research Computing (PRC), a center within PHSR that provides computer programming, data management and analytic support for health services researchers.
"Dr. Zuckerman is more than an academic advisor," says Sarah Dutcher, a fifth-year student in the PHSR Graduate Program. "She is a mentor, both professionally and personally, who has helped me navigate the perils of being a graduate student while seamlessly balancing her work as a researcher with her personal life, understanding that a well-rounded researcher has a life, albeit small, outside of work. With her retirement, the department is losing a talented researcher and students are losing an inspiring mentor."
On Dec. 12, her family and friends joined faculty, staff, and students at the School of Pharmacy to celebrate her remarkable career.
"We are here to honor Ilene and her contributions to PHSR, the School of Pharmacy, and the University," said Linda Simoni-Wastila, BSPharm, MSPH, PhD, professor and vice chair of research for PHSR, and one of Zuckerman's close friends. "And, we are here because we have spent a lot of time with her and cannot imagine this place without her. We have watched Ilene teach, mentor, and lead with a spirit of compassion and with a desire to make a difference, and we know the difference that she has made in our lives and the passion that she has brought to the School. For this, I respect her and always will."
In addition to receiving gifts from her students, Zuckerman was presented with an official citation from Maryland Governor Martin O'Malley that commemorated her retirement. She was also named professor emerita in PHSR.
"Most of us tend to think about our careers in terms of achievements, but the problem is that we tend to focus on the outcome rather than on the effort or joy of the activity itself," said Zuckerman. "However, my time at the School of Pharmacy was not just focused on getting work done or what could be achieved. I was really privileged to have some accomplishments, but it was really a joy to work at the School. I feel fortunate to have learned so much here, and to have been surrounded by such splendid colleagues. I will truly miss working here."
To honor her retirement, Zuckerman has asked that friends and colleagues consider making a gift to the Harris Zuckerman Scholarship Fund Endowment, a scholarship that she created in honor of her parents to help support students who want to pursue both PharmD and Doctor of Philosophy (PhD) degrees.
For more information about how you can support Zuckerman's scholarship fund, please contact the Office of Development and Alumni Affairs at the School of Pharmacy.
Related News Stories