PHSR Graduate Students Recognized at Awards Ceremony
Donors support students through scholarships and fellowships.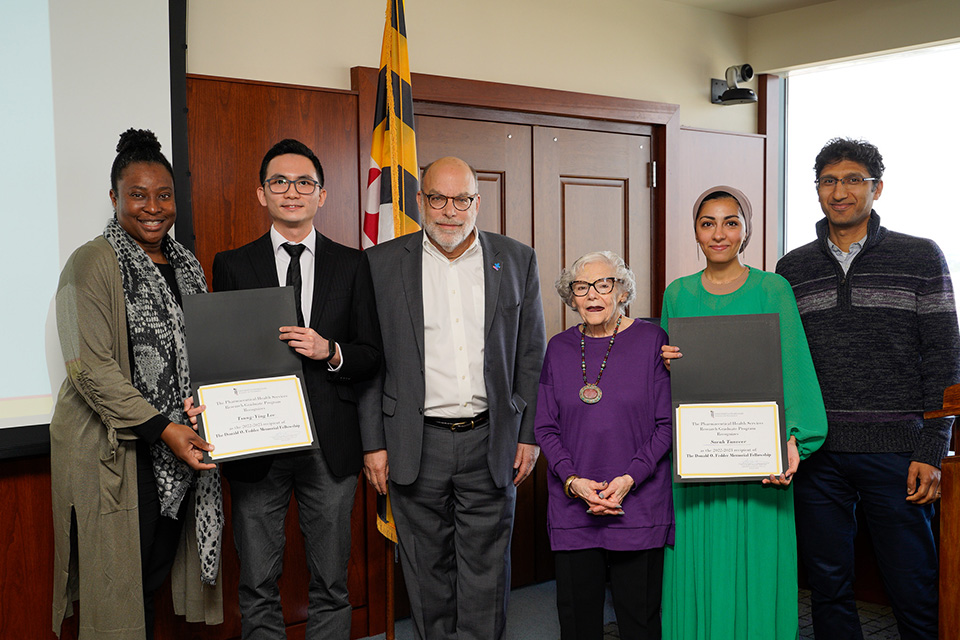 By Andrew Tie
May 5, 2023
The Pharmaceutical Health Services Research (PHSR) graduate program at the University of Maryland School of Pharmacy (UMSOP) celebrated students during its annual Graduate Program Awards Presentation on April 26.
"It is important to celebrate the wonderful work that our students are doing," said Jill Morgan, PharmD, BCPS, BCPPS, FNAP, chair and professor of the Department of Practice, Sciences, and Health Outcomes Research (P-SHOR), where the PHSR program is housed.
The graduate program honored winners of several awards, including the Donald O. Fedder Memorial Fellowship, Harris Zuckerman Scholarship Award, Arthur Schwartz Memorial Scholarship, and the Pharmaceutical Health Services Research Student Travel Scholarship. Students gave presentations to their peers and faculty about their academic pursuits and their personal journeys that led them to graduate training in PHSR.
"It was truly a challenge to select award recipients from nominations reflecting the truly exemplary PHSR graduate student community," said Danya Qato, PhD, PharmD, MPH, associate professor of P-SHOR and graduate program director of PHSR. "We are so pleased to recognize our graduate students for their passion, scholarship, and dedication to the program and to improving health and health equity broadly. We are also thankful for the ongoing support we've received from our generous donors and alumni to ensure we can continue attracting and supporting stellar students."
Donald O. Fedder Memorial Fellowship
Recipients: Tsung-Ying Lee, MS, and Sarah Tanveer, MS (pictured in the featured image at the top)
Established by Michaeline Fedder in honor of her husband Donald O. Fedder, DrPH, MPH, BSP, FAPhA, a public health pharmacist and long-time faculty member at the School of Pharmacy who passed away in 2010, the Donald O. Fedder Memorial Fellowship supports the training and development of a graduate student whose work focuses on social justice, pharmacy advocacy, or public health. Michaeline Fedder attended the ceremony, as did Donald's son, Dr. Ira Fedder, who has also contributed to the fund.
"I'm extremely grateful for this award," said Tsung-Ying Lee. "We collaborate a lot in this program, so I appreciated the opportunity to let my colleagues get to know me better and share my passion for PHSR, why I am here, and what I'm pursuing with my colleagues."
"To be recognized for my work in public health and advocacy was really an honor and unexpected," said Tanveer. "I am also grateful for the funders being here and hearing their kind feedback."
Harris Zuckerman Scholarship

Recipient: Haeyoung Lee, PharmD, MS
The Harris Zuckerman Scholarship Award was endowed by Ilene Harris, PharmD '83, PhD, professor emeritus at UMSOP, to assist students interested in jointly pursuing Doctor of Pharmacy (PharmD) and PhD degrees. Named in honor of her parents – Daniel Harris, MD, and Ann Harris – the scholarship provides support for the training, development, and advancement of graduate students in the PhD in PHSR program at the School.
"This achievement is a high point in my PhD journey thus far," said Haeyoung Lee. "My presentation was a helpful opportunity to reflect on how far I've come in my PhD path and pursuing the goals I have in this field."
Arthur Schwartz Memorial Scholarship Award

Recipient: Bernard Bright Davies-Teye, MD, MPH
As the first student admitted to the PhD in PHSR program, Arthur (Artie) Schwartz demonstrated great interest in drug use and pharmaceutical marketing issues. Following his death at an early age, his wife Karen Schwartz established the Arthur Schwartz Memorial Scholarship to provide funding for future students in the program based on academic standing and financial need.
"The honor is really amazing, and I appreciate the opportunity," said Davies-Teye. "I see it as a big responsibility because the previous winners have moved on to do great things in the field."
Scholarships to Support Conference Travel

Spearheaded by C. Daniel Mullins, PhD, professor of P-SHOR, the PHSR Student Travel Scholarship was established with generous financial support from PHSR staff, faculty, students, and alumni. Its funds can be used to pay for travel expenses related to attendance and participation in professional conferences for any student enrolled in courses taught by faculty in the program. Recipients of the award are planning to attend various conferences around the world in the upcoming year.
Pharmaceutical Health Services Research Student Travel Scholarship recipients: Uzma Pathan, MPharm, MS; Chia-Yun Hsu, MS; Dominique Seo, MPH (pictured left to right)
Honorary Travel Scholarship recipients: Dami Onasanya, MPH, MD; Salome Ricci, PharmD, MS; Yun-Yi Pan, PharmD; Chintal Shah, MS
Related News Stories