PHSR Graduate Program Evaluates Strengths and Progress During Seven-Year Review
Reviewers note program's strong national and international reputation in health services research field.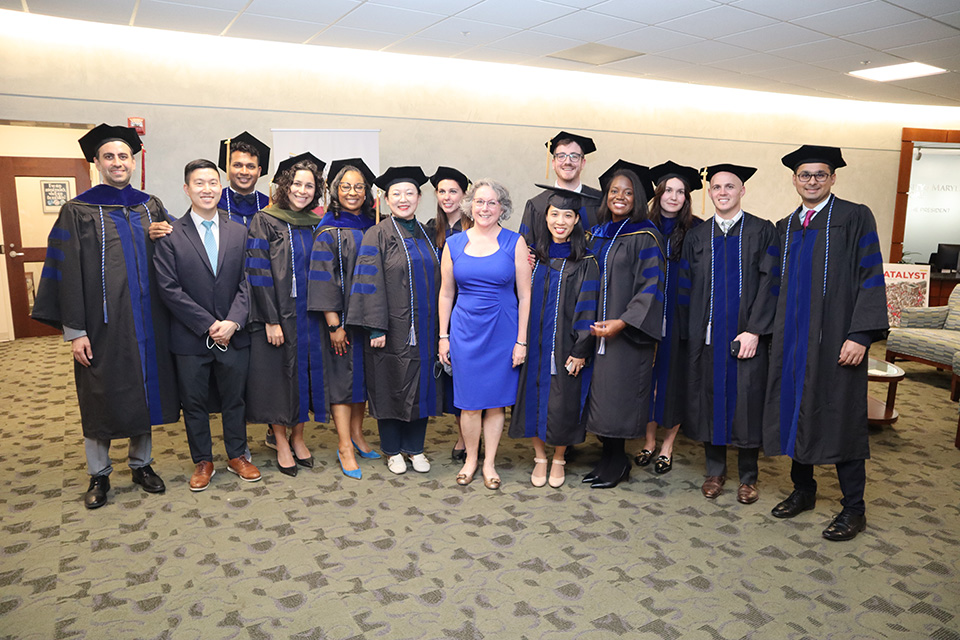 By Andrew Tie
March 23, 2023
A routine review in 2022 of the Pharmaceutical Health Services Research (PHSR) graduate program at the University of Maryland School of Pharmacy allowed internal self-study and external feedback to assess the program.
The review, which the University System of Maryland mandates of graduate programs approximately every seven years, was a comprehensive evaluation of the PHSR program's MS and PhD curriculum, faculty, advising, research, and overall standing in the field. It was conducted by internal self-study and external stakeholder review, including faculty members, students, and leading scholars from other universities that have programs like PHSR.
The peer scholars lauded the national and international reputation of the PHSR program and the "high caliber" quality of graduates and faculty. To build on that strong foundation, other feedback suggested the program continue to prioritize student support, faculty development, and flexibility in curriculum related to disciplines of pharmacoepidemiology, pharmacoeconomics, and patient-centered outcomes research, among other areas for growth.
"I am proud of our PHSR program and its many accomplishments over the last decade," said Jill Morgan, PharmD, BCPS, BCPPS, FNAP, professor and chair of the Department of Practice, Sciences and Health Outcomes Research (P-SHOR) where the PHSR graduate program is based. "This review allowed us a time of honest self-reflection to celebrate our strengths and to focus on where we want the PHSR program to be headed. I am grateful to all involved in the program and the review."
Danya Qato, PhD, PharmD, MPH, associate professor of P-SHOR and the PHSR graduate program director, led the review process along with support from staff member Colleen Day and an executive committee composed of students and faculty.
"One of the biggest takeaways from the external reviewers was that to sustain our international reputation for producing high-caliber and well-trained graduates, we need to continue to invest in our faculty and continuously improve our support of students," Qato said. "Our students have gone above and beyond to undertake their passion research projects, showcase their research in prominent national and international stages, and serve as great ambassadors for the School and for the field of health services research more broadly. We aim to nurture curiosity and independence, and support students to confidently undertake health services research that impacts public health. I believe we have been successful at achieving our goals, but there is always room for growth, and the external review helped us identify those areas."
Since the last review, there has been a concerted and strategic effort by program and department leadership to support student wellbeing and include students in critical decision-making committees, including the admissions committee. Actions taken to support students have included advocating across the university for higher stipends, inaugurating a PHSR Graduate Program Health Equity Book Club (now in its third year), and developing healthy workspaces with standing desks and multiple monitors for each student. Students have also been given a larger advocacy role in shaping the program, such as participating on the executive committee for the review process.
"In terms of big takeaways from the PHSR program review, it was found that the program has many strengths, but there is still room for improvement," said Sarah Tanveer, a fourth-year PHSR student who was part of the graduate program review committee. "We discussed the graduate students' views on areas such as satisfaction with academic experiences in the program, research and professional development opportunities, departmental environment and support, advising, facilities, and overall graduate experiences. These improvements will ensure that the program continues to offer exceptional doctoral training and research opportunities for its students."
The PHSR graduate program consists of a PhD and MS degree offerings. These programs address the demand for individuals skilled in evaluating pharmaceutical services and interventions. Students in the PHSR program gain the theory, practical experience, and decision-making skills needed to improve prescription drug use and health among diverse populations and become experts in a wide-range of pharmacy-related areas. The program currently has 35 MS and PhD students and has graduated more than 38 students in the last seven years. PHSR graduates are highly sought after on the job market and go on to successful careers in academia, industry, government, and consulting.
Applications are still being accepted for the MS in PHSR program with a deadline of March 31.
Related News Stories