Pharmapreneurship Students Make Their Pitch in Dolphin Tank
Students in the pharmapreneurship pathway presented original ideas to pharmacy and business leaders.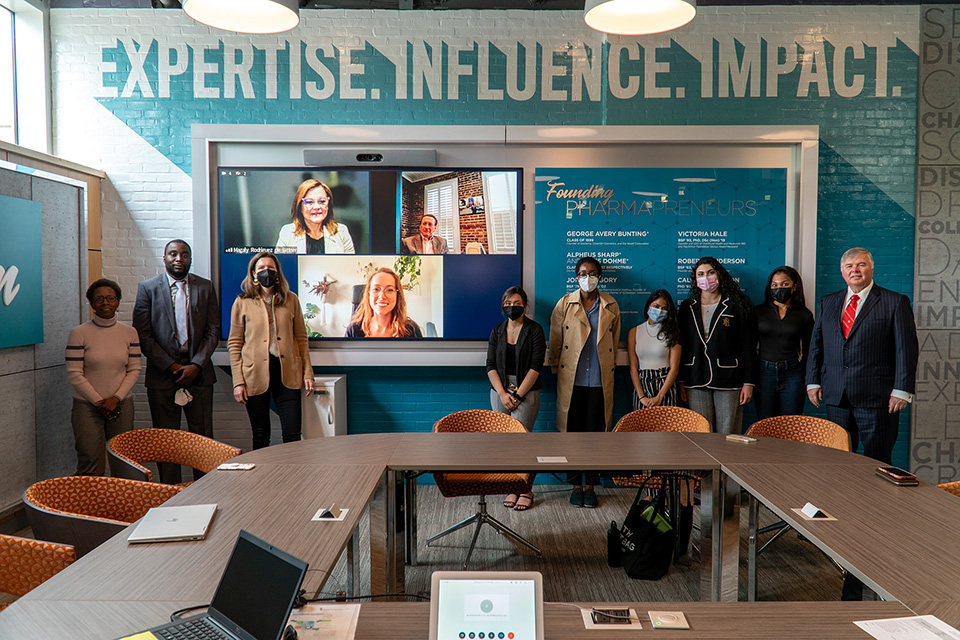 By Andrew Tie
June 7, 2022
As part of the University of Maryland School of Pharmacy's (UMSOP) Pharmapreneurship™ initiative, seven students pitched their innovative business ideas in this year's Dolphin Tank, an annual spring event that spins off the hit TV show "Shark Tank."
The students were all second- or third-year student pharmacists enrolled in the pharmapreneurship pathway, a focused course of electives for students in the Doctor of Pharmacy (PharmD) program. They spent the academic year conceiving, cultivating, and developing an original idea while also developing business models. Their work culminated in a seven-minute marketing pitch in the Pharmapreneurs' Farm in Pharmacy Hall in front of four judges. In contrast to "Shark Tank," the judges in Dolphin Tank aimed to be gentler in their feedback, knowing that the student pharmacists are still early in their pharmapreneurial careers.
Meya Ngundam, a student pharmacist who just finished her third year, pitched LabConnect, an idea that would introduce eco-friendly practices to research labs.
"Dolphin Tank was nerve wracking but exciting," Ngundam says. "It can be intimidating to introduce your idea to a panel that knows so much about innovation, yet it gave me a sense that there is a huge network of mentors at the university to reach out to."
After a successful pitch, Ngundam says she's considering turning LabConnect into reality.
"The whole experience made me want to expand my idea," Ngundam says. "It meant a lot to me for such a talented group to tell me I had a good idea. Now I think it would be a waste not to give it an honest try."
This year's Dolphin Tank judges were:
Natalie D. Eddington, PhD, FAAPS, FCP, dean and professor of the School of Pharmacy
John Gregory, BSP '76, DPS (hon) '02, Founding Pharmapreneur and board chair and CEO of Gregory Pharmaceutical Holding, Inc., who also founded King Pharmaceuticals
Cal Knowlton, PhD '93, MDiv, Founding Pharmapreneur and co-founder of Tabula Rasa Healthcare
Jenny Owens, ScD, MS, assistant dean and associate professor in UMB's Graduate School and executive director of UMB's Grid.
"Learning how to pitch effectively can be harder than it looks," Owens says. "It's important for students to understand their audiences and be able to communicate the value of their ideas to build trust. Investors aren't just investing in their ideas but are often focusing on the founder pitching these ideas. Pitching can be very intimidating to many, and I think it's great that students get to practice that skill in an event rich in support and feedback like Dolphin Tank."
An initiative created by UMSOP in 2017, pharmapreneurship represents the development of pharmacy entrepreneurs and the School's commitment to best position faculty, staff, and students to address the nation's health care challenges.
"As we look toward the future of health care, pharmacists can play a big role in solving the problems of today, so at the School of Pharmacy we strive to cultivate a pharmapreneurial mindset in our students," says Magaly Rodriguez de Bittner, PharmD, BCPS, CDE, FAPhA, the Felix Gyi Endowed Memorial Professor in Pharmapreneurship and associate dean of clinical services and practice transformation who is also the course manager for the pharmapreneurship pathway. "Dolphin Tank is an invaluable experience for our students to gain real experience marketing their concepts to established pharmapreneurs. I'm so proud to see how far each of the students have come this year from initial business concept to mature marketing pitch."
Related News Stories