Pharmacy Students Awarded Second Place in National Managed Care Competition
School of Pharmacy team places in Academy of Managed Care Pharmacy National P&T Competition for the first time since 2007.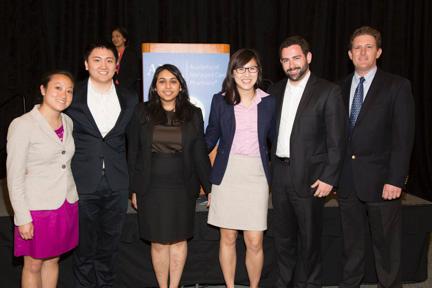 By Anna Hung
April 11, 2013
The sun was shining a little brighter in California when students from the University of Maryland School of Pharmacy accepted their second place prize at the Academy of Managed Care Pharmacy (AMCP) National Pharmacy and Therapeutics (P&T) Competition on April 5, the School's first top three finish since 2007.
The AMCP P&T Competition consists of both a local and national competition. Teams from pharmacy schools across the country first compete in local competitions, where they are provided with a drug dossier and asked to develop a formulary recommendation for a mock P&T committee based on their assessment of the drug's efficacy, effectiveness, safety, and cost-effectiveness. They decide whether and how to recommend placement of the drug on a formulary for a mock health plan and deliver a 30-minute presentation to support their recommendation. The top eight winners from the local competitions progress to the national competition, which was hosted in San Diego, Calif., this year.
Representing the School of Pharmacy in this competition were second-year student pharmacists Kun Yang, Bansri Desai, Henry Lederer, and Ellen Huang.
"The P&T Competition has opened my eyes to the scope of managed care practice within health care," says Yang. "Not only have I come to understand how all of the different parties and stakeholders in the health care industry are integrated, but I have also come to appreciate the importance of the skills and clinical knowledge pharmacists can bring to managed care practice. This competition has shown me that managed care is everywhere, and that it's integral for all aspiring pharmacy students to understand its fundamentals in order to become effective and well-rounded clinicians."
The School's AMCP student chapter advisor, Fadia Shaya, PhD, MPH, professor in the Department of Pharmaceutical Health Services Research (PHSR), was instrumental in helping students improve their competitive edge in this year's competition. She organized structured help sessions to prepare students participating in the competition. Sessions were directed by Ebere Onukwugha, PhD, assistant professor in PHSR, and Viktor Chirikov, a graduate student in PHSR, and featured guest speaker Richard Fry, BS '76, RPh, a pharmacist widely regarded for his expertise in managed care.
"The P&T Competition is a valuable experience for our students. Participating in this competition helps them understand how payers, including health plans and pharmacy benefit managers, utilize reports on efficacy, effectiveness, and cost effectiveness to support coverage decisions," says Onukwugha. "Participating in competitions like the P&T competition provides students with a unique opportunity to step into the 'real world' and consider many of the same issues faced by payers when they make formulary decisions."
Ian Breunig, PhD, a post-doctoral fellow in PHSR, also played an important role as a judge in the competition and provided helpful feedback to teams. Other judges for this competition included the School's AMCP student chapter diplomats, Phillip Wiegand and Matthew Lennertz. Jennifer Cho, a third-year student pharmacist, and Adrienne Ma, a second-year student pharmacist, also served as competition liaisons to help coordinate the competition.
"This event provided a unique opportunity for students to learn about managed care. It was exciting to have 13 teams from the School of Pharmacy sign up for the local competition this year, and all of those teams deserve to be acknowledged for their effort and hard work," says Cho.
Before this year's second place award, the School of Pharmacy received first place in the competition in 2007. In 2004 and 2005, the School finished second.
Related News Stories