Managed Care Workshop Introduces Students to Hot Topics in the Field
Event highlights fundamentals of managed care and features presentation by Robert Navarro, PharmD, co-founder and first president of AMCP.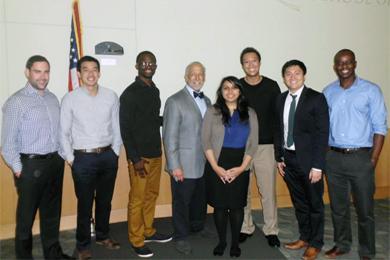 By Kun Yang
October 4, 2013
It was all about managed care pharmacy on Sept. 21 as more than 80 students from the University of Maryland School of Pharmacy and Notre Dame of Maryland University School of Pharmacy attended the Academy of Managed Care Pharmacy (AMCP) student chapter's first-ever Managed Care 101 Workshop in Pharmacy Hall at the University of Maryland, Baltimore.
Led by Robert Navarro, PharmD, clinical professor of pharmaceutical outcomes and policy at the University of Florida College of Pharmacy and co-founder and first president of AMCP, and Brian Pinto, PharmD, assistant director of medication use policy and clinical informatics at Johns Hopkins Hospital, the six-hour workshop introduced students to fundamental principles related to managed care, including formulary management, specialty pharmaceuticals, cost-sharing, and drug pricing. It also discussed the impact that the Patient Protection and Affordable Care Act (PPACA) might have on the practice of pharmacy both now and in the near future.
AMCP chapter advisor, Fadia Shaya, MPH, PhD, professor in the Department of Pharmaceutical Health Services Research at the School of Pharmacy, was on-hand to introduce the speakers and highlight the chapter's noteworthy accomplishments, including her acquisition of a $1,500 donation from AMCP to sponsor the workshop, as well as another $4,000 donation received by the chapter after it qualified for nationals. This donation was used to support student travel to the AMCP's 25th Annual Meeting and Expo in April 2013, which was held in San Diego, Calif.
"Dr. Navarro comes from an extensive background within the managed care pharmacy industry," said Shaya. "As a former clinical pharmacist and co-founder of AMCP, Dr. Navarro has developed a strong appreciation of the impact of health care system decision-making on patients. He provides a wealth of knowledge and insight into the managed care industry, and the effects it has on the practice of pharmacy."
She added, "Dr. Pinto plays a major role on the Pharmacy & Therapeutics (P&T) Committee at the Johns Hopkins Hospital and is a past-president of the Maryland Society of Health-System Pharmacists. Given his tremendous experiences within Maryland, Dr. Pinto offers a relevant perspective on how pharmacy is managed within the state of Maryland, as well as within one of the nation's premier health systems."
Armed with these esteemed speakers, the workshop employed case studies, interactive demonstrations, and informal discussion periods to expose students to the world of managed care. After completing the workshop, students appeared more open-minded about the complexities surrounding the US health care system and the pharmacy-related challenges that it currently faces.
"The Managed Care 101 Workshop was great," says Brandon Biggs, a first-year student pharmacist at the School of Pharmacy. "It was very beneficial to learn about how the Affordable Care Act will affect the future of pharmacy. In addition, learning about the variations between health care plans provided a lot of clarity for my own understanding of the health benefits that are currently available to me."
Lauren Barbour, a second-year student pharmacist at the School, adds, "I really enjoyed Dr. Navarro's presentation on managing specialty drugs, which are often very expensive, customized therapies. While we have talked about some of these agents in class from a clinical perspective, Dr. Navarro highlighted the management challenges of this growing category of drugs. From oncology drugs to new biotech therapies, pharmacists can play a key role in helping patients be adherent to sometimes difficult regimens and ensuring that these high cost drugs are used effectively."
In the future, the University of Maryland School of Pharmacy's AMCP chapter hopes to continue to provide engaging opportunities such as the Managed Care 101 Workshop to students to better prepare them for the ever-changing landscape of pharmacy practice within the US.
Related News Stories