Pharmacy Residents and New Faculty Attend Teaching Excellence Day
The "one-day introduction to a career-long commitment" covers skills needed for effective presentations, teaching and information sharing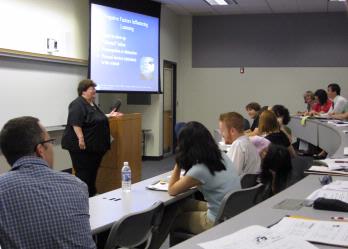 By Becky Ceraul
July 29, 2008
New School of Pharmacy residents and faculty had the opportunity to interact with more experienced instructors during the School's annual Teaching Excellence Day on July 25. Led by senior faculty Mary Lynn McPherson, PharmD, and Richard Dalby, PhD, the "students" were exposed to a full day of "how-tos" and "how not-tos" on creating and giving presentations, running audio visual equipment, teaching one-on-one and in small groups, writing learning objectives and exam questions, and providing feedback to students.
The course, started 10 years ago, was designed to provide skills and a foundation for the attendees' careers as teachers in the classroom, the lab, the clinic and any where else they might practice.
"The most important attributes of an effective teacher are passion for your topic, the teaching process and for student learning," says McPherson, a professor in the School's Department of Pharmacy Practice and Science. "It's also vital to be spot-on knowledgeable in your field. This top of the line knowledge base, when coupled with real life 'been there, done that' experience, cannot be beaten – especially when delivered with zest and enthusiasm."
This year, 55 people attended Teaching Excellence Day, many of them recent graduates from the School of Pharmacy who are now working at sites throughout Baltimore in the School's residency program.
Matt Bathula, PharmD, and Tanya Telegadis, PharmD, are both May 2008 graduates of the School of Pharmacy. Bathula is completing a residency at Johns Hopkins Bayview Medical Center, while Telegadis is at Union Memorial Hospital. "I'm interested in a part-time faculty position at a school of pharmacy and in serving as a preceptor," says Telegadis. "I'm not familiar with the tools necessary to be an effective teacher, so I'm here to learn as much as I can from the experienced faculty at the School of Pharmacy."
Bathula echoed his former classmate's sentiments and mentioned that he envisions using his new-found skills at Bayview, where he will be working with and teaching medical and pharmacy students. "I need to know how to communicate effectively, make quick decisions and share information appropriately."
Lynette Bradley-Baker, RPh, PhD, a new assistant professor in the School's Department of Pharmaceutical Health Services Research, has given numerous lectures and presentations during her career but still found the class useful. "The topics and examples presented during the session are material that I can and will use in my transition to a faculty member who will be a lecturer and a student advisor," she says. "I highly recommend the session and will probably take it again in a few years as a refresher."
For Dalby, a professor in the School's Department of Pharmaceutical Sciences, the day provides both practical information and motivation for improving upon presentation skills. "Much of the information we share isn't covered in standard curriculum, and I think students and new faculty benefit from seeing enthusiastic instructors in front of a class," he says. "I hope participants learn that teaching takes effort akin to providing clinical services or conducting research, and that the rewards are equally valuable if less tangible or immediately obvious."
"I am passionate about teaching – what makes for effective learning, how to enhance learning, and how to get a feel for whether or not students 'get it,'" adds McPherson. "Just being an expert in your field doesn't mean you are necessarily an effective teacher. I want the residents and new faculty to catch the passion as well, and understand that how you teach is as, or more important, than what you teach."
Related News Stories