Palliative Care Program Honors Three Classes of Graduates in Celebration
Nearly 200 students from the Classes of 2020-2022 earn the MS and graduate certificates.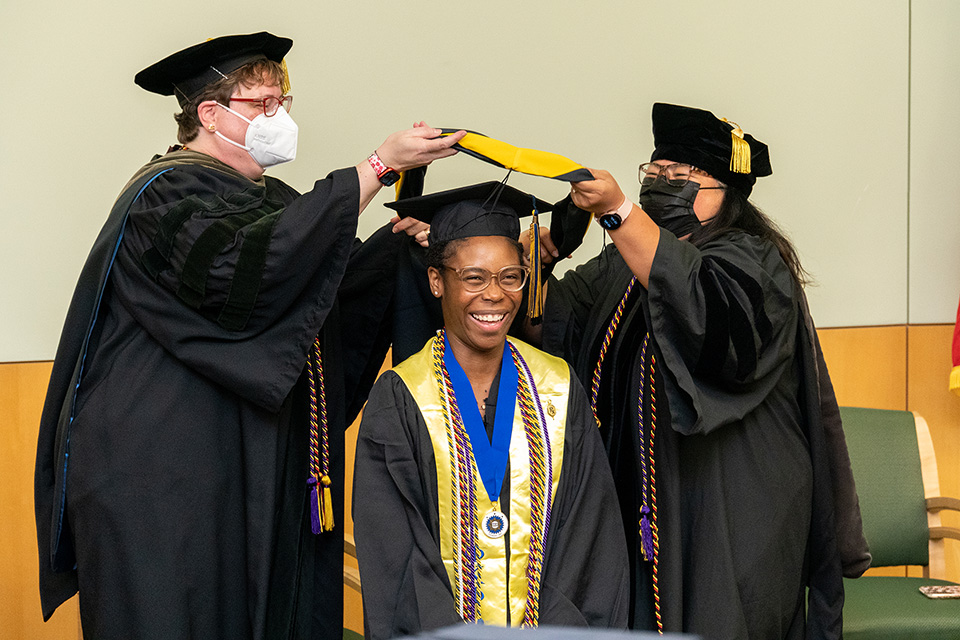 By Andrew Tie
August 15, 2022
After two consecutive years of virtual graduations, the Classes of 2020, 2021, and 2022 convened in Pharmacy Hall on Aug. 5 as the University of Maryland School of Pharmacy honored graduates of the MS and Graduate Certificates in Palliative Care.
In her remarks at the celebration, Natalie D. Eddington, PhD, FAAPS, FCP, dean and professor of the School of Pharmacy, described the graduates as brave, intrepid, daring, and innovative for maintaining demanding full-time professions with their academic pursuits.
"Graduates, you have now been well-prepared to engage more deeply and fully in your career, in caring for patients, in developing hospice or palliative care programs, to earn a promotion, to specialize in a specific aspect of palliative care, or to supplement your primary job with the special skills of a palliative care provider," Eddington said.
Mary Lynn McPherson, PharmD, MA, BCPS, CPE, professor of pharmacy practice and science and executive director of graduate studies in palliative care, recognized the many graduates who have and continue to work on the frontlines of the COVID-19 pandemic.
"The vast majority of you were working full time caring for others, caring for your family, and working hard on this degree," McPherson said. "It has been recognized that palliative care practitioners have been a silver lining in the COVID crisis and not only did you deliver, but you did it while completing challenging coursework, and you never missed a beat."
Interprofessional Perspectives Encouraged in Program
The palliative care graduate programs are delivered online and educate people interested in a deeper understanding of the physical, psychological, spiritual, and social needs of patients and families affected by advanced illness.
A priority of the program—which also includes a new PhD—is fostering an interprofessional, team-based approach to treatment, much like the students will experience in practice. In each course, students are taught by two or more faculty from different disciplines to model interprofessional practice.
In total, the program graduated 194 students across the Classes of 2020, 2021, and 2022.
Learning from Peers and Faculty
Sudha Chandrasekhar, MD, FAAP, MPH, MS '21, is a physician by training who worked in pediatric palliative care. Chandrasekhar said the interprofessional aspects from the program faculty and her peers allowed her to learn a lot.
"In my class, we had physicians, nurse practitioners, physician assistants, pharmacists, people working as hospice medical directors, social workers, chaplains—we had such a wide variety," said Chandrasekhar, who spoke at the graduation on behalf of the Class of 2021. "They bring their life experiences and their perspectives to the discussion posts. You learn from the wisdom, of not only your peers but your faculty members. It makes you a more well-rounded person in palliative care."
Chandrasekhar is now completing a fellowship in pain and palliative care at the National Institutes of Health, a coveted position she credits largely to her connections with McPherson and the palliative care program.
Marissa Todd, PharmD, MS '20, a pharmacist who works in hospice and palliative care for Enclara Pharmacia, attended the in-person celebration two years after officially graduating. Like Chandrasekhar, Todd enjoyed learning from peers and also appreciated how quickly she could apply the palliative care knowledge.
"Often we had to submit a reflective piece about the past week—what have you learned, how you've grown—that allowed me to think about how much this program meant to me and how much I was implementing in my everyday work," Todd said.
It is that everyday work, caring for patients in difficult health situations, that Jill Morgan, PharmD, BCPS, BCPPS, professor and chair of the Departments of Pharmacy Practice and Science and Pharmaceutical Health Services Research, recognized as a vital component of the health care system.
"Thank you all for taking the time to learn more about palliative care and more importantly for what you're going to go out and do," Morgan said.
Related News Stories