P-SHOR Faculty Named to Leadership Positions in Professional Societies
Eberechukwu Onukwugha and Vijay Ivaturi are faculty members in the Department of Practice, Sciences, and Health Outcomes Research.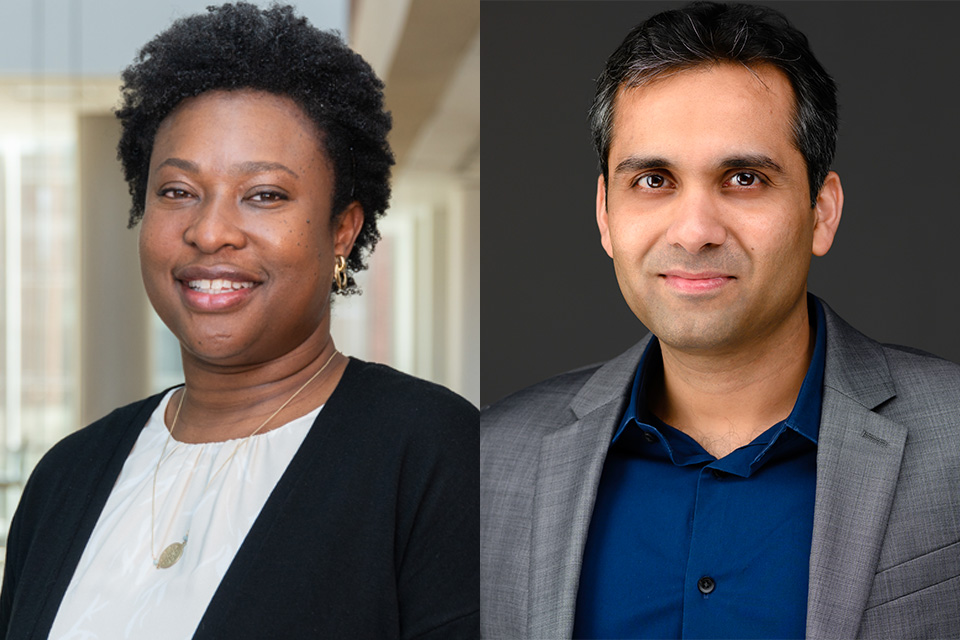 By Andrew Tie
August 21, 2023
Two faculty members in the University of Maryland School of Pharmacy's (UMSOP) Department of Practice, Sciences, and Health Outcomes Research (P-SHOR) have been named presidents-elect of two leading professional associations.
Eberechukwu Onukwugha, PhD, MS, professor of P-SHOR, is president-elect of ISPOR—The Professional Society for Health Economics and Outcomes Research, and Vijay Ivaturi, PhD, assistant professor of P-SHOR, is president-elect of the International Society of Pharmacometrics (ISoP).
"It is exciting to see the impact our faculty are making in their fields, and these two leadership positions demonstrate the respect that our peers have for our colleagues in P-SHOR," said Jill A. Morgan, PharmD, BCPS, BCPPS, FNAP, chair and professor of P-SHOR. "Drs. Onukwugha and Ivaturi are tremendous scholars in the pharmacoeconomics and pharmacometrics areas, and both will be excellent leaders for their organizations and great representatives of the School in these volunteer roles."
Eberechukwu Onukwugha – ISPOR
Onukwugha's research interests are in cost analysis, health disparities, and medical decision-making by individuals and institutions. She examines the costs and health outcomes associated with health-related decisions as well as the institutional and environmental context framing individuals' health-related decisions.
In addition to teaching in the Pharmaceutical Health Services Research and Doctor of Pharmacy (PharmD) programs, she is executive director of the School's Pharmaceutical Research Computing center.
She completed a three-year term on ISPOR's Board of Directors in May 2023. She has also served ISPOR as co-chair for the ISPOR 2022 annual conference, co-chair of the Research Review Committee for the ISPOR 2018 and ISPOR 2019 annual conferences, and president of the ISPOR Faculty Advisor Council from 2013 to 2015.
"ISPOR's success in promoting excellence in health economics and outcomes research (HEOR) can be linked to its diverse, highly engaged, and expert members," Onukwugha said. "Several P-SHOR faculty, graduate students, and PharmD students are active ISPOR members, which creates a great environment in which to conduct HEOR. I am honored to work with skilled HEOR scientists here at UMSOP and look forward to working with many more around the world to advance ISPOR's mission."
Vijay Ivaturi – ISoP
Ivaturi is involved in the research and implementation of quantitative clinical pharmacology to address challenges in drug development and clinical therapeutics. His primary research interest is in pediatric clinical pharmacology, where he uses technology to bridge the gap between the complex systems of pharmacology and providers who use this information to make treatment decisions.
He is also part of the School's Center for Translational Medicine and teaches in the MS in Pharmacometrics program. He is also an entrepreneur and started a venture called PumasAI as the co-founder and chief scientific officer. PumasAI has a goal to accelerate access to life-saving medicines to patients.
Ivaturi previously served as the chair of ISoP's Education Committee for three years, where he advocated for and implemented platforms for open and collaborative learning environments accessible to all. He has been on the ISoP Board of Trustees since 2020 and led the effort of transitioning the organization to a 501(c)3 in 2023. Ivaturi will be stepping into the president's role in November 2023.
"It is an honor to serve as the next president-elect of ISoP," Ivaturi said. "Volunteering and being part of ISoP has been a highlight of my career for the last 14 years. I look forward to working with the membership and our partners to promote and democratize the field of pharmacometrics globally. I am especially excited about expanding our efforts internationally, promoting diversity and inclusion across all facets of our community, and welcoming emerging areas of pharmacometrics, such as model-informed drug development, model-informed precision dosing, and machine learning."
Related News Stories