Orientation Signals Start for Class of 2026
Presentations and activities prepare new Doctor of Pharmacy (PharmD) students for their first year.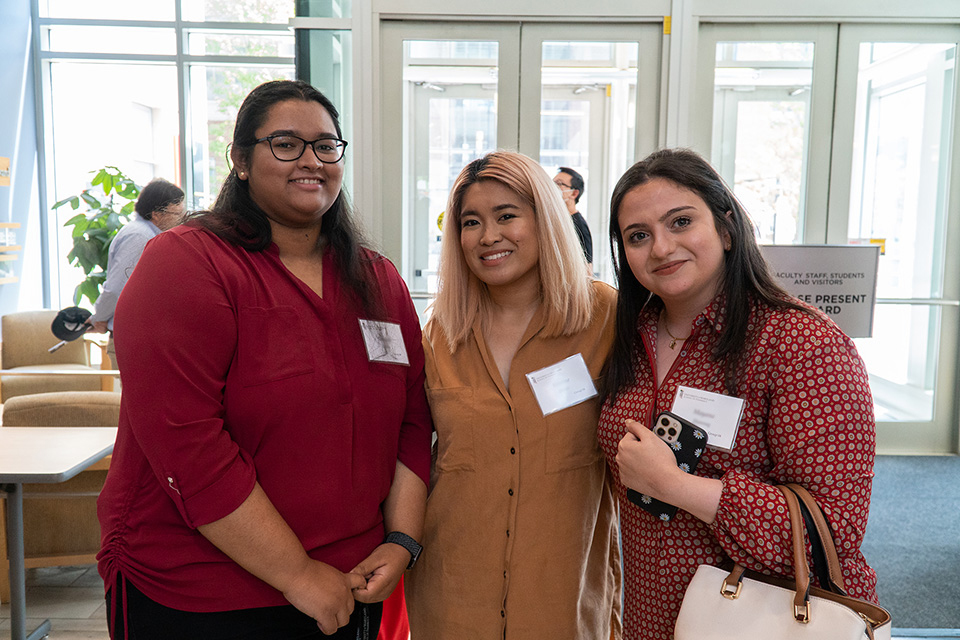 By Andrew Tie
August 29, 2022
The University of Maryland School of Pharmacy welcomed its newest cohort of Doctor of Pharmacy (PharmD) students for orientation Aug. 16-18. Student pharmacists in the Class of 2026 received a crash course of information about the next four years, as well as learning how the School will prepare them for their future careers.
"Many of you have said the first people you want to help in pharmacy school are patients," Cherokee Layson-Wolf, PharmD, BCACP, FAPhA, associate dean of student affairs and professor of pharmacy practice and science, said in her orientation welcome. "But the true first people that you're going to help are the people sitting on either side of you right now. This crew is going to be with you through the next four years. They're going to be with you through ups and downs and in the celebrations or challenges you will overcome."
Orientation activities included presentations from student affairs, career development, information technology, financial aid, and others on how they support students and the resources available to them. University of Maryland, Baltimore (UMB) President Bruce Jarrell, MD, FACS, also stopped by for a special welcome.
"This is a great university. Take part in it, be an important cog in this whole big operation," he said. "I look forward to hearing great things from you in your career here at UMB as well as when you go out and practice."
Eager to Serve
As Layson-Wolf said, many students expressed a desire to enter the pharmacy profession to serve patients.
Mayana Shannag said she was drawn to the pharmacy field because it blended her interest in medicine and her passion for helping others.
"The University of Maryland was the right choice for me because they have such high standards for their students and encourage students to be the best they can be," Shannag said. "By graduating from this university, I will be successful."
Kristine Dones' interest in pharmacy stems from managing medications for her grandmother and working as a pharmacy technician.
"I became involved with the tasks in the pharmacy, and I really liked interacting with patients in a different way," Dones said.
At Home in Baltimore
The Class of 2026 includes some native Baltimoreans, who are familiar with the city but learned a lot about their pharmacy education at orientation.
In middle school, Cameron Isaacs was part of a program where School of Pharmacy students tutored local school children in various subjects. At the time, he wasn't interested in pharmacy, but it grew on him as he spent more time with the student pharmacists.
"I learned a lot at orientation, speaking to students and staff, as well as learning about different opportunities I wasn't aware of," Isaacs said. "It's looking pretty bright. I'm excited to get started."
Nigel Thomas-Gibson said he came to pharmacy school for his family and to be an asset to the community.
"The city means a lot to me," Thomas-Gibson said. "There are different types of people and a very diverse community. In downtown Baltimore, there's a big health care system, and there needs to be a lot of able hands for the health care system."
Orientation activities for students in the PhD in Pharmaceutical Health Services Research and PhD and MS in Pharmaceutical Sciences programs took place the week of Aug. 22.
Related News Stories