M-CERSI Hosts International Workshop on Drug Product Quality
Six major drug agencies participated in workshop.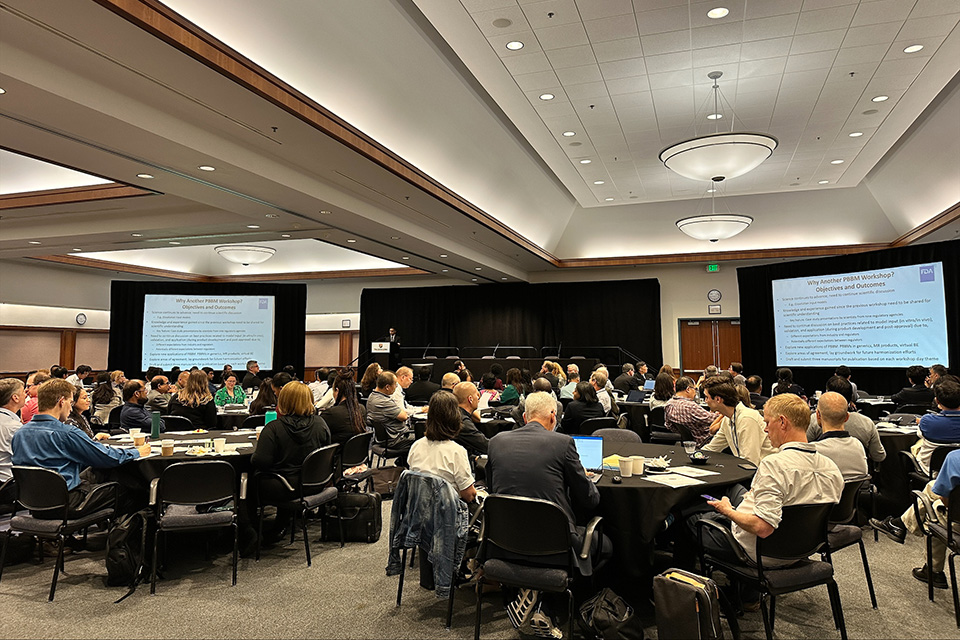 By Office of Communications and Marketing Staff
September 19, 2023
The University of Maryland Center of Excellence in Regulatory Science and Innovation (M-CERSI) held a workshop Aug. 29-31 to discuss physiologically based biopharmaceutics modeling (PBBM).
The workshop, titled "Physiologically Based Biopharmaceutics Modeling (PBBM) Best Practices for Drug Product Quality: Regulatory and Industry Perspectives," was held in a hybrid format with 190 in-person participants at the Universities at Shady Grove in Rockville, Md.
It included presentations by regulators from six major drug agencies discussing PBBM case studies to establish clinically relevant drug product specifications. The participating agencies were the US Food and Drug Administration (FDA), as well as its counterparts in Canada, Japan, Europe, the United Kingdom, and Brazil. More than 10 case studies were also presented by innovator companies, generics, academia, and software vendors.
The workshop provided a forum for experts to discuss best practices for incorporating drug product quality attributes within PBBM to support drug product development programs and regulatory submissions.
"It is really exciting to see regulators and industry practitioners throughout the world articulate their views on best modeling practices in product quality, to help develop and regulate medicines, and make medications more available," said James Polli, PhD, Ralph F. Shangraw/Noxell Endowed Chair in Industrial Pharmacy and Pharmaceutics at the University of Maryland School of Pharmacy and M-CERSI co-director.
Bhagwant Rege, PhD, division director of the Division of Biopharmaceutics at FDA and a 2001 graduate of the School of Pharmacy's PhD in Pharmaceutical Sciences program, served as workshop co-chair.
"FDA's Office of Pharmaceutical Quality strives to establish patient-centric quality standards for drug products," Rege said. "This workshop provided an opportunity to engage in scientific discussions on the best use of modeling and simulation to link the in vitro and in vivo performance of drug products and potentially avoid the need for in vivo studies in humans."
"The M-CERSI workshop has significantly advanced the global use of PBBM and is a testament to what can happen when industry, regulators, and academics all work together," said Greg Rullo, MS, executive director in CMC Regulatory Affairs at AstraZeneca.
M-CERSI is an FDA-sponsored center at the University of Maryland and the University of Maryland, Baltimore. It was founded in 2011 and recently received a five-year, up to $50 million renewal from the FDA. M-CERSI's mission is to foster the development of regulatory science – the science of developing new tools, standards, and approaches to assess the safety, efficacy, quality and performance of FDA-regulated products.
Related News Stories