Lamy Center Hosts First Webinar Examining Chronic Pain in Older Adults
Experts in geriatric pharmacotherapy and substance use research explore current methods for managing chronic pain in older adults, including potential areas of improvement in patient care and policy.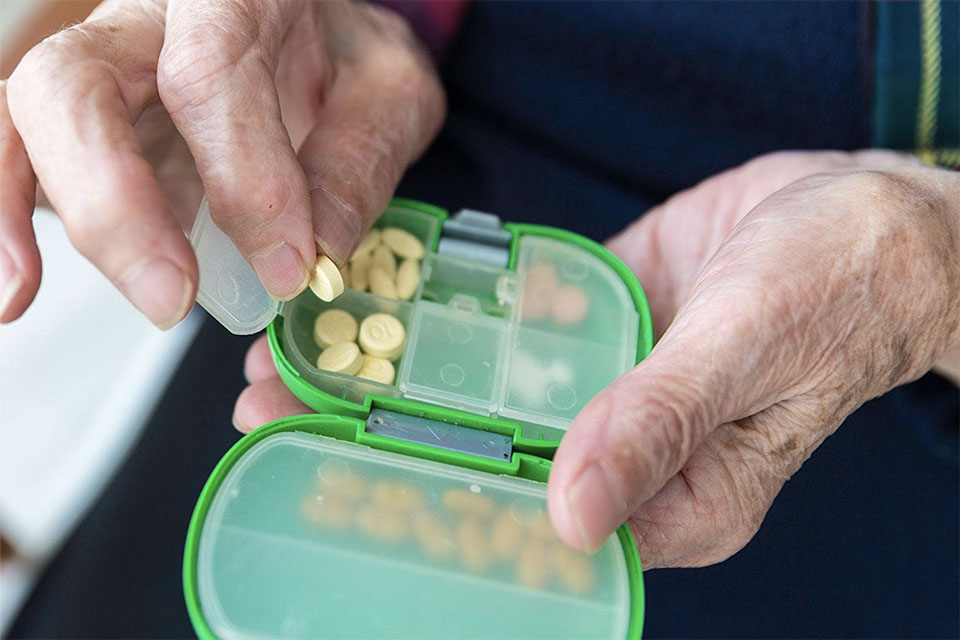 By Malissa Carroll
June 30, 2020
The Peter Lamy Center on Drug Therapy and Aging at the University of Maryland School of Pharmacy hosted its first "Lunch with Lamy" interprofessional continuing education program on June 17. Titled "Peeking into Pandora's Box: Chronic Pain in Older Adults – Practice and Policy," the event was held virtually to help safeguard the health of speakers and participants during the COVID-19 pandemic. Nearly 40 health care professionals, including pharmacists, nurses, social workers, and interprofessional education trainees, tuned in to the event.
"The Lamy Center is dedicated to improving drug therapy for aging adults through innovative research, education, and clinical initiatives," said Chanel Whittaker, PharmD, BCGP, FASCP, associate professor in the Department of Pharmacy Practice and Science (PPS) and director of education and training for the Lamy Center. "We recognize that it takes a team to tackle the many health and medication challenges facing older adults today. The goal of this program is to encourage members of the health care team to adopt a patient-centered approach when managing chronic pain in older adult patients."
The program followed the fictional patient case of Sarah Hill: a 69-year old white female with a history of chronic obstructive pulmonary disease (COPD), depression, mild neurocognitive disorder, left shoulder pain, and arthritis who was suffering from social isolation related to the COVID-19 pandemic and complaints of right hip and left shoulder pain that kept her awake at night. Speakers Avra Thomas, PharmD, BCGP, FASCP, senior director of pharmacy services for Sava Senior Care Consulting LLC; Joshana K. Goga, PharmD, BCPP, LSSGB, interim director of clinical services in the Department of Pharmacy at Sheppard Pratt; and Linda Wastila, BSPharm, PhD, the Parke-Davis Chair in Geriatric Pharmacotherapy at the School of Pharmacy and director of research for the Lamy Center, used this unique patient case to help explain the risks and challenges associated with chronic pain management in older adults, interpret state and federal laws and policies that affect chronic pain management, and recommend best practices for providing patient-centered pain management in older adults.
Both Thomas and Goga are members of the Lamy Champions Coalition, a diverse group of practitioner leaders who provide specialized geriatric care in various practice settings and are instrumental in assisting the Lamy Center to further its mission and promote an agenda for developing clinical, educational, and research initiatives to improve geriatric care.
Focusing on evidence-based practices to treat chronic pain in patients age 65 and older, Goga spotlighted the magnitude of the current opioid crisis affecting the United States, noting that the misuse of opioids among older adults nearly doubled from 2002 to 2014. She presented several tools that health care professionals can use to evaluate pain in older adults and spoke about the methods and measures that have been implemented in her practice at Sheppard Pratt Health System to evaluate and treat pain in this patient population.
"The physical symptoms associated with pain are the leading reason that people, including older adults, seek medical help," she said. "As health care professionals, we need to find a balance between encouraging medication therapy to manage chronic pain in older adults and the risk of harm, including death, associated with opioid medications. All of us play a key role in helping to manage and mitigate the opioid crisis."
Wastila's presentation highlighted the unintended impact of pain management with opioids in older adults. She explained that older adults represent a complex patient population that is at-risk for misusing opioids, even though they are often overlooked by health care professionals, researchers, and policymakers, who focus on young adults and injection drug users. She also spoke about policies that impact the pain management treatments available to older adults, including clinical guidelines, naloxone access and availability, state prescription drug monitoring programs, and the expansion of medical cannabis use.
The program concluded with a panel discussion moderated by Thomas that revisited the fictional patient case of Sarah Hill. Goga offered insight into both the pharmacologic and non-pharmacologic therapies that might be useful to help mitigate Hill's pain, while Wastila highlighted the policy implications that would need to be considered if opioids or medical cannabis were included in the treatment plan. Both speakers emphasized the need for a holistic, patient-centered, and team-based approach to help manage the patient's pain.
Laura Mastella, DNP, ANP-BC, WHNP, program director for the Primary Care Nurse Practitioner Residency Program at the VA Maryland Health Care System, who assisted with planning for the program, says, "More so than ever, interprofessional collaboration in the care of the older adult is paramount, as this population brings a unique set of challenges in meeting their health care needs, including the ever-present issues surrounding pain and pain management."
She adds, "With an ever-changing landscape in the application of evidence-based practice guidelines, best practices, and public policy in the pharmacological and non-pharmacological management of chronic pain in the older adult, a team approach helps to ensure that we as health care professionals are giving our patients the tools necessary to make informed decisions regarding the care they receive and improve their quality of life. I hope everyone who attended this program was able to identify challenges in their current clinical setting and gained the tools to improve the care they provide to older adults."
Related News Stories