Grad Gathering Welcomes Alums of PSC, PHSR, and Regulatory Science Programs
The daylong event featured career panels and networking opportunities.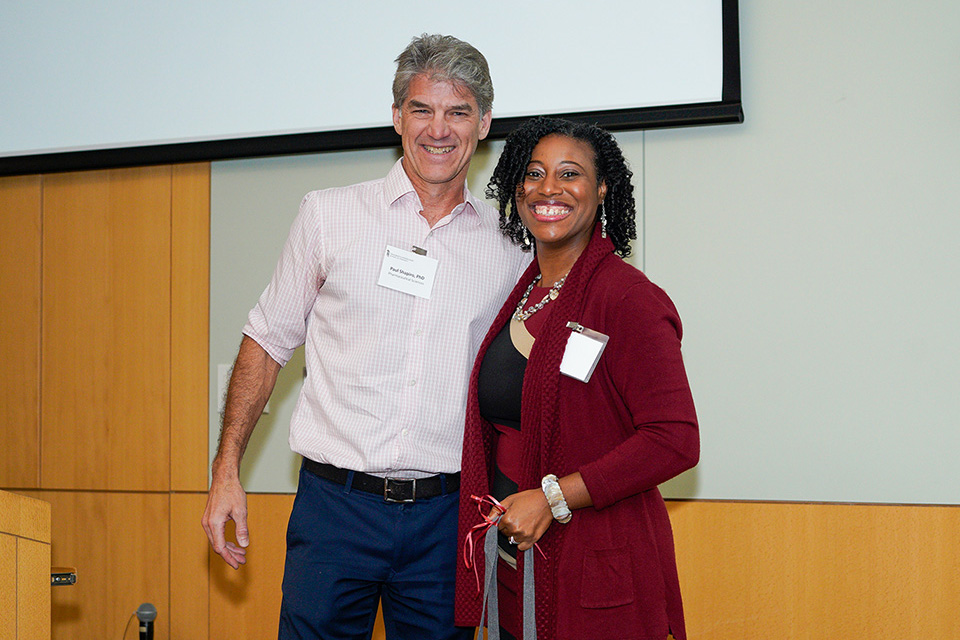 By Andrew Tie
November 1, 2023
The University of Maryland School of Pharmacy welcomed back alumni from three graduate programs on Oct. 13 for the fourth Grad Gathering, which served as a homecoming to reconnect alumni, postdocs, students, faculty, and staff.
The biennial event, which began a decade ago, included members of four graduate programs: PhD in Pharmaceutical Sciences (PSC), MS in PSC, Pharmaceutical Health Services Research (PHSR), and MS in Regulatory Science.
"Our previous events were great successes – our alumni came home to the School of Pharmacy, where they reconnected with lab mates and mentors, and our students got to hear about the career destinations, opportunities, and experiences of our alumni," said Sarah L.J. Michel, PhD, dean and professor of the School in her remarks at the event. "I am excited to welcome members of multiple programs and thank you for taking time out of your busy schedules to be with us today."
The Grad Gathering featured career panel discussions, a research poster session, a happy hour, and numerous other networking opportunities.
Two keynote speakers included Marishka Brown, PhD '09 (PSC), who is director of the National Center on Sleep Disorders Research at the National Institutes of Health, as well as Alexander Gaffney, MS '20 (Regulatory Science), RAC, who is executive director of regulatory policy and intelligence at POLITICO, AgencyIQ.
"We are fortunate to have many alumni of our programs who are leaders in their fields and excited to give back to the next generation of UMSOP students," said Nina Roa, MPA, associate director of career development and placement in the Office of Graduate Programs, who organized the event. "We have seen so many new and existing connections flourishing today and hope to continue growing this event to keep in touch with our alumni."
Reflections from Alumni
Several alumni who attended the Grad Gathering mentioned wanting to give back to the UMSOP community and help students navigate their early careers.
"I received a great opportunity at UMSOP and now I'm trying to help current students find the right path for their development," said Juan-David Rueda, PhD '19 (PHSR), who is now global value strategies director at AstraZeneca.
Others mentioned wanting to share the varied career options open to graduates from the School in both traditional and nontraditional industries.
"It's really important for me to inspire others to get into clinical research," said Jessica Rowe, MS '16 (Regulatory Science). "Students aren't aware it's a career option for them, so I want to share my experience and the different opportunities available to them."
Related News Stories