Academic Programs Commemorate Achievements of PhD and MS Graduates
School held graduation celebrations for seven graduate programs.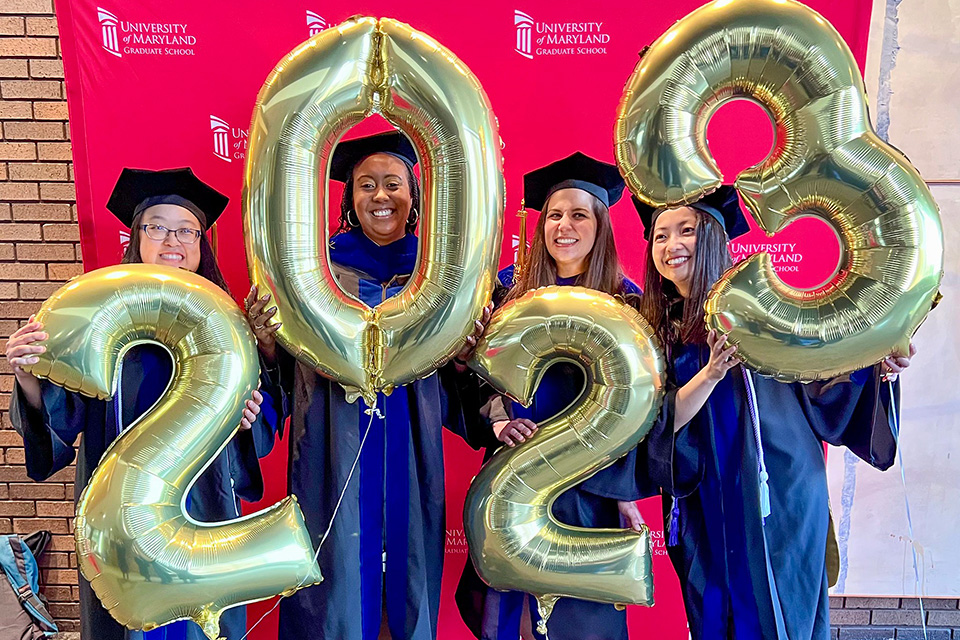 By Andrew Tie
May 23, 2023
The University of Maryland School of Pharmacy (UMSOP) celebrated hundreds of graduates in the Class of 2023 from its PhD and MS programs between May 17-19.
"It is a thrill to send so many PhD and MS students from the Class of 2023 out into the world as capable and trained researchers, scientists, practitioners, policy makers, and advocates," said Natalie D. Eddington, PhD, FCP, FAAPS, dean and professor of the School of Pharmacy. "This year's ceremonies are especially meaningful to me as they are my last as dean. But I will continue to be our students' biggest cheerleaders and will be celebrating them in future years as a member of our faculty."
Pharmaceutical Health Services Research (PHSR) Celebrates Five Graduates
The PHSR program, which is housed in the Department of Practice, Sciences, and Health Outcomes Research (P-SHOR), held a gathering for its two PhD and three MS graduates in the President's Boardroom in the Saratoga Building on May 17.
"Our students have demonstrated exceptional dedication to our field and a passion for advancing health care equity and access," said Danya Qato, PhD, PharmD, MPH, associate professor of P-SHOR and director of the PHSR graduate program. "They have already made significant contributions to the field, and I am certain they will continue to contribute research and advocacy necessary for making health care and pharmaceutical care safer and more accessible for our communities. I am delighted to welcome them to our community of scholars and alumni."
Bansri Desi, PharmD '15, PhD '23, said she realized early on during her Doctor of Pharmacy (PharmD) training at UMSOP that she was interested in population health and pharmaceutical policy. After taking electives in those areas during the PharmD curriculum, completing residency, and working in the field, she decided to return for her PhD.
"Graduating is both exciting and bittersweet," Desai said. "My time at UMSOP has been a transformative chapter of personal and academic growth. I'm grateful for the camaraderie, mentorship, and support from my fellow classmates and our faculty and staff. I'm deeply proud to be a graduate of this program and join the ranks of its alumni."
Godwin Okoye, MS '23, said he is overwhelmed when reflecting on the many ways he's grown since entering the program.
"This program taught me resilience and the patience it takes to become a fully-fledged researcher," said Okoye, who will be continuing his education in a doctoral program at another institution. "Now, graduating means I have made progress. Learning for me is endless."
Pharmaceutical Sciences Develops Future Research Leaders  
The Department of Pharmaceutical Sciences (PSC) recognized its six PhD and 32 MS graduates across two ceremonies on May 17 and 18.
"Our graduates from the PhD and MS in Pharmaceutical Sciences programs have made significant contributions through their research in areas such as drug discovery, pharmacokinetics, and translational medicine," said Sarah Michel, PhD, professor and chair of PSC and associate dean for graduate programs. "Their work continues our mission of discovering scientific solutions for today's health care problems."
Angela Lee, PhD '23, said she is excited for her future and the ability to apply the skills learned at UMSOP at her next stop, the Center for Tobacco Products at the Food and Drug Administration.
"When I started, I was the lone student in my lab, and I didn't know where the program would take me," Lee said. "Since then, I've forged so many lasting connections with people from different disciplines, across so many different fields. It has been a great experience working in the PSC program, which is filled with excellent mentors and relationships with the pharmaceutical industry and government agencies."
Jeraun Dolphin, MS '23, described graduation as the fruition of a lot of hard work and late nights over the last 16 months.
"To come to the US, do my master's, and be able to successfully complete it, it just feels amazing," said Dolphin, who is from St. Kitts and Nevis in the Caribbean. "All the people I met – classmates, all the professors, even the people I met during my internship at AstraZeneca – they've all been wonderful and helped me achieve this."
Medical Cannabis Science and Therapeutics Graduates Third Class
At the Universities at Shady Grove in Rockville, Md., the MS in Medical Cannabis Science and Therapeutics (MCST) program held a lively ceremony on May 17 to honor the 194 graduates of the Class of 2023, the third in the program's history.
"Just a few years ago, there was no such thing as graduate education in medical cannabis in the United States, so seeing these graduates today is a dream come true for me," said Leah Sera, PharmD, MA, associate professor of P-SHOR and co-director of the Graduate Studies in Medical Cannabis program. "I can't wait to see the impact and jobs they create in this emerging scientific field."
Chad Johnson, PhD, assistant professor of PSC and co-director of the Graduate Studies in Medical Cannabis program, said the Class of 2023 is full of impressive trailblazers who come from a wide range of professions and perspectives in medical cannabis.
"Our graduates are poised to be at the forefront of the medical cannabis industry, by running their own businesses, conducting new research, or advocating for equitable policies," Johnson said.
Alexandra Harris, MS '23, who spoke at the event as the student representative and president of the Medical Cannabis Student Association, described the MCST program as "arduous, but extremely rewarding."
"I feel like there's a unique sense of accomplishment from this kind of degree that makes a statement that directly contradicts the way society has seen a controversial plant," said Harris, who works in Los Angeles for a laboratory information management company that works with cannabis testing labs. "I've never gotten to study science in a way that's so applicable to my daily life and in a way that I'm so passionate about."
Shawn Williams, MS '23, works in several areas of medical cannabis, including certifications, dispensary social media strategy, and non-profit work to support people fighting non-violent cannabis crimes.
"I feel very happy that I accomplished this milestone and am here celebrating with my peers," Williams said. "As a non-traditional student, the program and my classmates embraced me like I was one of their own."
Regulatory Science Grads Prepared for Global Impact
The MS and Graduate Certificate in Regulatory Science celebrated its 37 master's and seven certificate graduates during its graduation on May 18. Five of the students also concurrently graduated with their PharmD degree. The program is fully online, part-time, and designed for working professionals.
"Our students have been members of small teams throughout the program, so it is great to see them interacting in person at graduation," said James Polli, PhD, professor of PSC, Ralph F. Shangraw/Noxell Endowed Chair in Industrial Pharmacy and Pharmaceutics, and director of the MS in Regulatory Science program. "It is amazing how our teammates meet each other for the first time at graduation, but they already know each other so well."
Yvonne Ikhide, MS '23, who works at a regulatory agency in Nigeria, came from Abuja to attend the graduation. She said the program has now positioned her to be more efficient with new expertise in global drug regulation.
"It feels splendid, and it's like a staff of authority has been given to us to improve the drug regulatory system, biologics, and medical devices, so that patient care and the safety of medicines for global health will be enhanced," Ikhide said. "I appreciate the devoted faculty and my colleagues. It's very motivating as a student when you see your faculty doing everything they can to make you succeed."
MS in Pharmacometrics Celebrates Online
The MS in Pharmacometrics, another fully virtual graduate program, held its graduation online on May 20 to recognize its 21 graduating students.
"This milestone marks a significant achievement and is a testament to our students' hard work, perseverance, and dedication," said Mathangi Gopalakrishnan, PhD, MPharm, assistant professor of P-SHOR and director of the MS in Pharmacometrics program. "Our graduates have the necessary skills and knowledge to make a positive impact in the field of pharmacometrics, and I look forward to seeing all that they accomplish in the future."
Related News Stories