Faculty Members Honored with Statewide Awards from MSHP
Three faculty members were honored with statewide awards from the Maryland Society of Health-System Pharmacy (MSHP).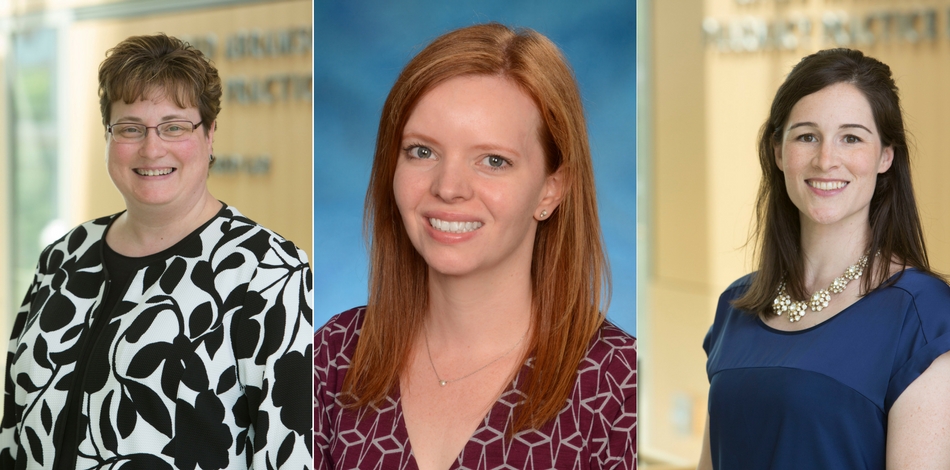 By Rebecca Ceraul
December 16, 2016
Three faculty members in the Department of Pharmacy Practice and Science (PPS) at the University of Maryland School of Pharmacy were honored with statewide awards from the Maryland Society of Health-System Pharmacy (MSHP) in recognition of their excellence and dedication to advancing the pharmacy profession. The awards were presented during the organization's Fall Seminar Awards Dinner on Nov. 17.
Jill A. Morgan, PharmD, BCPS, BCPPS, associate professor and chair of the Department of Pharmacy Practice and Science (PPS) received the highest honor presented by MSHP – the W. Arthur Purdum Award – in recognition of her significant contributions to the field of health-system pharmacy.
"Dr. Morgan's receipt of the 2016 W. Arthur Purdum Award is a much deserved recognition of her contributions to accelerating interprofessional learning and practice experiences for pharmacy, nursing, medical, dental, law, and social work students at the University of Maryland, Baltimore (UMB) and within the University of Maryland Medical System," says Natalie D. Eddington, PhD, FAAPS, FCP, professor and dean of the University of Maryland School of Pharmacy. "The value of team-based health care has been recognized for more than a decade. It has been shown to add value to the learning culture throughout health systems by preventing medical errors and improving patient-centered outcomes and chronic disease management. Dr. Morgan's involvement and achievement at UMB and with professional organizations has impacted more than 1,500 graduates, who will serve across the State of Maryland as the next generation of health care providers and who understand the importance of interprofessional education in patient care."
A pediatric clinical pharmacy specialist, Morgan was the first pharmacist at the President's Interdisciplinary Gastrointestinal Clinic at the University of Maryland Medical Center, where she participates weekly in patient care with a diverse team of providers. "Even though care occurs at the individual level, she demonstrates and models the importance of exploring the non-physical forces that influence patients' health and well-being," says Eddington. "Getting the perspective of non-health care professionals such as lawyers and social workers can assist practitioners and students in understanding family dynamics, living environments, and even public policy that are just as important for improving patients' health as the clinical care provided. "
Morgan completed her Doctor of Pharmacy degree at the University of Illinois-Chicago and her Pharmacy Practice and Pediatric Pharmacy Specialty Residencies at the University of Maryland Medical Center before joining the School of Pharmacy as a clinical assistant professor in 1997. As associate dean for student affairs from 2005 to 2013, she was instrumental in the expansion of the School's Doctor of Pharmacy (PharmD) program to the Universities at Shady Grove in 2007. Under her stewardship, students in PharmD program at Shady Grove progressed through the curriculum on par with students in Baltimore, and had the same student organization and experiential learning opportunities as students in Baltimore.
In 2015, Morgan became chair of PPS, where her responsibilities include leading a scholarly department; advocating for interprofessional collaboration in teaching, research, service and patient care; developing programmatic content and delivery; strengthening relationships with outside entities, and fostering expansion of medication therapy management and other advance practice activities.
"I am honored to join the prestigious ranks of previous Purdum Award winners, so many of whom have mentored and supported my career growth," says Morgan. "MSHP has shown me tremendous support over the year, and I look forward to continuing to work with the organization to improve patients' health in Maryland."
Emily Heil, PharmD, BCPS-AQ ID, AAHIVP, an assistant professor in PPS who specializes in infectious diseases, received the 2016 MSHP Medication Safety Award for her work with on the implementation of an infectious disease fellow-led penicillin allergy testing consult service. Through a study, which was published in the July 2016 in Open Forum Infectious Diseases, Heil found that testing hospital patients for penicillin allergy leads to optimal antibiotic treatment, since most people who think they are allergic to penicillin are actually not. And finding out doesn't take an allergist: the study evaluated a penicillin allergy skin testing program that was managed by infectious diseases physician fellows who were able to appropriately assess patients for penicillin allergy and perform the testing. The study found that treatment can be improved as a result of penicillin allergy testing:
84% of those who tested negative for penicillin allergy were given antibiotic changes
63% received a narrower spectrum antibiotic
80% received more effective therapy
61% received more cost effective therapy
"It was tremendous honor to be awarded MSHP's Medication Safety Award," says Heil. "Patient-reported penicillin allergies have always presented a challenge to optimal clinical care and are associated with suboptimal antibiotic therapy and outcomes. This service has allowed us to optimize antibiotic therapy, including more cost effective and clinically effective antibiotic selection, in patients who test negative for an allergy. I hope that other institutions can learn from our experiences to implement similar programs increasing access to this important test."
Alison Duffy, PharmD, BCOP, a clinical assistant professor in PPS who practices in oncology, received the 2016 Jeffrey Ensor Leadership Award for her impact on Maryland health-system pharmacists or pharmacy practice as a young pharmacist. The award is presented each year to an emerging leader who demonstrates the ideals of the profession of pharmacy while providing exceptional service and commitment to the profession.
Duffy was nominated for her services as co-chair of MSHP's Medication Safety Committee and for her work in the training of pharmacy residents and students at the University of Maryland School of Pharmacy, who cited her mentorship, commitment, initiative, and guidance in their nomination.
"It is an absolute honor to receive this award," says Duffy. "It is such a privilege for me to collaborate with and to learn from such incredibly bright, compassionate, eager, and creative learners, colleagues, and mentors like those at the School of Pharmacy and through MSHP who inspire and challenge me to provide safe, high quality, and patient-centered care for oncology patients."
"I am excited to see Dr. Heil and Dr. Duffy recognized by their colleagues in MSHP for their research and leadership talents," says Morgan. "We are fortunate to have such talented and entrepreneurial faculty at the School of Pharmacy who continue to promote the health of their patients and work to push the profession of pharmacy forward."
Related News Stories