Esteemed Pharmacy Practice Professor Retires from School of Pharmacy
Faculty and staff gather with family and friends to celebrate Dr. David Roffman's 45 years of service.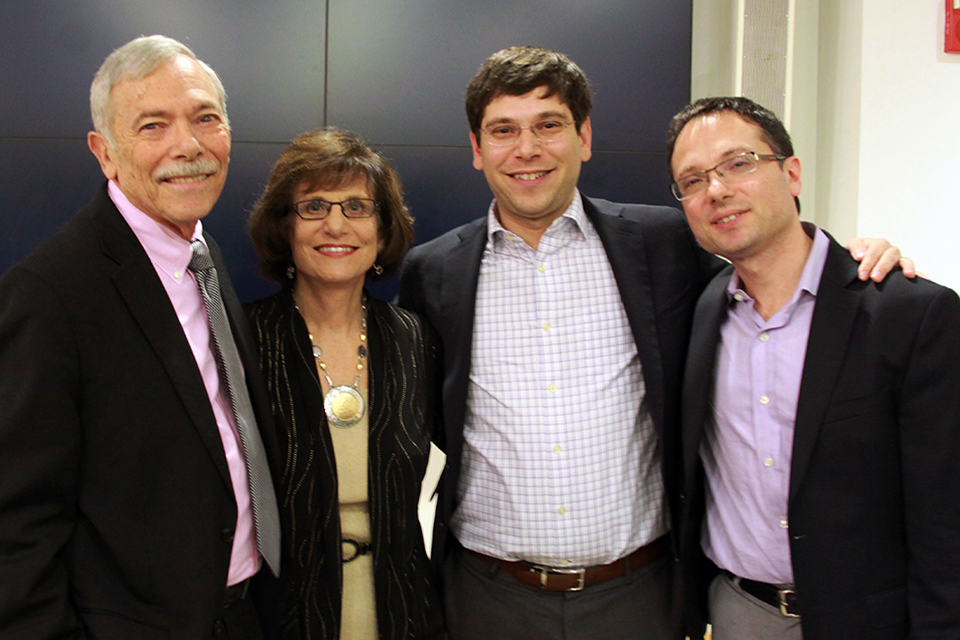 By Malissa Carroll
January 11, 2016
After 45 years of service to the University of Maryland School of Pharmacy, David Roffman, PharmD, BCPS-AQ Cardiology, professor in the Department of Pharmacy Practice and Science (PPS), retired from the School in December.
"The School of Pharmacy has been truly fortunate to have Dr. Roffman commit his 45-year career to our institution," says Natalie D. Eddington, PhD, FCP, FAAPS, dean and professor of the School. "Though he first entered the School as a student, he has since risen through the ranks to become a true icon of the School and the pharmacy profession. He is an accomplished teacher and clinician who dedicates himself to excellence both inside and outside of the classroom. I thank him for his service and wish him all the best in his retirement."
Roffman received his Bachelor of Science in pharmacy and his Doctor of Pharmacy (PharmD) from the School in 1970 and 1973, respectively. He joined the School's faculty in 1973, where he instituted the first cardiovascular pharmacotherapy specialty practice in Maryland. He has also served as a therapeutic consultant in the Cardiac Care Unit at the University of Maryland Medical Center (UMMC) for more than 35 years and maintained practice sites in a number of ambulatory care clinics at the Baltimore Veterans Administration Medical Center.
"Dr. Roffman joined the School of Pharmacy when we were just beginning to launch clinical pharmacy practice in the state of Maryland," says William Kinnard, PhD, former dean of the School. "The state-of-the-art facilities and technology that faculty and students take for granted today did not exist at that time, but Dr. Roffman – along with his colleagues – persisted in his efforts, ultimately becoming an excellent teacher, a fine clinician, and one of the forefathers of clinical pharmacy in the state."
However, despite those notable accomplishments, Roffman was best known to student pharmacists at the School as the course manager for pharmacotherapy. He was so highly regarded as an educator that members of the graduating class named him the School's Teacher of the Year on five separate occasions. In addition, he received the Founder's Teacher of the Year Award presented by the University of Maryland, Baltimore (UMB) in 2010, and is also a past recipient of the Maryland Society of Health-System Pharmacists' (MSHP) W. Arthur Purdum Award, which recognizes his sustained and significant contributions to the pharmacy profession.
"Dr. Roffman's retirement marks the loss of one of the School's finest educators," says Jill A. Morgan, PharmD, BCPS, associate professor and chair of PPS. "His passion for teaching serves as an inspiration to our faculty, with his innovative lectures and pedagogy impacting nearly 2,000 students in the School's previous Bachelor of Science in pharmacy program; more than 2,300 students in the School's current PharmD program; and more than 200 non-traditional students. His work has helped to transform the way that our graduates care for their patients, and his teachings will continue to be shared with our student pharmacists for many years to come."
Stephen S. Gottlieb, MD, professor of medicine at the University of Maryland School of Medicine, who worked alongside Roffman in the Cardiac Care Unit at UMMC, adds, "Because of his infectious personality and the respect that other members of the health care team had for him, Dr. Roffman was able to impart important lessons about patient care and therapeutic decision making to medical students, residents, and fellows that nobody else could have shared with them."
A special reception that brought together Roffman's family and friends with the School's faculty, staff, and students was held on Nov. 30 to celebrate his remarkable career.
"I am grateful each day for the relationship that Dr. Roffman and I have developed over the decade since I joined the School of Pharmacy," said Kristin Watson, PharmD, BCPS-AQ Cardiology, associate professor in PPS, who spoke at the reception about her first meeting with Roffman and the impact that his mentorship has had on her career. "I would not be the person that I am today without Dr. Roffman as a member of my support team and cannot count the innumerable ways in which he has been there for me. I am one of the luckiest people to ever walk through the doors of Pharmacy Hall because not only was I able to learn about the pharmacy profession and develop the skills to become a pharmacy educator from him, but I was also able to become Dr. Roffman's friend."
To conclude the reception, Roffman offered his own heartfelt remarks. "I feel fortunate to have been able to spend my entire career at the School of Pharmacy, and am grateful to have been the beneficiary of the accumulated wisdom of my colleagues in pharmacy and cardiology over the past 45 years. There was not a day that passed during which I did not learn something new from a peer, student, or patient, and I will carry that knowledge with me as I begin the next chapter of my life. I thank you all for your unwavering support," he said.
Related News Stories