Continued Accreditation for Doctor of Pharmacy Program Affirmed Through 2029
Following a rigorous two-year review process, the Accreditation Council for Pharmacy Education (ACPE) affirms continued accreditation of the Doctor of Pharmacy program at the University of Maryland School of Pharmacy.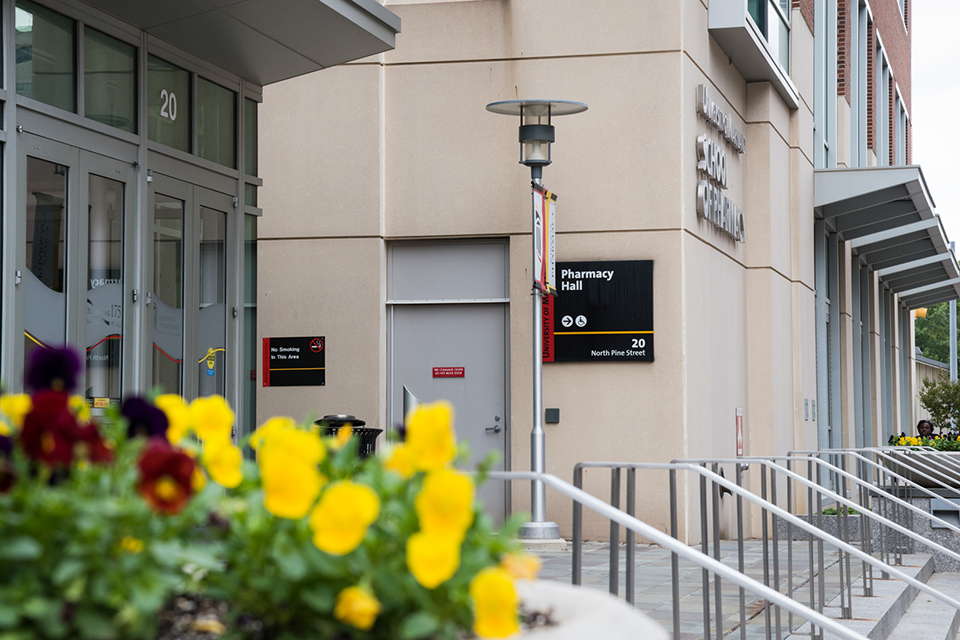 By Becky Ceraul
September 13, 2021
The Doctor of Pharmacy program at the University of Maryland School of Pharmacy has been issued an eight-year accreditation term by the Accreditation Council for Pharmacy Education (ACPE) following the successful completion of a thorough self-study report and a virtual site visit.
"Reaccreditation means that prospective and current students can be assured that our Doctor of Pharmacy program is compliant with the standards of quality set forth by ACPE and that it provides a comprehensive pharmacy education, preparing them for a position in a dynamic pharmacy profession," says Natalie D. Eddington, PhD, FAAPS, FCP, professor and dean. "Throughout their visit, the team heard from a broad range of perspectives by meeting with internal and external stakeholders including standing committees, individual faculty, students, alumni, and preceptors. We are so grateful for the engagement and enthusiasm of all members of our School community in this important visit and delighted that ACPE validated our self-assessment of our program."
Preparation for reaccreditation began in 2019 with the formation of a Self-Study Committee, led by James Trovato, PharmD, professor of pharmacy practice and science; Lisa Lebovitz, JD, MS, assistant dean of academic affairs and assessment, and Andrew Coop, PhD, associate dean of academic affairs and professor of pharmaceutical sciences. Standing faculty committees were charged with reviewing ACPE standards, gathering data and documentation, and responding to guided questions that demonstrated our compliance with the requirements.
"The self-study process was in-depth and broadly based, involving a representative portion of the program's administrative leaders, faculty, professional staff, students, alumni, practitioners, governing body, and other appropriate stakeholders," says Trovato. "Our self-study includes a review of qualitative and quantitative assessments of the strengths and limitations of our Doctor of Pharmacy program. It illustrates compliance with ACPE accreditation standards, faculty and student achievements, and outcomes that demonstrate our program's successes in attaining its mission and goals, including success in student learning.
This introspective process provided an honest, critical assessment of the School's strengths and weaknesses in its assigned area. Faculty who were not assigned to committees served as reviewers to evaluate the initial reports and offer suggestions for improvement as needed. This process was important to make sure the self-study reflected the general perceptions of the school community. The finalized reports prepared by each committee were merged into one document and shared with all faculty, with a vote by the Faculty Assembly to accept the report in December 2020, after which the final report was submitted to ACPE.
"We must acknowledge with deep gratitude that a great deal of the self-study efforts took place following the March 2020 campus shutdown and throughout the fall 2020 semester while faculty, staff, and students were also coping with the monumental academic and personal impacts of the COVID-19 pandemic," says Lebovitz.
To complete the reaccreditation process, a site evaluation team conducted a 2 ½ day virtual visit with School of Pharmacy administration, faculty, staff, students, and preceptors in February 2021. This team — comprised of peers from other schools of pharmacy across the country, a peer school dean, and an ACPE professional staff member – met on Zoom with members of the curriculum and assessment committees as well as with a number of faculty, students, alumni, and preceptors.
Since its last on-site evaluation in 2012, the School has seen significant changes in each area addressed by the ACPE accreditation standards. Members of the site evaluation team took note of these changes, such as:
Interprofessional education is now required and embedded throughout the PharmD curriculum, beginning with a required first year course that engages pharmacy students along with nursing, physical therapy, medicine, and dentistry.
The Pharmacists' Patient Care Process (PPCP) model is now woven into nearly all courses; when implemented profession-wide, the PPCP will stimulate consistency, predictability, and measurability in pharmacists' patient care services.
The School has advanced the concept of "pharmapreneurship" to expand the potential impact of the pharmacist in unconventional roles, and to develop strategies and skills that pharmapreneurs might utilize such as collaboration, leadership, and innovation. Several educational initiatives were developed to enhance these and other characteristics in our students and faculty. A pharmapreneurship pathway of PharmD electives was developed, as were several online masters and certificate programs. Funding support for novel research initiatives and guidance has been sought from experts in academia, business, practice, and industry.
"The purpose of the site visit was to assure that the noteworthy items and areas for improvement identified in the report were truly reflective of the current state of the program," says Trovato. "I think the evaluation team was particularly impressed with the collegiality of the faculty, the transparency of our processes and data, the robust infrastructure, and our commitment to students."
Following the site visit, the evaluation team's report was reviewed by the ACPE Board. Upon discussion of the report, the Board affirmed the team's recommendation that accreditation of the Doctor of Pharmacy program be continued for the full eight-year cycle, which ends June 30, 2029.
Related News Stories