Class of 2012 Visits the School of Pharmacy
Incoming first year students spend time on campus prior to the start of classes on August 25.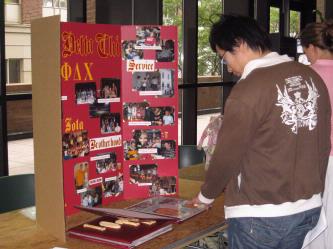 By Becky Ceraul
June 9, 2008
Ninety-six students from the Class of 2012 visited the School of Pharmacy on June 6 for its annual New Student Welcome Day. The event provided a brief glimpse of the upcoming academic year for the "about-to-be" first year students.
"You have been accepted to one of the best schools of pharmacy in the country," said Natalie D. Eddington, PhD, Dean of the School of Pharmacy. "Our curriculum is challenging and at some points you may question your reasons for enrolling. But at the end of this four year program, you will graduate and make a difference in the lives of the patients you will care for."
In addition to the greeting provided by Dean Eddington, the new students met Myron Weiner, PhD, associate professor of pharmaceutical sciences, who will serve as their class advisor. They also received a briefing on first-year course work, were fitted for their traditional white coats, received tours of the Baltimore and Shady Grove campuses, and chatted with student leaders at a student organization fair.
The Class of 2012 will be back on campus for a three-day orientation August 20-22. The first day of class for the 2008-2009 academic year is August 25.
Related News Stories