CERSI Conference Highlights Need for National Medical Device Evaluation System
Researchers across academia, government, and industry explore how real world evidence can be harnessed to create a national evaluation system and improve the safety and effectiveness of medical devices.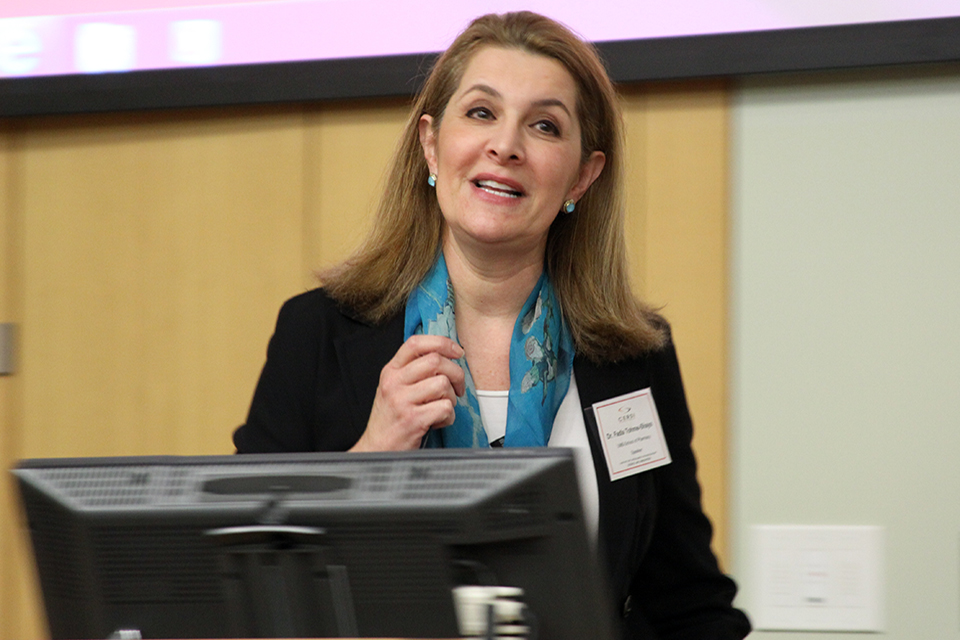 By Malissa Carroll
April 20, 2016
The University of Maryland School of Pharmacy welcomed researchers from across academia, government, and industry to Pharmacy Hall on March 24 for "Building the National Evaluation System for Medical Devices: Using Real World Evidence to Improve Device Safety and Effectiveness," a day-long conference sponsored by the University of Maryland Center of Excellence in Regulatory Science and Innovation (M-CERSI) and the Food and Drug Administration (FDA). Led by Fadia Tohme-Shaya, MPH, PhD, professor and vice chair for academic affairs in the Department of Pharmaceutical Health Services Research (PHSR), the conference explored the need for a national evaluation system for medical devices and examined the potential of harnessing real world evidence to improve the safety and effectiveness of those devices.
"An evaluation system based on real world data has the potential to help ensure the safety and efficacy of implantable medical devices after they have been approved for use in the market," said Natalie D. Eddington, PhD, FCP, FAAPS, dean and professor of the School of Pharmacy in her opening remarks to attendees. "However, the infrastructure necessary to gather and process this post-market data does not currently exist, and developing this infrastructure will require strong public-private partnerships and innovations in informatics, epidemiology, biostatistics, and health care data systems integration. The goal of this conference is to bring together experts from across academia, government, and industry to further consider this problem as well as potential solutions."
The event kicked off with a keynote presentation delivered by Jeff Shuren, MD, JD, director of the Center for Devices and Radiological Health at the FDA, who highlighted the agency's perspective on the development of a national medical device evaluation system. In addition to discussing the current challenges surrounding the approval process for medical devices, Shuren spoke about the requirements that a national evaluation system would need to fulfill to have the greatest impact on ensuring the safety and effectiveness of new medical devices.
"It is critical that we get new technology in the market; however, that technology has no value if it does not get to patients in a timely manner," said Shuren. "We need to focus on developing new methodologies that will reduce the time and cost of generating clinical evidence across the total product lifecycle, while still maintaining our high standards of safety and effectiveness. The linchpin here is evidence generation – smart, efficient evidence generation. The science must drive the products coming to market, as well as the decisions we make about the use of those products."
Shuren also noted that the FDA's Center for Devices and Radiological Health has laid the foundation for a new national evaluation system for medical devices, explaining that two multi-stakeholder groups issued reports last year that provided recommendations on how to move the project forward.
"We have some wonderful opportunities before us, but we also have some limitations," added Shuren. "As we continue to move forward with the development of a national evaluation system, there will be questions that arise about data quality, standards, and completeness that we will need to address. Technology changes, and we need a system that can serve as a learning model and be able to get valuable information back to the innovators, developers, practitioners, and patients. This is what we must build towards."
Following Shuren's presentation, the conference was divided into four sessions that explored how the digital revolution might be harnessed for medical device evaluation, present-day foundations for a national evaluation system, how to make the learning health care system a reality, and the importance of public-private partnerships and unique device identification.
"It is no secret that medical device development in the United States is slow and expensive," said J. Matthew Brennan, MD, MPH, co-director of the STS Analytical Center at the Duke Clinical Research Institute at Duke University. "However, as medicine has transformed in recent years, there is now a tremendous amount of data available to us that offers new opportunities to transform efficiencies in medical device evaluation. The problem is that the systems that house this data are siloed by architecture, by regulations, and frankly, by ego. All three of these challenges must be overcome if we are to move forward with this initiative."
"It is important for stakeholders across academia, government, and industry to understand that this system would not be owned exclusively by the FDA," added Art Sedrakyan, MD, PhD, professor of healthcare policy and research in cardiothoracic surgery at Weill Cornell Medical College. "The development of a national evaluation system for medical devices is a critically important issue that spans the health care system. We need everyone to help with this initiative. It is not only the FDA and academia partnering to try to solve this problem. We must scale it up such that other stakeholders, including payers, appreciate what this system could do for them."
In her concluding remarks, Shaya noted that the conference represented only one step in the journey to establishing a national evaluation system for medical devices. She spoke about the new questions raised surrounding data security and safety as a result of the day's presentations and encouraged attendees to further consider the role that they might play as work on the system continues to move forward. "Most importantly, we need to ensure that we are including patient reported outcomes and patient input as we continue to develop this system," she said.
"More and more people are living with implantable devices, and at increasingly younger ages," she added. "We must develop a system that informs providers and patients in real time about the best device option for their unique situation, and provide enough data that allows both parties to weigh the risks and benefits associated with that device. This conference was only the beginning of this conversation, and we are very fortunate to be collaborating on this process with the FDA and the University of Maryland, College Park through M-CERSI, because it is no longer a one person, one department, or one school initiative. We cannot do it alone."
Related News Stories