Bristol-Myers Squibb Speaks to Graduate Students at the School of Pharmacy
Presentation showcases company's cutting-edge research and current career opportunities available for students.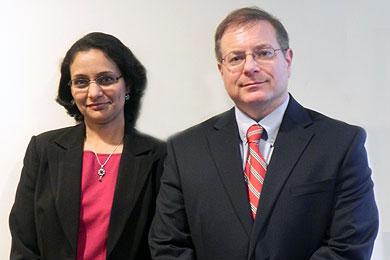 By Malissa Carroll
April 4, 2013
On March 28, the Department of Pharmaceutical Sciences (PSC) at the University of Maryland School of Pharmacy hosted its first talk in a seminar series sponsored by its student chapter of the American Association of Pharmaceutical Scientists. Mr. Howard Stamato, and Dr. Manisha Dali, associate directors at Bristol-Myers Squibb (BMS), led the presentation and provided the department's graduate students with an overview of their company, the types of research it conducts, and available career opportunities.
"At Bristol-Myers Squibb, we are focused on helping patients prevail over serious illnesses. We take our commitment to our patients, colleagues, and the community that we serve seriously," said Stamato.
The company, which spans the entire spectrum of drug discovery and development, was first established by Edward R. Squibb, MD, in 1858. He joined two friends, William McLaren Bristol and John Ripley Myers, who had purchased another struggling drug manufacturing firm in 1887, to shape the company's foundation. Today, BMS maintains an active research and development (R&D) pipeline that is staffed by approximately 7,000 employees and takes place across a network of state-of-the-art facilities worldwide.
"Much of the innovation that happens at Bristol-Myers Squibb is spearheaded by our scientists and researchers," said Stamato. "However, we realize that we can't be experts at everything. Sometimes we partner with other companies and organizations to integrate expertise from outside the company into our efforts, which helps to enhance our current research initiatives and allows us to address unmet medical needs in serious disease areas."
Research at BMS is concentrated in six areas, including cardiovascular, immunoscience, metabolics, neuroscience, oncology, and virology. As part of his presentation, Stamato reviewed the different phases involved in developing a new drug at BMS and spoke to students about the challenges that researchers often encounter.
In the second portion of the presentation, Dali presented two case studies taken from actual experiments conducted at BMS. These case studies, which Dali chose based on their relevance to research currently being conducted by students in the department, examined issues related to pre-formulation and drug delivery and illustrated how the techniques students learn in their labs can be applied to solve "real world" problems.
However, Dail noted, "At Bristol-Myers Squibb, it's not just about science and technology. As an organization, we are also committed to philanthropy and social responsibility. The Bristol-Myers Squibb Foundation is dedicated to addressing health disparities around the world."
Programs established through the BMS Foundation strive to improve the health outcomes of populations disproportionately affected by HIV/AIDS in Africa, hepatitis in Asia, mental health and well-being in the United States, and cancer in Europe. The BMS Foundation also established "Together on Diabetes," a five-year initiative launched in 2010 to improve health outcomes for people living with type 2 diabetes in China, India, and the United States.
"Mr. Stamato and Dr. Dali's presentation about the research and structure of BMS provided a great opportunity for us as students to learn how we can translate the research skills that we acquire during graduate school into a productive and fulfilling career in industry," says Diana Vivian, a graduate student in PSC and coordinator of the event. "They are great role models for anyone beginning a career in pharmaceutical sciences."
Related News Stories