At Pumpian Lecture, FDA Presenters Call for More Diversity in Clinical Drug Trials
Dr. Lola Fashoyin-Aje and Dr. Theresa Mullin spoke at the annual event.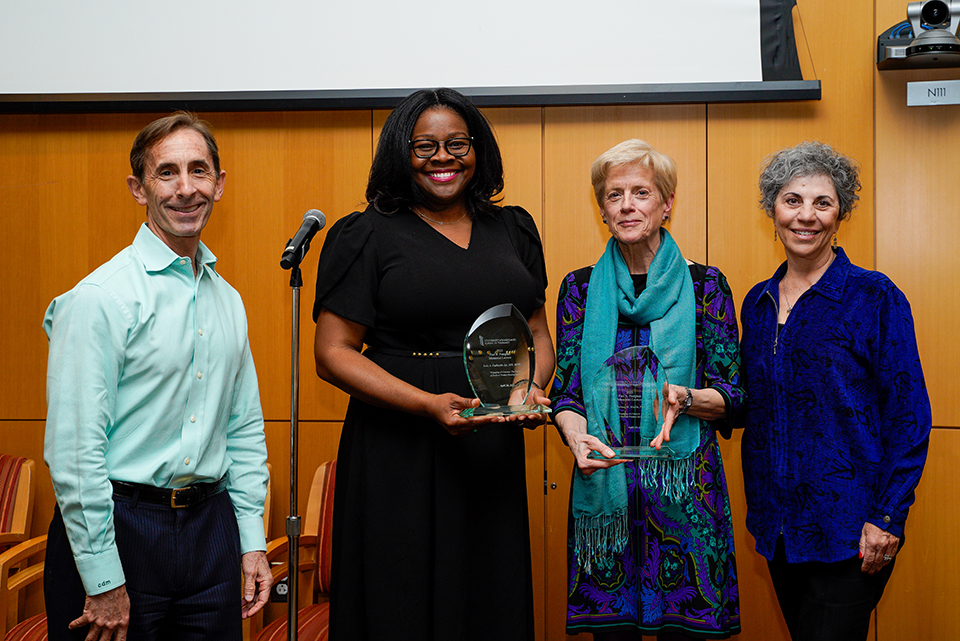 By Andrew Tie
May 8, 2023
Featured image (left to right): Drs. Daniel Mullins, Lola Fashoyin-Aje, Theresa Mullin, Eleanor Perfetto
The University of Maryland School of Pharmacy's annual Paul A. Pumpian Memorial Lecture featured two U.S. Food and Drug Administration (FDA) leaders who spoke about their interconnected work on increasing diversity and the patient voice in drug development.
The lecture, titled "Engaging All Patients: The Future of Medical Product Development" was held on April 26 in Pharmacy Hall, featuring Lola A. Fashoyin-Aje, MD, MPH, deputy director of the Division of Oncology 3 in the FDA's Center for Drug Evaluation and Research (CDER) and associate director of Science and Policy to Address Health Disparities in the FDA's Oncology Center of Excellence, and Theresa M. Mullin, PhD, associate director for strategic initiatives at CDER.
Established in 2004, the Paul A. Pumpian Memorial Lecture is an endowed lecture in the Department of Practice, Sciences, and Health Outcomes Research (P-SHOR). It is supported by a gift from Paul A. Pumpian, BSP '50, JD, a former faculty member at the School who passed away in 2008.
"Increasingly, the FDA is engaging patients and the public to assure that clinical trials and other regulatory science studies are patient centered," said C. Daniel Mullins, PhD, professor of P-SHOR, executive director of the PATIENTS Program, and a co-organizer of the Pumpian Lecture. "As part of its patient engagement initiatives, the FDA is advancing efforts to increase the diversity of participants in their own activities and the activities of those entities that develop or produce products regulated by the FDA."
Making the Case for Diversity
Fashoyin-Aje cited FDA data showing that populations enrolled in phase III trials, the stage to explore a drug's effectiveness and safety, have historically not been representative of the American population, particularly Black and Brown populations. She explained that this has occurred for several reasons, including historical exclusion of certain groups in biomedical research, transportation issues or proximity to research facilities, or lack of outreach.
This can lead to incomplete safety and efficacy data, making it difficult to identify side effects or tolerance issues in underrepresented groups. Fashoyin-Aje said conducting clinical trials in a representative population is not only the best path forward for science and public health, but also from an ethical standpoint.
"Some of the basic ethical principles of biomedical research require that as part of our respect for the person, we inform patients of the option to participate in clinical trials," Fashoyin-Aje said. "For many diseases in oncology, a clinical trial may be the best option that a patient may have."
Fashoyin-Aje led the development of guidelines at the FDA to encourage future trials to submit diversity action plans that would increase their enrollment of people from historically underrepresented populations. Recent legislation makes use of the guidance recommendations a requirement now.
Hearing Directly from Patients
Mullin focused her part of the lecture on her work on patient engagement in drug development. Mullin said the FDA's goal is to hear patient perspectives on living with their disease to inform regulatory decisions.
"These open-ended discussions can really inform a lot of aspects of drug development," Mullin said. "It helps to understand what an attractive product profile might be if you're going to develop a new therapy or intervention. What would be valuable to patients that's not being treated with the current available therapeutics?"
Mullin said that type of patient input should be built in, starting in the translational medicine phase before progressing to clinical trials. The FDA now has four patient-focused drug development (PFDD) guidance documents to help guide patient engagement, from deciding who to engage and how, and using the patient experience data provided to make decisions about clinical outcome assessments and trial endpoints.
"The FDA's PFDD initiative and its emphasis on diversity in clinical trials are two closely intertwined programs that work hand in glove," said Eleanor Perfetto, PhD, professor of P-SHOR and co-organizer of the Pumpian Lecture. "For PFDD to be successful, it must have representative patient participation, just as it needs clinical trial diversity. These initiatives represent the future of drug development."
Related News Stories