Annual Pumpian Lecture Explores Digitization and Pharmapreneurship
Keynote speaker Dr. Phillip Phan highlights opportunities and trends in the changing digital health care system.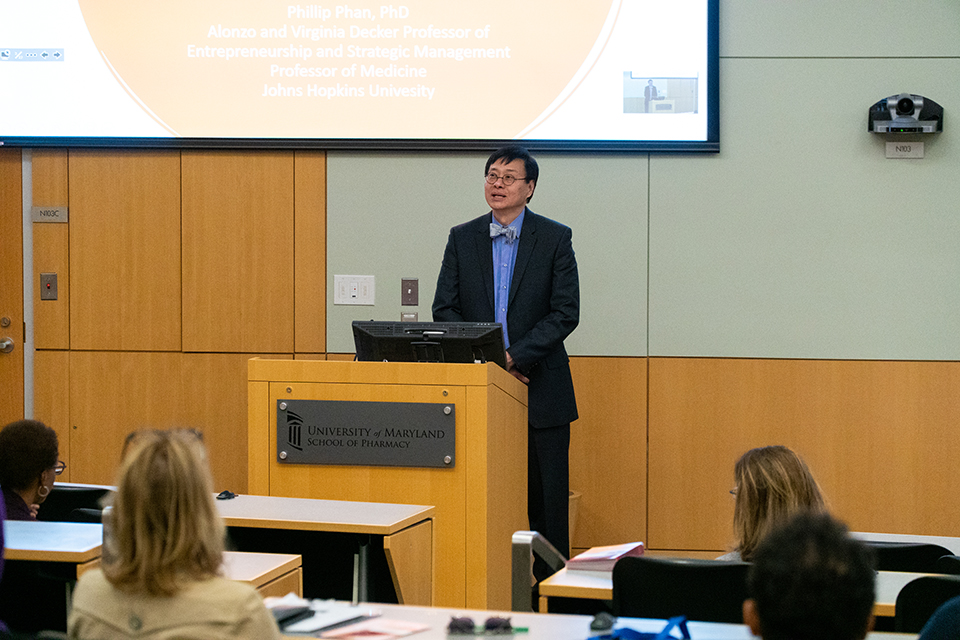 By Andrew Tie
May 6, 2022
On April 28, members of the University of Maryland School of Pharmacy (UMSOP) community gathered for the annual Paul A. Pumpian Memorial Lecture.
Phillip Phan, PhD, the Alonzo and Virginia Decker Professor of Strategy and Entrepreneurship at the Johns Hopkins Carey Business School, delivered his talk titled "Challenges and Opportunities in the Digitization of Pharmapreneurship," which highlighted trends in digital health and the opportunities for pharmacists.
An initiative created by UMSOP in 2017, pharmapreneurship is emblematic of the School's commitment to best positioning faculty, staff, and students to address the nation's health care challenges. Several initiatives have since been created under the pharmapreneurship umbrella to help faculty, staff, and students develop entrepreneurial mindsets and ideas, including a Pharmapreneurship Pathway in the Doctor of Pharmacy program, several scholarships for students with interest and abilities in pharmapreneurship, a Center for Women in Pharmapreneurship, and the Pharmapreneurs' Farm, a dedicated space to collaborate, nurture, and develop pharmapreneurial ideas.
Established in 2004, the Paul A. Pumpian Memorial Lecture is an endowed lecture in the Department of Pharmaceutical Health Services Research. It is supported by a gift from Paul A. Pumpian, BSP '50, JD, a former faculty member at the School who passed away in 2008.
Digital Health
Phan discussed the multifaceted ways digitization has transformed health care. Digitization has fewer geographical boundaries, lower barriers to access, and creates new models of care.
"Digitization allows things to happen that have never happened before," Phan said.
Phan examined the ways digitization has or could benefit each step along the health care continuum. Examples include sifting through enormous amounts of medical metadata generated at first encounters at the emergency department or primary care visit; analyzing bed waiting times during high-risk transitions of care, such as admissions; improvements in diagnostic imaging; and use of artificial intelligence in treatment plans.
Phan, who is also a professor in the Department of Medicine at Johns Hopkins Medicine, said he sees growing numbers of younger clinicians who are interested in reimagining the future of their profession thanks to the emerging capabilities of digitization.
Developing Pharmapreneurial Ideas
The key to innovation, Phan said, is to identify the correct problem or need.
"Typically, if you can ask the right questions, the answers will come," Phan said. "We know how to come up with the answers, but what is less well known and well-studied is asking questions."
For the pharmapreneurs in the audience, Phan suggested they lower their barrier to creation by identifying areas with mature technology, such as image recognition, and try to build ideas around them. With the public and private funding available and the technological capabilities of today, Phan said now is a good time to be involved in pharmapreneurial activities.
"Those of you interested in pharmapreneurship can depend on the fact that any idea you come up with that is a solution, it may not be here today, but it is being worked on," Phan said.
Related News Stories