UMSOP's Smith Named UMB's February Employee of the Month
Moving and storage specialist honored for being a team player and an integral part of the University's COVID-19 response.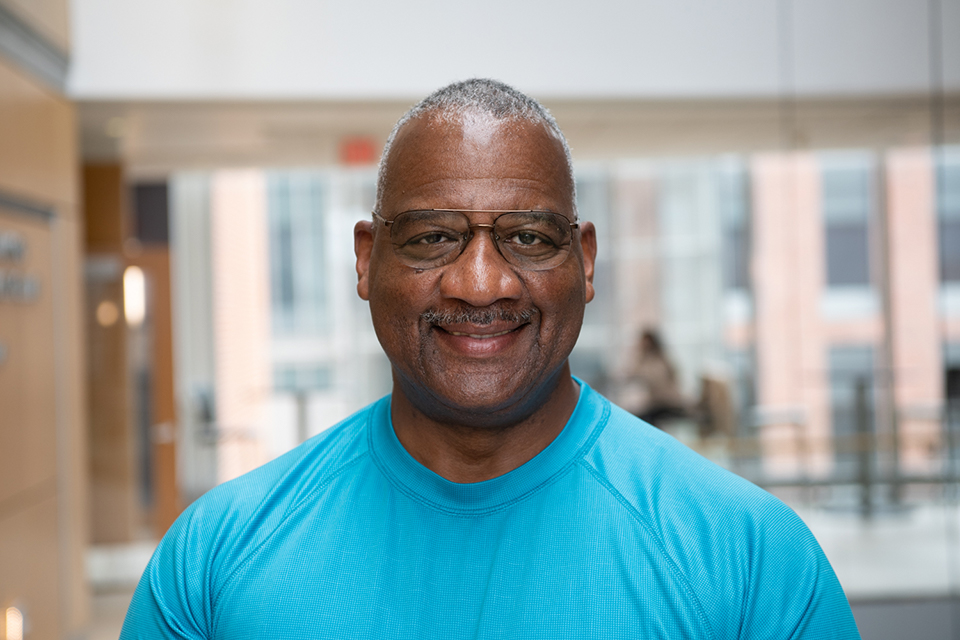 By Jen Badie
March 2, 2022
Victor Smith is a people person. This was plain to see during a videoconference Feb. 15 in which four dozen of his colleagues logged on to see the University of Maryland School of Pharmacy (UMSOP) moving and storage specialist learn that he had been named the University of Maryland, Baltimore's (UMB) February Employee of the Month.
His colleagues said he is a caring and calm presence who always has a smile on his face as he makes rounds in the four buildings that he is responsible for — Pharmacy Hall, Pharmacy Learning Center, the 12th floor of the Saratoga Building, and Health Sciences Research Facility II's fifth and sixth floor south.
"Victor maintains a positive attitude and a 'consider it done' communication style. His problem-solving skills have averted chaos on multiple occasions, always with a smile, a suggestion, and a reminder to folks to wear their masks properly," said his supervisor Pam Crowe, MS, facilities and laboratory services director.
Smith is responsible for all moving projects, coordinating event setups, sending work orders to maintenance to keep UMSOP buildings safe and in top condition, and overseeing ultralow freezer maintenance and remote monitoring. Smith said any day can bring an unexpected issue, so he stays flexible.
He remained on campus in 2020 during the start of the COVID-19 pandemic.
"For me during COVID, I never skipped a beat," Smith said. "I continued to do what I always did to make sure everything's running OK: checking equipment, checking eyewashes, and making my daily rounds with the four buildings."
Crowe said Smith has been a reassuring presence, especially during teleworking and telelearning.
"As one of the few essential employees on campus at times, he made sure important deliveries continued and that vital research equipment was set up, broken down, transferred, and set up again. Construction projects did not stop at the school, with Victor facilitating moves and building access," Crowe said.
Smith learned he had received the UMB honor from President Bruce E. Jarrell, MD, FACS, who was joined by UMSOP Dean Natalie D. Eddington, PhD, FAAPS, FCP.
In addition to his duties at UMSOP, Smith was integral to the University's Blue Cart program, working as part of UMB's Office of Emergency Management (OEM) to help build the carts, distribute them across the University, and restock them. These carts contain disinfectant spray, paper towels, hand sanitizer, and polyethylene gloves and were placed around campus in 2020 so that employees and students can wipe down common areas in classrooms, labs, and conference rooms.
"Victor truly is a team player. He is cordial, professional, and demonstrated his ability to pivot during the pandemic, helping another unit on campus with a vital service — one that helped us all get back on campus," Crowe said.
Jim Chandler, MPA, business analyst for UMB's Facilities and Operations and former OEM logistics manager, worked with Smith during the distribution of the carts and called him a mentor.
"Victor's positive energy and willingness to jump in to assist with any task requested in support of the COVID response demonstrates his work ethic, his commitment to UMB's core values, and his dedication to keeping each member of our community safe," Chandler said. "The UMB campus is a safer place to work, study, and conduct research because of his efforts."
When Smith's colleagues began returning to campus after teleworking, some of them said he was the first person they saw, which brought them comfort. Others said he is always willing to lend a hand, even giving special wipes to a co-worker who complained that her glasses were fogging up because of her mask.
Smith, who has his commercial driver's license, also helps other schools such as driving the Governor's Wellmobile for the School of Nursing when it needs to be taken off campus for maintenance.
"You show up, you get things done, and you make things happen, and our school and our UMB community run better because you show up to work every day," said Jill Hamilton, MSW, contracts and grant specialist, UMSOP, and UMB Staff Senate secretary.
Smith, who has worked at UMSOP since 2014, will receive a plaque, a letter of commendation, and an extra $250 in his next paycheck for being named Employee of the Month. He thanked Crowe and his other colleagues.
"I like working with people. Pam is the best supervisor I've ever had because she cares. To me, that's the game changer," he said.
Smith added he was shocked and honored to see so many colleagues on the call.
"I always tell people, 'Do a good job, because you never know who's watching,' " he said. "It just blew me away. I was floored. I was really honored to see all of those faces. That was so touching. Seeing those faces meant more than anything at all."
Related News Stories