UMSOP Hosts Interdisciplinary Chemistry-Biology Symposium
Event featured oral and poster sessions, plus a career panel.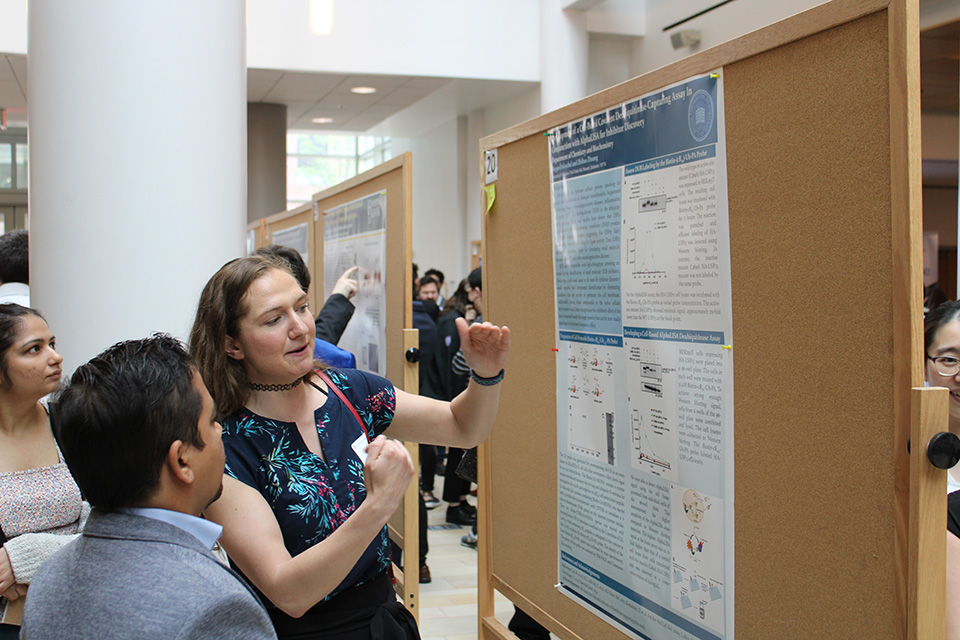 By Andrew Tie
June 28, 2023
The University of Maryland School of Pharmacy (UMSOP) recently brought chemists and biologists together to highlight the latest in cutting-edge research in the Mid-Atlantic region.
The 14th annual Frontiers at the Chemistry-Biology Interface Symposium (FCBIS), held at Pharmacy Hall on May 20, was a day-long event that provided an intimate environment to foster scientific discussion at all levels. Back in person for the first time since the COVID-19 pandemic interrupted the event, the symposium included oral and poster sessions, along with a career panel, a tour of the School of Pharmacy's Mass Spectrometry Center, and plenty of opportunities to network.
With topics ranging from cancer to antibiotic resistance to the evolution of the virus causing COVID-19, the FCBIS emphasized that the intersection between chemistry and biology improves the understanding of such topics and that solutions to these health crises require expertise from and integration of both scientific fields.
"The FCBIS event is designed to encourage interdisciplinary discussions by bringing together chemists and biologists who attempt to address similar problems from different angles," said Daniel J. Deredge, PhD, assistant professor in the Department of Pharmaceutical Sciences (PSC) and lead organizer of the symposium. "The event this year continued a long tradition of excellent symposia that foster enthusiastic participation and in-depth discussions."
More than 200 people attended the FCBIS with researchers from universities in Maryland, Washington, D.C., Delaware, New York, and Pennsylvania, as well as researchers from government and industry. Upwards of 90 posters were presented with several poster prizes awarded. Donita Brady, PhD, the Harrison McCrea Dickson, MD and Clifford C. Baker, MD Presidential Professor at the University of Pennsylvania, gave the keynote address titled "Copper Conducted Kinase Signaling in Cancer."
Ally Smith, a third-year student in the PhD in PSC program, presented a poster at the conference and had the opportunity to network and exchange ideas with other scientists.
Smith, whose research focuses on the integration of computational and experimental biophysical methods, said the presentations were approachable and easy to follow, catering to all people across the biological and chemical expertise spectrum.
"FCBIS expanded my knowledge of adjacent fields, fostered creative insights related to my thesis, and rekindled my passion and appreciation for science," Smith said. "The organizers did an exceptional job in curating a diverse program encompassing a wide range of disciplines so that every attendee had something to learn and contribute."
Related News Stories