UMB's Second Interprofessional Education Day An "Overwhelming Success"
Faculty and students from all disciplines engage in innovative ethics-related scenarios designed to highlight the goals and benefits of interprofessional education.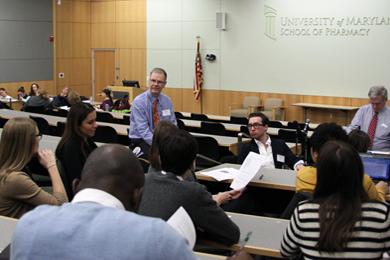 By Malissa Carroll
February 28, 2014
More than 550 students and 100 faculty members from all six professional schools and the graduate school at the University of Maryland, Baltimore (UMB) came together for the campus' second annual Interprofessional Education (IPE) Day on Feb. 19. Sponsored by Dr. and Mrs. James A. Earl and the Helena Foundation and coordinated by the newly established UMB Center for Interprofessional Education, the day featured 11 ethics-based IPE scenarios and other events designed to help participants learn how to communicate with individuals outside their area of study, share their skills with professionals from different disciplines, and enhance quality of care through interprofessional communication.
"UMB's second annual IPE Day was a great success, as faculty, staff, and students from all disciplines gathered to learn from, with, and about each other's respective fields," says Jane M. Kirschling, PhD, RN, FAAN, dean and professor of the University of Maryland School of the Nursing and director of the Center for Interprofessional Education. "This day serves as a springboard for our collective efforts to better prepare the next generation of health care providers, lawyers, and social workers with the knowledge and skills needed to effectively work in interprofessional teams. I would like to congratulate everyone who participated."
Heather Congdon, PharmD, BCPS, CDE, associate professor in the Department of Pharmacy Practice and Science (PPS) at the University of Maryland School of Pharmacy and assistant dean for the School at the Universities at Shady Grove, serves as co-director of the Center for Interprofessional Education and led the planning committee tasked with organizing the day's events.
"It was fantastic to experience so much energy from faculty, staff, and students around a topic about which I am so passionate," says Congdon. "It is also great to see that interprofessional education continues to gain more momentum across campus each year, with individuals from all disciplines becoming more eager to get involved because they understand the importance of this type of collaboration in today's dynamic health care professions."
One hundred sixty-seven faculty, staff, and students represented the School of Pharmacy at IPE Day. Mary Lynn McPherson, PharmD, BCPS, CPE, professor and vice chair of education in PPS, and Richard Dalby, PhD, associate dean for academic affairs and professor in the Department of Pharmaceutical Sciences (PSC), led two of the scenarios in which faculty and students from across campus were invited to participate. Each scenario mimicked a real world situation that health care professionals might encounter during their practice and provided an opportunity for students to practice the four core competencies of interprofessional collaborative practice: values/ethics for interprofessional practices, roles/responsibilities, interprofessional communication, and teams and teamwork.
McPherson's session, titled "We Want Everything Done for Mama: Withholding and Withdrawing Treatment at the End of Life," outlined the benefits and burdens associated with anti-infective therapy and artificial hydration and nutrition in patients diagnosed with terminal illnesses. Participants were asked to identify ethical issues and principles, as well as therapeutic issues, associated with their assigned case studies while focusing on the role of each discipline and how the team approach could be leveraged to optimize therapeutic outcomes.
Titled "What Improves Patient Outcomes the Most?", Dalby's session first grouped participants by discipline, where they had an opportunity to evaluate and recommend a potential treatment plan for a middle-aged male patient recently admitted to the hospital following a hypertensive crisis. Following an initial analysis of the case, participants were then arranged in interdisciplinary teams, where they were asked to reconsider the same case and examine any resulting differences in the new treatment plan.
Other faculty members from the School of Pharmacy who participated in IPE scenarios included Chanel Agness, PharmD, BCPS, CGP, assistant professor in PPS; Katie Kiser, PharmD, BCPS, assistant professor in PPS; Neha Pandit, PharmD, BCPS, assistant professor in PPS; Kathleen Pincus, PharmD, BCPS, assistant professor in PPS; David Roffman, PharmD, BCPS, AQ Cardiology, professor in PPS; Deborah Sturpe, PharmD, associate professor in PPS; Kathryn Walker, PharmD, BCPS, CPE, assistant professor in PPS; and Kristin Watson, PharmD, BCPS, AQ Cardiology, associate professor in PPS. Two pharmacy residents from the University of Maryland Residency and Fellowship Program also participated in IPE scenarios: Nina Cimino, PharmD, PGY-2 palliative care pharmacy resident, and Kashelle Lockman, PharmD, PGY-1 pharmacy practice resident.
After all scenarios concluded, the more than 550 students gathered to reflect on their experiences at a debriefing in the School of Nursing auditorium.
Third-year student pharmacist Kinbo Lee, who participated in the scenario titled "Interprofessional Strategies for Enabling Autonomy of the Vulnerable Adult," spoke about the "privilege of collaborating with students from physical therapy, nursing, and social work" to evaluate the case of an elderly woman who had been diagnosed with multiple chronic conditions, prescribed a wide range of medications, encountered a significant legal issue, and faced many quality of life and self-care concerns.
"As a result of this exercise, I came to greatly appreciate the role and scope of practice of other health care, social work, and legal disciplines," says Lee. "I left convinced of the need to incorporate these perspectives and services into a comprehensive assessment and plan that addresses the biological, psychological, and social dimensions of the patient to optimize care."
Lee's reflection was one that Congdon and the other members of the IPE Day planning committee were thrilled to hear.
"IPE Day is a great activity, but we need to remember that interprofessionalism cannot be taught in one day," says Congdon. "Although faculty, staff, and students alike learned a lot about the importance of interprofessionalism and interprofessional education, this day represents only the 'tip of the iceberg'. Through its new Center for Interprofessional Education, UMB will strive to significantly increase both didactic and experiential opportunities in interprofessional education and practice for our students, allowing them to fully grasp the concept and engage in that type of professional behavior."
Related News Stories