Students Team Up, Excel in Interprofessional Patient Management Competition
Dentistry, law, medicine, nursing, pharmacy, and social work students foreshadow the future.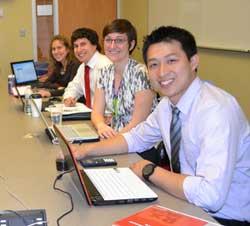 By Steve Berberich
April 18, 2013
When pharmacy student Katie Heavner offered her opinions on the right drugs to give a 48-year-old obese male patient with acute syphilis, failing vision, hypertension, a knee fracture, possible meningitis, and possible clinical depression, everyone on the seven-member health care team stopped talking and listened.
Heavner had not yet had any clinical experience.
"But I did have the knowledge," she said. After three years of education at the University of Maryland (UM) School of Pharmacy, Heavner performed well as the pharmacy representative on her team competing in the University's 2013 Interprofessional Patient Management Competition (IPMC), to develop a prognosis and treatment plan for the hypothetical male patient.
When he became president of the University of Maryland, Baltimore (UMB) in July 2010, Jay A. Perman, MD, placed a high priority on interprofessional clinical education among the six professional schools. In 2011, he established an Interprofessional Education Task Force charged with creating or broadening existing opportunities for interdisciplinary education, which in turn has led to a permanent Center for Interprofessional Education in the President's Office at UMB.
The IPMC is a campuswide student competition. The team-based analysis of clinical situations helps UM students learn collaboration with different health care disciplines. Faculty advisor James Trovato, PharmD, MBA, BCOP, FASHP, associate professor at the UM School of Pharmacy, says the competition builds many skills, which the students will need as professionals to bridge disciplines in team health care.
For the first time, teams in the IPMC this year each had at least one student from each of the UM professional schools in Baltimore–dentistry, law, medicine, nursing, pharmacy, and social work, plus the School of Medicine's Department of Physical Therapy and Rehabilitation Science. A panel of faculty advisors, who also represented all the schools, judged the teams on technical and communications skills.
As one of 42 students in the competition, Heavner got a head start on the traditional fourth year of clinical work at the School of Pharmacy. She is convinced that health care is moving toward interprofessional teamwork "because we are learning it in School right now. It was interesting to see the different roles interact. And, it was very exciting to be asked my opinion as a pharmacist from people of other disciplines," she says.
UM School of Social Work third-year student Laurie Chaikind agrees with Heavner, her teammate. "This is where health care is going. And at the same time we are learning to make the [health care] system better." Their 'Team 4′ placed a very close second.
All six teams took on the same case, that of the 48-year-old man. He was characterized with multiple sexual partners and a history of recurrent sexually transmitted diseases. He had had multiple courses of antibiotics but never tested for HIV. His rationale for entering the hospital was decreased vision sensitivity. He was unsteady and uneasy. He smoked a pack of cigarettes and had three to four alcoholic drinks a day. He refused to be tested for HIV at the hospital.
The following are just a few of the students' interprofessional responses to the case, with emphasis on comments from the winning 'Team 2.' That team put a "high priority on legal issues along with medical," Francis King Carey School of Law student Ian Clark, Class of 2014, told the panel of judges. The team considered whether the patient's current live-in partner or his mother or sister would be best to hold power of attorney. Would he be competent to choose? they asked. Another immediate legal issue was that the hospital tested him for HIV without his consent. He tested positive.
(pictured right to left above from Team 2, Michael Leung, Adrienne Kilby, Ian Clark, and Stephanie Schmitz.)
Clark said, "HIV is medical-social work-legal and more. Also, the physician is required to inform both and patient and his partners." The team needed to know if the patient would sue the hypothetical hospital.
School of Medicine Team 2 member Stephanie Schmitz, Class of 2013, says her team immediately wrote down and triaged the many conditions of the patient, and then agreed on a treatment plan for the syphilis first, in consultation with a pharmacist. Tingling in the patient's extremities indicated neuro–or advanced–syphilis. Michael Leung, Class of 2014, School of Pharmacy, raised caution over reference to a possible allergic reaction to penicillin in the patient's medical records. Leung on Team 2 and student pharmacists on other teams recommended a progressive infusion of penicillin "to first desensitize a possible reaction."
Jennifer Drossner, Class of 2014, School of Dentistry, recommended a CT scan immediately to check for deep neck infections that could be life-threatening. The patient had not seen a dentist in 10 years. Dental students on several teams emphasized that the oral cavity is an indicator of systemic health. One of the students said, "We could have nipped some problems in the bud" if the patient had been seen with earlier signs of lesions or xerostomia, or dry mouth.
Nurses are perhaps the most important members of an interprofessional health care team, says Perman, because they are with the patient for the duration of a hospital stay. Lara Arnett, School of Nursing, Class of 2014, on Team 2, floated possibilities for post-hospital home nurse visits. A nursing student on another team was impressed that the patient "presented" to the hospital within a day after experiencing vision problems, "even though he had long-term STD issues." The patient was diagnosed with depression in 2008, prompting another team's nursing student to stress the importance of deciding early on possible antidepressants. She asked, "Would depression set in based on the positive HIV test results?"
School of Social Work student Adrienne Kilby, Class of 2013, asked her Team 2 colleagues, "How can we monitor his depression?" She also made it clear that, despite being employed, the patient's main problem, beyond medical care, was financial and that he was uninsured for getting care after discharge. The quickest way to get him health insurance might be through community organizations, suggested a law student member.
Physical therapy (PT) student Laura Arnett, School of Medicine Class of 2014, said that after the patient's neuro-syphilis becomes manageable, he should begin gait training to become mobile again. Although without health insurance, he would not likely quality for post-discharge PT, she said. Another nursing student asked her team, "How will we get him to understand that being unable to walk two blocks impacts his life?"
The IPMC was sponsored by the University Student Government Association (USGA), School of Pharmacy SGA, Phi Lambda Sigma, and the Student Society of Health-System Pharmacy (SSHP). It is organized by the SSHP at the School of Pharmacy and facilitated by the group's president Nirvana Maharaj, of the UM School of Pharmacy, Class of 2014.
The judges were Jacquelyn Fried, RDH, MS, director of the Dental Hygiene Division of the School of Dentistry; Virginia Rowthorn, JD, coordinator for the Law & Health Care Program of the Carey School of Law; Jacob Blumenthal, MD, assistant professor, School of Medicine; Brock Beamer, MD, assistant professor, School of Medicine; Conrad Gordon MS, RN, ACNP, assistant professor, School of Nursing; Trovato; Linda Horn, program coordinator ?for the Program in Toxicology in the UM Graduate Program in Life Sciences; and Melissa Bellin, PhD, MSW, associate professor, School of Social Work.
In the fall of 2010, President Perman, a pediatric gastroenterologist, set the interprofessional education tone by making each Tuesday's Pediatric Gastroenterology Clinic at the University of Maryland Medical Center on campus an interdisciplinary clinical classroom. Revolving faculty and students from all the schools meet patients, with parents or guardians, to plan together. The experience then influences the training and education of UM students.
Related News Stories