Student Pharmacists Provide Shots to UMB Community
On-campus vaccination clinic is annual partnership with Health Sciences and Human Services Library.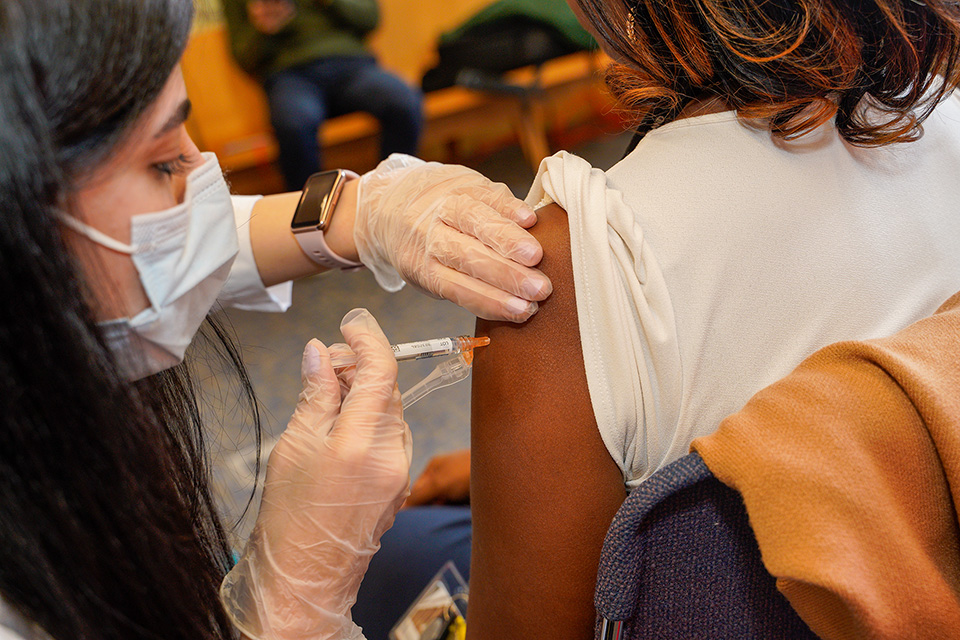 By Andrew Tie
October 25, 2023
Students at the University of Maryland School of Pharmacy (UMSOP) held an annual vaccination clinic on Oct. 17 to help protect the health of the University of Maryland, Baltimore (UMB) community.
The clinic was sponsored by UMSOP, the UMB Health Sciences and Human Services Library (HSHSL), and Safeway. The clinic expanded its offerings from previous years by stocking vaccinations for flu, COVID-19, Tdap, pneumonia, shingles, and respiratory syncytial virus (RSV).
Throughout the day, more than 250 UMB employees and students came through the clinic and received almost 500 vaccinations.
"Despite the ending of the COVID-19 public health emergency, it remains important for people to receive their annual flu shot and the updated COVID-19 vaccine," said Cherokee Layson-Wolf, PharmD, BCACP, FAPhA, professor in the Department of Practice, Sciences, and Health Outcomes Research. "Our student pharmacists did a great job running the clinic, preparing and administering doses, and serving our patients. We were also grateful to be able to provide the new RSV vaccine, as many members of our community have had trouble finding available supply."
UMSOP has offered similar clinics for more than a decade and has partnered with the library for the last six. The vaccination clinic has become an annual event that is convenient, valuable, and fun for the UMB community, said Anna-Marie Epps, MS, senior program specialist at HSHSL.
"HSHSL always looks forward to our annual vaccination clinic – not just because it offers a much-needed service to UMB students, faculty, and staff, but because it offers an opportunity to witness the contributions that UMSOP students and other local pharmacists make to UMB and the community," Epps said.
Some employees come every year to receive their vaccine. Among those who stopped by this year for a convenient jab was Sarah L.J. Michel, PhD, who officially began her tenure as dean of UMSOP two days prior, and received a flu shot from a student pharmacist.
"This is a wonderful opportunity for our student pharmacists to share with the public what pharmacists do," Michel said. "It's also important to provide these vaccines to improve public health and protect our community."
Another clinic attendee was Jay A. Perman, MD, chancellor of the University System of Maryland, who stopped by to receive vaccines for flu, COVID-19, and RSV.
"How lucky I am that I'm still part of this UMB community and can take advantage of the clinic," said Perman, who previously served as president of UMB. "It's incredibly convenient, and I know I'll be well taken care of by the student pharmacists, under the supervision of their faculty. I'm grateful every year—not only that I can come here for my vaccines, but that I can model how we should be taking care of our own health and encouraging others to do the same."
For the students, the vaccine clinic was a unique hands-on learning opportunity that can't be replicated in the classroom.
"I work at the hospital, not in retail pharmacy, so this is a good opportunity for me to interact with patients and practice the skills of providing vaccines," said Adhba Tawfeeq, a fourth-year student pharmacist who participated for the second year.
Several of the vaccinating student pharmacists also provide vaccines at the community pharmacies where they work and do required rotations, so their experience vaccinating was invaluable for a smooth experience for attendees.
Related News Stories