SOP's LAN Administrator Philip Johnson Named University's Employee of the Month
He earns recognition for going above and beyond in IT customer service and doing it all with a courteous and positive attitude.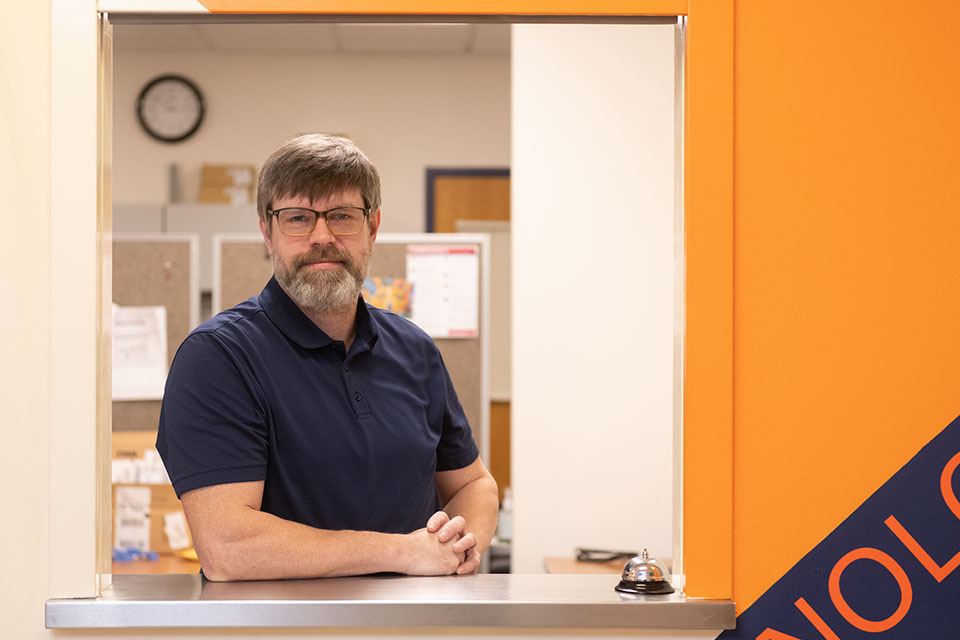 By Jen Badie
March 22, 2021
If you talk to University of Maryland School of Pharmacy (UMSOP) LAN administrator Philip Johnson for just five minutes, you'll understand why his colleagues praise his customer service.
Johnson provides information technology (IT) support, often after hours, and does so with a smile and a positive attitude. The past year has been challenging for Johnson and the other dozen members of the IT team in the Pharmacy Learning Center who had to help 400-some employees and students quickly transfer to teleworking and telelearning at the start of the COVID-19 pandemic.
His "commitment to going above and beyond the call of duty" earned Johnson the University of Maryland, Baltimore's (UMB) March Employee of the Month Award. UMB President Bruce E. Jarrell, MD, FACS, surprised Johnson with the news during a videoconference call with several colleagues March 12.
"Phil is one of the kindest and most courteous individuals I have ever worked with, and he always makes me feel like my technology-related problems are a priority," Brent N. Reed, PharmD, associate professor in the Department of Pharmacy Practice and Science, UMSOP, wrote about Johnson in nominating him for the award. "He dedicated several hours of in-person time to an issue that eventually required reimaging my computer. When it was clear that it would not be finished by the end of the day, Phil stayed after hours to make sure that it was completed and working for me."
Tim Munn, MS, assistant dean for information technology and Johnson's supervisor, praised him during the video call for helping to keep normalcy for their users.
"It's been a challenging year, but I think we've done a remarkable job of keeping things as close to normal as possible. The fact that we've been able to maintain some semblance of normalcy for the whole year is a testament to this entire group and certainly Phil in particular," he said.
Andrew Coop, PhD, associate dean for academic affairs, UMSOP, called Johnson's award "well-deserved" and added, "Not only did he go the extra mile, but he's always got a smile, and he's always inclusive of everybody, and everybody loves interacting with him."
Johnson, who will celebrate his 10th anniversary with the University in April, said there's a model he has used throughout his IT career: simple to hard.
"A lot of times it could be something simple, but it can become complicated if you're coming at it from the wrong direction," he said. "You can't overlook the simple things before jumping into the hard things. More often than not, the fruit of your labor will show through much more efficiently and better if you start at the simple stuff first."
One of the biggest challenges that Johnson and his colleagues faced in the early months of the pandemic was finding solutions for getting remote technology to people working and learning at home.
Johnson put operating systems on flash drives so that he could reimage computers in a standardized fashion.
"I've put together a whole bunch of flash drives and started bringing laptops home, and the first real test I had was in June," he said. "We had 20-some residents coming in for our residency program, and the old residents needed to turn in laptops that needed to be imaged, so that was a coordination nightmare."
Johnson even had about 30 customers pick up laptops from his home since access to campus was limited. Shannon Tucker, MS, assistant dean for instructional design and technology, UMSOP, said this was just another example of Johnson making users feel comfortable.
"Having technology issues, it's a stressful time for all of our users, and Phil makes people feel heard and validates the experiences that our customers have," she said. "People are frustrated, and Phil being willing to provide service out of his house and trying to meet people where they are in this environment is so appreciated."
Jarrell asked Johnson what the equivalent of bedside manner is in IT, to which Johnson replied, "It's the gift of gab."
"You can't be afraid to be human with people, try to meet them at their level, understand where they're coming from, and try to get them through the stress of their day," Johnson said. "A lot of times we're faced with severe deadlines and grant proposals have to go out, and of course problems always happen at the most inopportune time. And saying, 'Look, it's going to be OK, we can get you through this, you have good support here, we can do it' gives them the confidence to move forward and know that somebody's got their back."
The department uses a booking system for IT appointments, but Johnson says if the problem is a quick fix and the user is in a pinch, "I have no qualms with saying, 'We're going to jump in with you. We're going to fix your little issue.' And then they're back on track and not waiting 24 hours."
He added, "My attitude about customer service is we need to keep people's productivity at as high a level as we can so they have the opportunity to do their jobs and get them done on time and not be stressed out about deadlines. That's all part of my IT DNA."
Johnson praised Munn and his colleagues, saying he could not do his job without their support.
"We collectively put ideas together into the pot and hope that the idea turns out to be something worthwhile," he said. "We try to put together solutions that can work for everybody and can be sustainable."
Johnson, who will receive a plaque, a letter of commendation, and an extra $250 in his next paycheck, said he is "deeply humbled" by the award and normally likes to "fly below the radar."
He said he sees his role as "part cheerleader."
"Dealing with the remote element of not being together in person certainly adds an extra challenge," he said. "But the main thing is to try to keep a positive attitude, try to do your best to help people, and help them also help themselves by providing the best advice."
Related News Stories