SOP's Goldberg Wins UMB Employee of the Month Award
Instructional technology specialist honored for taking decisive action to fix problem that threatened launch of spring 2019 exams in PharmD program.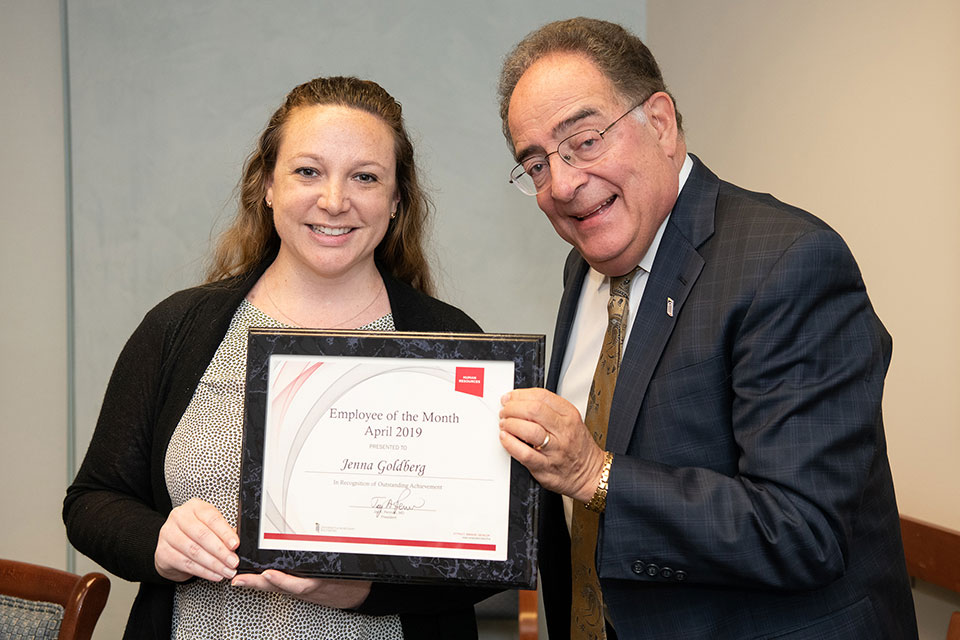 By Lou Cortina
May 3, 2019
Jenna Goldberg is deeply involved in the University of Maryland School of Pharmacy's (UMSOP) student assessment efforts, including the administration of computer-based exams. In January, when a technical issue put the launch of spring exams at risk in the Doctor of Pharmacy (PharmD) program, Goldberg was put to the test — and passed with flying colors.
Goldberg, in her role as instructional technology specialist, moved quickly to address the glitch, a broken link between student enrollment, the Blackboard course management system, and ExamSoft, a secure testing platform the School uses to deliver most of its exams. She worked with ExamSoft representatives to update the school's software while training faculty, teaching assistants, and students on new procedures that included multi-factor authentication (MFA).
For those efforts and more, Goldberg was honored with the University of Maryland, Baltimore's (UMB) Employee of the Month Award during a ceremony April 30 in the President's Conference Room at the Saratoga Building.
"The best solution was to completely change the way our students accessed ExamSoft, adding MFA to the process three days before the semester began," Shannon Tucker, MS, assistant dean for instructional design and technology in UMSOP's Office of Academic Affairs, said in nominating Goldberg for the award. "Jenna coordinated discussions with peer institutions about implementation tactics and created and piloted new procedures for student log-in with the goal of maintaining existing academic policies around computer-based exams."
Goldberg, who is pursuing a master's degree in instructional technology at Towson University, says communication and teamwork were the keys to fixing the glitch.
"I was in constant communication with our account representatives from ExamSoft, talking with them and keeping our lines of communication open until they got a team to basically integrate our current software to the new software," she said. "We also had to train faculty, teaching assistants, and our students to make sure they were able to access all of their exams."
"Jenna showed great leadership during this crisis," Tucker added, "showing she both understands the critical nature of the School's academic operation and the importance of maintaining academic policies."
UMB President Jay A. Perman, MD, echoed those sentiments when he surprised Goldberg with the award, interrupting what was advertised as a meeting to discuss assessment issues with other UMB schools.
"They told you this was an assessment meeting? Well, you can't believe everything you hear, even in a place like UMB that stands for the truth," Perman said with a laugh. "I can tell you this meeting is all about you and the way you responded to a crisis at the School of Pharmacy. You jumped right in and got the problem fixed. You didn't complain, you showed great leadership, and you showed dedication — all of that is worthy of recognition."
Perman also gave her a plaque, a letter of commendation, and news that an extra $250 would be in her next paycheck. This sounded familiar to three of Goldberg's Office of Academic Affairs colleagues who attended the ceremony, all former UMB Employee of the Month winners: Lisa Lebovitz, JD, assistant dean for academic affairs and assessment; Lindsay Currier, scheduling coordinator; and George Anagnostou, MS, senior instructional technology specialist.
Anagnostou, her direct supervisor, says the award is fitting because of the impact Goldberg has made since joining UMSOP in November 2017 after nine years doing course development and video production for Laureate Education in Baltimore.
"In the short time Jenna's been with the school, she's been an exemplary employee and one worthy of this honor," Anagnostou said. "I've been impressed by her poise in difficult situations and her willingness to help the UMSOP community no matter the request. It's been a genuine pleasure to work with her and to see the effort and dedication she puts in every day."
Saying all of her co-workers deserve praise for their efforts, Goldberg thanked them for the award nomination and pointed to the team members as role models of excellence.
"Everyone on our team has received this Employee of the Month honor, so it's nice to know that the University appreciates that we're working hard," Goldberg said. "I'm humbled by this award, and it's good to know that what I've been doing is getting recognized. It makes me want to keep contributing to this office and to this school."
Related News Stories