SOP's Annual Pumpian Lecture Puts Patients First in Health Care Research
Keynote speaker Dr. Freda Lewis-Hall addresses the importance of engaging patients as partners in health care and research to better understand their needs and the outcomes most important to them.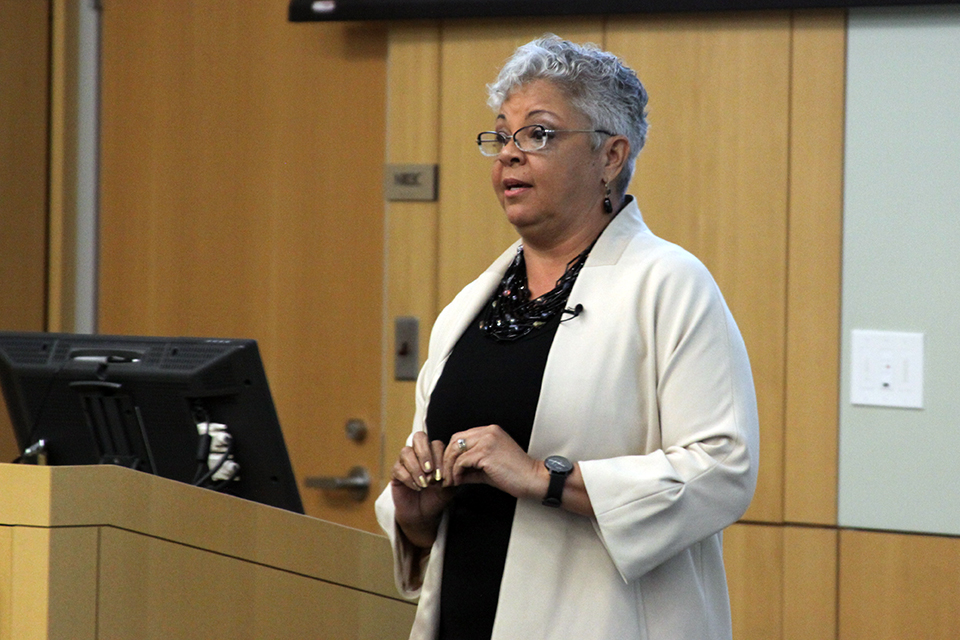 By Malissa Carroll
April 13, 2016
The University of Maryland School of Pharmacy welcomed faculty, staff, students, and members of the health care and patient advocacy communities to Pharmacy Hall on March 23 for its annual Paul A. Pumpian Memorial Lecture. Entitled "Patients Taking the Lead in 21st-Century Health Care and Research," the event featured a keynote lecture by Freda Lewis-Hall, MD, chief medical officer for Pfizer, and two panel discussions that included patients and representatives from academia, government, industry, and the local community to provide an in-depth look at patient-centered health care and research in the United States, with a particular focus on the Food and Drug Administration's (FDA) Patient-Focused Drug Development Initiative.
"The United States is embarking on the final frontier of creating a more impactful, responsive, and successful health care system, with leaders across academia, government, and industry now recognizing the patient's role as the final arbiter for effective health care," said Natalie D. Eddington, PhD, FCP, FAAPS, dean and professor of the School. "The School of Pharmacy truly stands apart in our focus on patient-centered outcomes research (PCOR), and I am exceptionally proud of the work that our faculty, staff, and students continue to do to advance PCOR methods, conduct PCOR studies, and train members of both academia as well as the community in PCOR. We are here today to learn from each other and to begin to implement these theories and applications to create a patient-centered approach that will lead us to effective health care."
Peppered with real world examples in which patients served as the driving force behind health care innovation – from advancing the discovery of new medications to advocating for more research in a number of disease areas – the keynote lecture delivered by Lewis-Hall examined the importance of "patient-centeredness" in health care. She noted that society is on the precipice of its third "Golden Age" in biomedical research and offered insight into the value that patients can bring as partners in health care and research, explaining how that value might be incorporated into studies and translated into the development of new cures for a wide range of illnesses.
"The concept of patient centricity – putting patients at the heart of all we do in health care research and delivery – is now at the forefront of health care," said Lewis-Hall. "We have capabilities that we never had before, and are poised to see more biomedical advancements over the next two decades than we have seen in the past two millennia. However, the only way that we will be able to truly experience this remarkable progress is if we change our current paradigm to bring patients from the periphery of health care to the center."
To further emphasize the importance of engaging patients across the spectrum of drug discovery and delivery, Lewis-Hall called for large "meta-collaborations" among health care professionals and researchers from academia, government, and industry. She spoke about the disadvantages of researchers working in silos and called for audience members to come together to address the challenges facing the nation's current health care system.
"It is absolutely imperative that we find a way to tie together the elegant, transformational science that is happening in laboratories across the country with meaningful patient interactions to better understand patients' needs and the outcomes that are most important to them," said Lewis-Hall. "This is truly a collaborative affair. Everything that we do – every piece of legislation, every advancement in science, and every part of community engagement – we must do together, and I ask that each of you think about how you can play a part in advancing patient centeredness across the health care system."
Following the keynote lecture, C. Daniel Mullins, PhD, professor and chair of the Department of Pharmaceutical Health Services Research (PHSR), and Eleanor Perfetto, PhD, MS, professor in PHSR, convened two panels of experts that included patients and representatives from government, industry, and the community who offered their perspectives on the importance of actively engaging patients in their health care.
"For years, doctors and researchers assumed that they knew what was most important to the patient community and developed treatments based on those assumptions," said Marc Boutin, JD, chief executive officer for the National Health Council. "However, those who worked with the patient community knew that those assumptions were often wrong. We are now seeing a transition, and are working with patient groups to develop tools to help them identify the outcomes that are most important to their patient population, and to present that data to the FDA and pharmaceutical companies so that we might work together to develop new, more effective treatments."
Speaking about the public meetings held by the FDA during which patients and caregivers share their experiences living with or caring for someone with a specific illness, Theresa M. Mullin, PhD, director of the Office of Strategic Programs in the Center for Drug Evaluation and Research at the FDA, noted, "The most important lesson that our reviewers have learned from these meetings is that patients are experts in their diseases. But, what can we do to make sure that the outcomes that patients care about most are identified early in the drug development process? It's simple – we bring their interests to the forefront so that the information that they share turns into evidence on which we can build regulatory decisions."
To conclude the lecture, audience members were given the opportunity to express their questions and comments about the steps needed to help the nation's health care system embrace patient-centeredness. Antoinette Williams, MBA, founder and chief executive officer of Williams Consulting, LLC, best summarized the impact of the day's activities, saying, "It is wonderful to see faith-based organizations, community organizations, regulatory agencies, advocacy groups, and patients on the same platform having the same conversation. This is truly a sign of change."
Related News Stories