SOP's Annual Pumpian Lecture Examines Pharmacists' Role in Personalized Pharmacotherapy
Alumnus Dr. Calvin Knowlton explores the pandemic of adverse drug events and offers insight into how pharmacists can best position themselves to tackle this ever-growing challenge.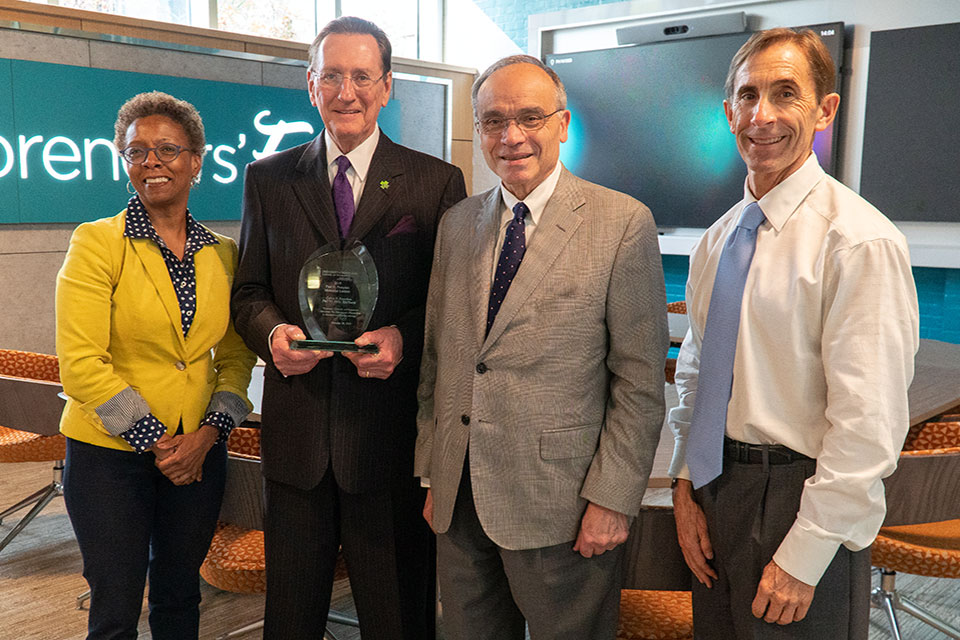 By Malissa Carroll
December 18, 2019
The University of Maryland School of Pharmacy presented its annual Paul A. Pumpian Memorial Lecture in October. Delivered by Calvin Knowlton, PhD '93, MDiv, BScPharm, co-founder, chair, and chief executive officer of Tabula Rasa Healthcare, the lecture titled "Economic, Clinical, and Humanistic Outcomes: The Pharmacist's Pivotal Role in Personalized Pharmacotherapy" highlighted the ongoing pandemic of adverse drug events and provided insight into how pharmacists can leverage existing knowledge and new technologies to tackle this critical public health challenge.
Established in 2004, the Paul A. Pumpian Memorial Lecture is an endowed lecture in the Department of Pharmaceutical Health Services Research. It is supported through a gift from Paul A. Pumpian, BSP '50, JD, a former faculty member at the School who passed away in 2008.
"The Paul A. Pumpian Memorial Lecture provides a wonderful opportunity for the School of Pharmacy to welcome experts on a wide range of topics relevant to the pharmacy profession and the field of pharmaceutical health services research," said Natalie D. Eddington, PhD, FCP, FAAPS, dean and professor of the School, as she opened the lecture. "Dr. Knowlton is one of the School's most distinguished graduates, and has been recognized nationally for his entrepreneurial vision and transformational accomplishments. His lecture today promises not to disappoint."
Shining a Light on a Crucial Public Health Challenge
Knowlton received his PhD in pharmacoeconomics from the School of Pharmacy in 1993. With the launch of Tabula Rasa Healthcare in 2009, he established the first national medication risk mitigation company in the United States. His lecture, which was peppered with examples from his experience working with health care organizations to optimize patients' medication regimens, emphasized the need for new patient-specific, data-driven, and pharmacist-led technologies and solutions to help address the risks associated with adverse drug events.
Adverse drug events occur when a patient experiences harm as a result of exposure to a medication. They are one of the most common preventable causes of injury in health care, with Knowlton noting that if adverse drug events were a disease, they would be the third leading cause of death in the United States, surpassed only by heart disease and cancer.
"In 1968, the United States lost nearly 17,000 soldiers in Vietnam," said Knowlton. "And, what happened? There was an unbelievable outcry, and we eventually got out of that war. In 1995, the AIDS epidemic reached its peak with approximately 41,000 patient deaths. Again, what happened? There was an outcry, and thanks to advances in research and available treatments, AIDS is now a chronic disease."
He added, "More than 200,000 people are estimated to die as a result of adverse drug events in 2021. Where is the outcry?"
A Complex Problem with a Seemingly Simple Solution
Knowlton emphasized that adverse drug events are not medication errors, noting that these events can occur even when patients adhere to their medications as prescribed. He spoke about competitive inhibition, explaining that if patients take two or more medications at the same time that are known to bind to the same active site in the same metabolic pathway, they risk experiencing an adverse drug event because at least one of the medications cannot be activated and/or eliminated by the body.
"Competitive inhibition is real," said Knowlton. "It is important, and it happens to patients around the world every day. If patients adhere to the wrong regimen at the wrong time of day, they will cause more trouble than they will help."
However, while the problems associated with competition inhibition might appear daunting at first glance, Knowlton said that solutions are often quite simple. He explained that, in 42 percent of the cases managed by his company, problems associated with competition inhibition were avoided just by changing the time of day that patients took one or more of their medications.
Understanding How Pharmacists Can Help
Knowlton argued that, as the pharmacotherapy experts on the health care team, pharmacists are uniquely positioned to address the challenges associated with adverse drug events and competitive inhibition. He emphasized that courses in areas such as pharmacokinetics, pharmacogenomics, and pharmacodynamics give students the knowledge needed to optimize patients' medication regimens and ensure that they are taking medications not only at the correct dose, but also at the correct time.
The problem, he explained, is that many pharmacists never have the opportunity to regularly use this knowledge in their careers, and the aging technology that currently supports such therapeutic decision making needs a significant update.
"Pharmacy is the only profession that can solve this problem," emphasized Knowlton. "But, how do we translate the science that we learn in the classroom into application in our practices? Current technology relies on a one-to-one drug interaction system that only looks at how one drug might interact with another drug, and for patients who are taking 10 or more medications, it is not very practical."
Knowlton's proposed solution: personalized pharmacotherapy – a pioneering concept that he and his team at Tabula Rasa Healthcare are currently exploring with several health care organizations, including the Centers for Medicare and Medicaid Services (CMS). If successful, Knowlton predicts that offering patients personalized pharmacotherapy services could lead to significant improvements in patient outcomes and reductions in health care costs, as well as foster closer relationships between patients and their pharmacists.
"Our work with CMS has already produced tremendous results," said Knowlton. "We are seeing fewer hospitalizations and ushering in a new appointment-based, concierge-type of pharmacy."
A Final Thought from a Leader in the Field
Knowlton concluded his lecture by sharing his optimism for the future of the pharmacy profession, emphasizing how the knowledge and skills that student pharmacists gain in the classroom can be applied in practice to help set their expertise apart from other health care professionals.
"All pharmacists have the tools needed to address the challenges posed by adverse drug events," explained Knowlton. "In fact, we are the only health care professionals who have this knowledge, which is why it is incumbent upon us to stand up, shout from the mountains, proclaim that we have a problem with adverse drug events, and that we are here to solve it. And, we will solve it."
He added, "That is a bright future. It is a future that we need to embrace."