SOP Researchers Advocate Potential of Pharmacy Leaflets for Patient Education
Viewpoint published in JAMA Internal Medicine assesses the current format of pharmacy leaflets and offers suggestions for improvements to make benefit and risk information more accessible to patients and caregivers.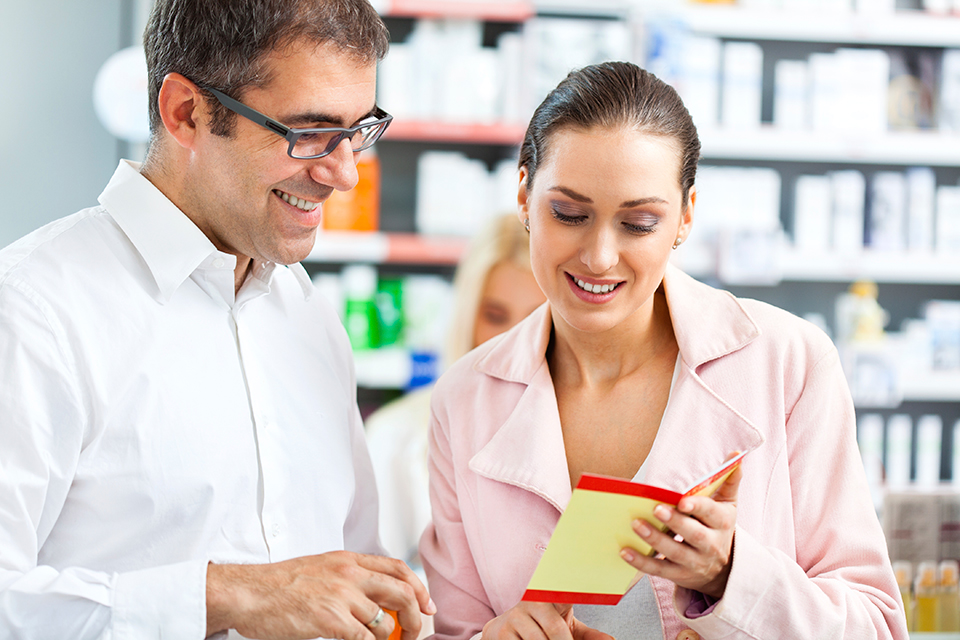 By Malissa Carroll
January 7, 2016
In a commentary recently published in JAMA Internal Medicine, Anna Hung, PharmD '14, and Jan Sieluk, MPharm, graduate students in the PhD in Pharmaceutical Health Services Research (PHSR) program at the University of Maryland School of Pharmacy, and Peter Doshi, PhD, assistant professor in PHSR, suggest that pharmacy leaflets hold significant potential as a tool for patient education. A readily available but often overlooked source of important medication information, these leaflets should be redesigned to include more accessible information about medications' risks and benefits, the authors argue.
"In our research, we noticed that there appeared to be a lack of understanding among health care professionals about how to provide written medication information in a way that is accessible and useful to patients and their caregivers," says Doshi. "Because every patient receives a pharmacy leaflet with his or her medications, redesigning these leaflets in a way that makes information about the medications more user-friendly represents an opportunity for innovation that could significantly benefit patients. We also maintain that pharmacies should make these leaflets publicly available on the web to allow patients the opportunity to learn about medications even before they head to the pharmacy."
According to the authors, there are three major sources of written information about medications that are available to patients: medication guides, package inserts, and pharmacy leaflets. However, each source is hampered by gaps and deficiencies in the information it provides. The challenge for pharmacy leaflets is that, although all patients receive one each time they pick up their prescriptions, their content varies widely from one pharmacy to another and lacks information critical to helping patients make informed decisions.
"In recent years, there has been a shift in health care towards shared decision making," says Hung. "Providers work alongside their patients to make decisions about their health care in which they focus on not only the best scientific evidence available, but also on patients' values and preferences. However, the current lack of access to information that allows patients to weigh the potential benefits against the potential risks of a given medication and make an informed decision about their care represents a significant barrier to the shared decision making process."
Doshi adds, "Including a table of quantitative information in pharmacy leaflets would also not only give patients a clearer look at the proven benefits and risks of a particular medication, but help them better understand how likely they are to experience those effects. This information would allow patients to better weigh the medication's benefits versus its risks and make more informed decisions. Without seeing the numbers, patients are often left with only a vague understanding of how that medication could help or hurt them."
In 2009, the Food and Drug Administration's (FDA) Risk Communication Advisory Committee recommended replacing medication guides, package inserts, and pharmacy leaflets with a single, standardized document that could be distributed with all prescription medications. A template for the standardized document has not been finalized, though the FDA announced in 2015 that it would not require the new template to include quantitative information about a medication's benefits and risks.
"It is unclear why more emphasis has not been placed on developing a standardized template to provide patients with important information about their medications in a plainly stated and easily accessible manner," says Sieluk, who is also a practicing pharmacist from Poland. "In the European Union, drug manufacturers provide pharmacies across more than 20 countries with leaflets that employ the same labeling format, which the pharmacies dispense to patients. The format is available in 20 different languages, and is designed to meet the unique information needs of patients; it contains both qualitative and quantitative information about the potential benefits and risks of the medication."
Because pharmacy leaflets are the only source of written medication information available to patients that is not subject to regulation by the FDA, the authors see an opportunity for innovation.
"Our goal was to shed light on the current disconnect between the shift to shared decision making in health care and the lack of written information about medications that patients can understand and use to make decisions about their care," says Hung. "We want to inspire pharmacies to work together to redesign their leaflets in a way that is more meaningful and accessible to their patients."
"We need pharmacies to provide written medication information to patients such that patients can weigh their medications' potential benefits and risks and make informed decisions about their care," adds Doshi. "In the end, all it may take to solve this problem is for one pharmacy to see the potential that exists here to better serve their patients."
Related News Stories