SOP Hosts Orientation to Welcome Incoming Students
Fun, informative activities help students become familiar with the School and campus community, while setting expectations for the coming year.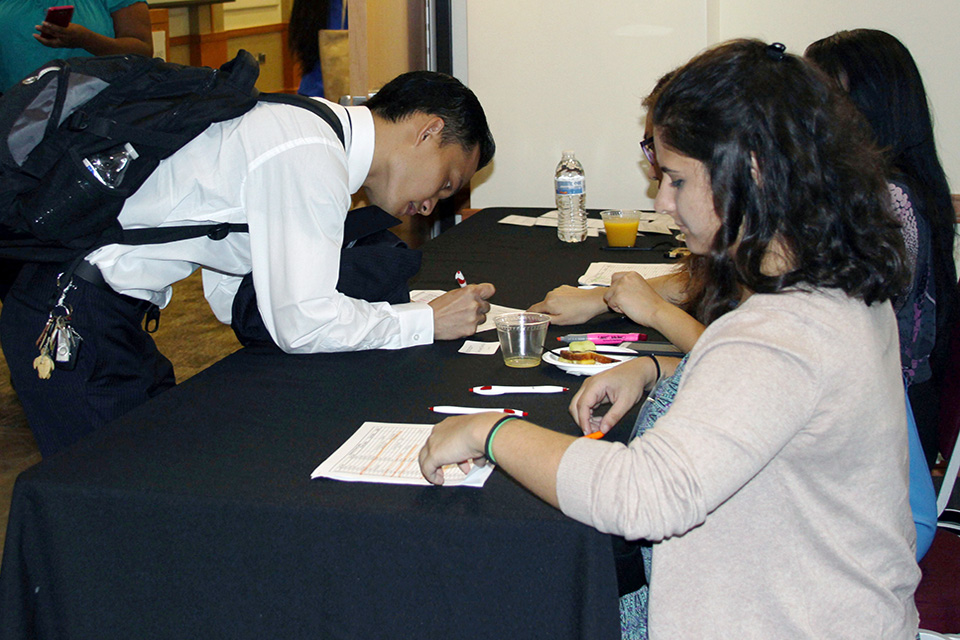 By Malissa Carroll
August 22, 2016
On August 17, the University of Maryland School of Pharmacy kicked off new student orientation for members of the Class of 2020. Activities designed to introduce incoming students to the School of Pharmacy and set expectations for the next four years spanned three days and included remarks from Natalie D. Eddington, PhD, FCP, FAAPS, dean and professor of the School, and Jay A. Perman, MD, president of the University of Maryland, Baltimore (UMB).
"As one of the top ten ranked schools of pharmacy in the United States, our School takes pride in leading pharmacy education, scientific discovery, patient care, and community engagement across the state of Maryland and beyond," said Eddington. "Today, you begin your journey as student pharmacists. The next four years will be not only challenging, but life changing. You will learn what you need to be successful in our Doctor of Pharmacy (PharmD) program and have countless opportunities to see the knowledge and skills that you learn in the classroom put into action, helping patients from communities around the world. The curriculum is difficult, but when you graduate in four years, you will be changed for the better as both a practitioner and a person."
In addition to emphasizing the importance of time management to ensure that students are able to successfully manage their coursework – a concept repeated across many faculty members' presentations – Eddington spoke about professionalism, asking students to conduct themselves in a manner that would make their family and friends proud. "It is exceptionally important for you to practice professionalism from day one — whether it is in how you demonstrate your skills, apply your judgement, or conduct yourself both inside and outside of the classroom – because you will ultimately be interacting with patients and other professional colleagues," she added.
Following Eddington's remarks, Steven Fletcher, PhD, associate professor in the Department of Pharmaceutical Sciences (PSC) at the School, was introduced as the advisor for the Class of 2020. He spoke briefly about his educational and research background and explained his role serving as a liaison between the members of the Class of 2020 and faculty and administration at the School. Andrew Coop, PhD, associate dean for academic affairs and professor in PSC, later offered an overview of the curriculum and advised students about the importance of actively engaging in their education.
"The curriculum will be difficult, and the faculty will ask hard questions," said Coop. "But it is important that you recognize that we do this because we know that you will replace us one day, and we want sharp, well-educated practitioners and researchers to replace us. No matter what path you choose for your career – whether you go into practice, academia, government, or industry – we want you to be better than us. As a pharmacist, you will be one of the most trusted and accessible health care professionals, and our goal is to put you in a position in which you have the knowledge and skills to create the future of the profession."
Students participated in a number of additional activities throughout the week to help prepare them for their new lives as student pharmacists, including a student organization gala and a fashion show that demonstrated the importance of professional attire and behavior. They also had opportunities to network with each other, as well as with the School's faculty, and were sized for their white coats, which they will don for the first time during the School's White Coat Ceremony on Sept. 9.
"I always had an interest in chemistry and biology, so pursuing a career in pharmacy seemed like a great way to apply those interests in a practical way," says Erin Ryan, an incoming first-year student. "Although the amount of information that we have received during orientation feels overwhelming, I know that it will be very helpful as I prepare to start classes next week. This entire experience has been incredibly exciting, and I can't wait until I'm in the classroom."
"A serious illness in college motivated me to look into pharmacy school after I became fascinated by how a single prescription medication was able to alleviate my symptoms and help me feel well again," adds Mia Lynch, another first-year student. "Attending orientation has been very eye-opening. I've had an opportunity to meet some of my classmates and am looking forward to starting classes and learning just how the basic science – everything from biology to chemistry – correlates with drug therapy, and how we can use that knowledge to help patients."
The Departments of Pharmaceutical Sciences and Pharmaceutical Health Services Research (PHSR) also hosted orientations for new students in their graduate programs. Students in the PSC PhD Program were introduced to the different types of research conducted in the department through a series of presentations by faculty. Incoming students from the PHSR PhD Program met with Frank Palumbo, PhD, JD, director of the program and professor in PHSR, and Colleen Day, the program's academic coordinator, to set expectations for coursework, teaching assistantships, and research rotations. Both departments hosted luncheons attended by faculty, postdoctoral fellows, staff, and current students to welcome their new students.
Classes at the School of Pharmacy began Aug. 22. Afternoon ice cream socials to welcome students back are scheduled for Aug. 24 at the Shady Grove campus and Sept. 21 at the Baltimore campus.
Related News Stories