School of Pharmacy Hosts Virtual Celebrations to Honor the Class of 2021
Graduates of the School's PharmD, PhD, and MS programs are applauded for their dedication, resiliency, and adaptability during the global COVID-19 pandemic.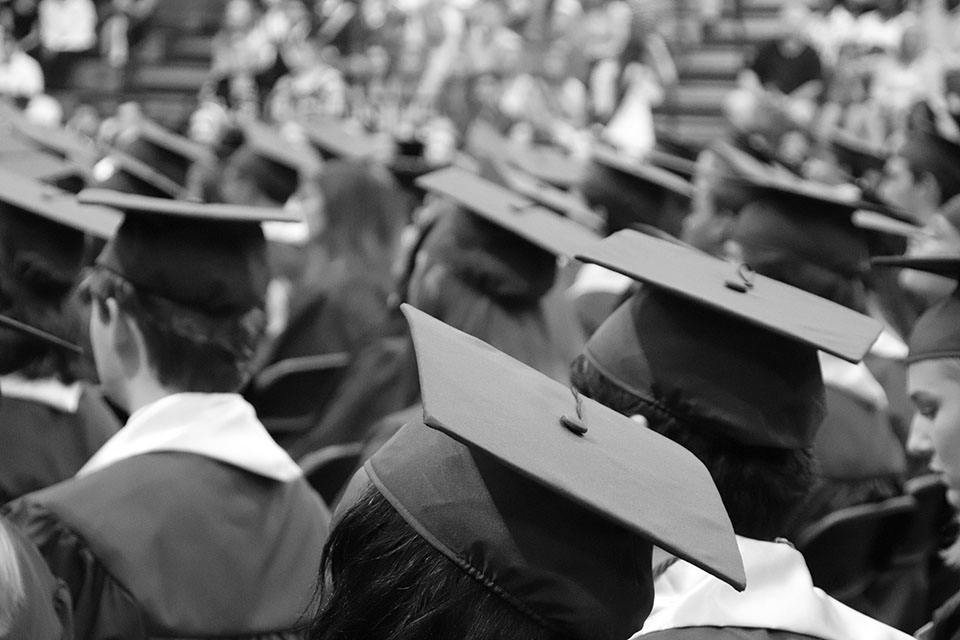 By Malissa Carroll
May 21, 2021
The month of May marks an exciting time for the University of Maryland School of Pharmacy. It is a time when faculty and staff join family and friends in celebrating students' graduation from the School's Doctor of Pharmacy (PharmD), Doctor of Philosophy (PhD), and Master of Science (MS) programs. And, this year is no different – albeit, instead of the traditional large, in-person gatherings at Pharmacy Hall and the Baltimore Convention Center, celebrations were held virtually for a second year due to the ongoing COVID-19 global pandemic.
"One of the rights of passage that the COVID-19 pandemic has impacted is the traditional graduation ceremony for our PharmD, PhD, and MS students," said Natalie D. Eddington, PhD, FCP, FAAPS, dean and professor of the School of Pharmacy, in her recorded message to the Class of 2021. "Like you, I am devastated that we can't recognize your tremendous achievement in person as a community right now and formally send you out into the world as the trained and capable practitioners and researchers that you have become."
To honor all that the members of the School's Class of 2021 have accomplished, the School of Pharmacy organized a multi-day virtual celebration that included the premiere of six videos honoring graduates of its PharmD, PhD and MS in Pharmaceutical Health Services Research (PHSR), PhD and MS in Pharmaceutical Sciences (PSC), MS in Medical Cannabis Science and Therapeutics, MS in Pharmacometrics, and MS and Graduate Certificate in Regulatory Science programs. Videos featured remarks from Bruce E. Jarrell, MD, FACS, president of the University of Maryland, Baltimore (UMB); Freeman A. Hrabowski, III, MA, PhD, president of the University of Maryland, Baltimore County (UMBC); and Eddington, as well as congratulatory messages from faculty and staff at the School.
"Your time at UMB has come to a close, and it's been in a way that no one could have envisioned," said Jarrell. "It is tough enough to get through professional school under ordinary times, and these have been special times. It's taken special flexibility and adaptability under these conditions so that you could stay your course and complete your studies. Your resiliency amidst this global pandemic is commendable."
Hrabowski added, "I want to congratulate the Class of 2021. You are an amazing group. You've gone through a difficult time, but you did what you needed to do. Understand that the experiences you've had have made you stronger than you've ever been, and remember that the work you will do will be very noble. You will be educating and supporting people in all different ways."
Even in these unprecedented times, the School of Pharmacy still had much to celebrate, including the first graduating classes of its newly launched MS in Medical Cannabis Science and Therapeutics and MS in PSC programs. Established in 2019, the MS in Medical Cannabis Science and Therapeutics program is the first of its kind in the U.S. to provide students with the knowledge needed to support patients and the medical cannabis industry, add to existing research, and develop well-informed medical cannabis policy.
"As the first graduates of the first master's program in medical cannabis in the country, you are trailblazers and leaders, innovators and risk takers, and changemakers," said Eddington in her recorded remarks to the program's graduates. "As states have legalized medical cannabis, trailblazers like you have lined up to be at the forefront of this emerging industry by opening or working in dispensaries or welcoming patients into your medical practice. Those of you not directly involved in the industry seek ways to be involved, to advocate for improved regulations and policies, to change laws, and to better understand the science of this plant."
The MS in PSC program provides advanced education and cutting-edge training to prepare students for high-level research and leadership positions in pharmaceutical and biotechnology companies and in the federal government.
School of Pharmacy alumnus Calvin Knowlton, BScPharm, MDiv, PhD '93, founder and chief executive officer of Tabula Rasa HealthCare, Inc., which develops technology-enabled products and services for medication risk management and organizational performance optimization, was also honored during the University-wide virtual commencement celebration with an honorary Doctor of Sciences for his decades of leadership in the fields of pharmacy, business, and philanthropy.
And, to wrap up a whirlwind year of both extraordinary accomplishments and challenges, the School of Pharmacy celebrated its final graduation for students enrolled in the PharmD program at the Universities at Shady Grove (USG), which has ended after 10 years.
In addition to the virtual celebrations premiering on the School of Pharmacy's YouTube channel, a website has been launched to recognize all members of the School's Class of 2021. Family and friends can visit the Class of 2021 graduation website here. The PharmD program and the PhD and MS in PSC programs will also host several small, in-person ceremonies for graduates only during the week of May 24. Information to access the livestreams for these events is available on the website.
Related News Stories