School of Pharmacy Hosts Symposium Focused on Computer-aided Drug Design
Attendees learn about CADD Center's capabilities and hear from leaders in the field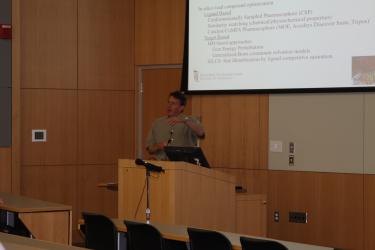 By Becky Ceraul
July 23, 2012
The University of Maryland School of Pharmacy hosted a symposium on July 9 focused on the dynamic field of computer-aided drug design (CADD) that drew 80 scientists and students from within the School, the University of Maryland, Johns Hopkins University, the FDA, and the pharmaceutical industry.
"We host the CADD symposium every other year with the goal of making our collaborators aware of new methods and approaches that they can apply to their own research projects," says Alex MacKerell, PhD, director of the CADD Center at the School of Pharmacy and the Grollman/Glick professor of pharmaceutical sciences. "The symposium also facilitates the initiation of new collaborations with other researchers at the University as well as scientists outside of the University system."
Patrick Wintrode, PhD, an associate professor of pharmaceutical sciences at the School of Pharmacy, gave a presentation on a new experimental approach based on Hydrogen/Deuterium exchange to identify "hidden" drug binding pockets on proteins in the context of the protein HIV Reverse Transcriptase (RT). His approach is able to identify the site to which the Non-nucleoside RT Inhibitors (NNRTIs) bind that is not normally present in the absence of the inhibitors. "This novel approach will be of utility for identifying binding sites for drugs designed to block protein-protein interactions," says MacKerell.
Maureen Kane, PhD, an assistant professor of pharmaceutical sciences, spoke about the utility of mass spectrometry-based methods for identifying small molecules in complex matricies, such as bodily fluids. This method, LC-MS/MS (Liquid chromatography with Tandem Mass Spectrometry), will allow for determination of the distribution of a drug in the body and the ability to determine if drugs designed to access the CNS/brain are actually permeating the blood brain barrier and getting to those parts of the body.
In addition to presentations from many School of Pharmacy faculty members, attendees heard from Danna Zimmer, PhD, an associate professor of biochemistry and molecular biology at the University's School of Medicine, about her animal-based experiments which are focused on validating novel drug targets for Alzheimer's disease, as well as the testing of drug candidates in animal model. "Dr. Zimmer is a new addition to campus, significantly improving our capabilities to perform experiments in animal models," MacKerell says.
Rodrigo Andrade, PhD, an assistant professor of chemistry at Temple University, was impressed by the scope of the symposium's talks. "They spanned various areas of drug discovery ranging from central nervous system disorders to treating drug addiction to developing novel anti-cancer therapies to antibiotics," he says. "I am an organic chemist interested in making drugs from biologically-active natural products. We use chemical reactions to build complex, biologically active molecules that are inspired by nature. We then evaluate these as drug candidates. Many of the drugs we use today, in fact, are derived from natural sources. My interest in the symposium is derived from that fact that CADD is an essential component of modern drug discovery, and we are actively working with Dr. MacKerell to apply CADD toward the discovery of novel antibiotics that address resistance."
Thomas E. Prisinzano, PhD, a professor of medicinal chemistry at the University of Kansas, participated in the CADD symposium to learn more about contemporary computational approaches to probe and drug discovery and the collaborative research being conducted in the Department of Pharmaceutical Sciences at the School of Pharmacy. "From the event, I got an increased appreciation for the power of computational approaches and am excited to bring them into my own research activities," he says
Related News Stories