PSC Faculty Member Receives Inaugural MPower Professorship
Bruce Yu, PhD, is one of eight professors from the University of Maryland, Baltimore and the University of Maryland, College Park awarded $150,000 each over three years.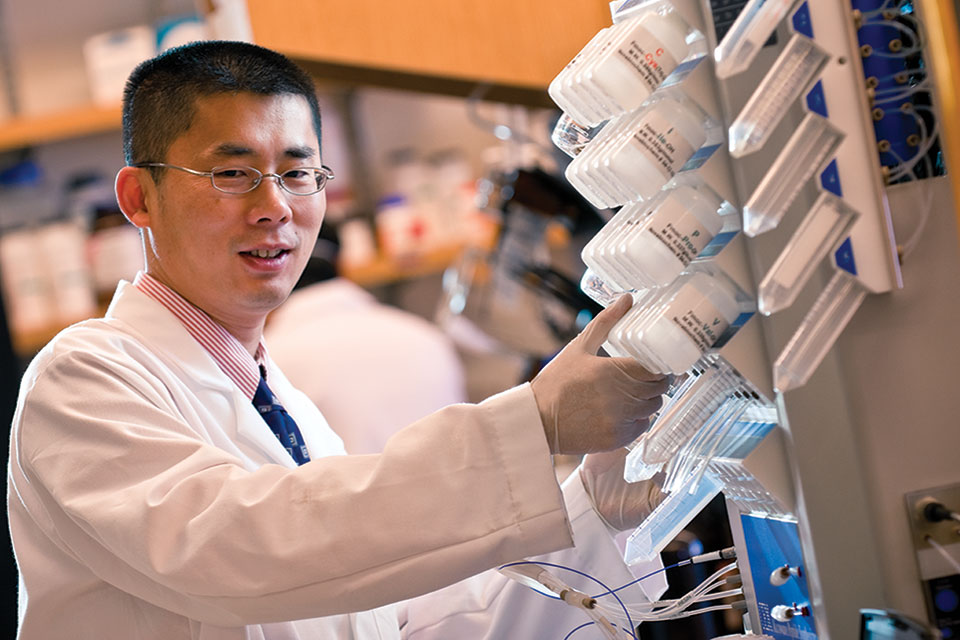 By Becky Ceraul
December 9, 2021
The University of Maryland Strategic Partnership: MPowering the State (MPower) has announced the appointment of eight professors, four from the University of Maryland, Baltimore (UMB) and four from the University of Maryland, College Park (UMCP), as MPower Professors. Bruce Yu, PhD, a professor of pharmaceutical sciences at the University of Maryland School of Pharmacy and director of the School's Bio- and Nano-Technology Center, was selected for his expertise and collaboration in biophysics and bioengineering.
To be considered for the MPower Professorship, faculty must demonstrate collaboration on strategic research that would be unattainable or difficult to achieve by UMB or UMCP acting independent of one another, and must embrace the mission of MPower — to collaboratively strengthen and serve the state of Maryland and its citizens.
Yu's lab at the University System of Maryland's joint Institute for Bioscience and Biotechnology Research advances the development of analytical technologies for characterizing complex drugs and vaccines. . He has worked on protein biophysics, imaging agents, and biomaterials engineering. His group developed defect-free sysnthesis of fluorinated dendrimers as F-19 MRI agents and explored how chirality affects biomaterials.  Most recently, his group pioneered a noninvasive analytical technology, termed wNMR, which has generated wide interest in pharma/biotech industry and instrument makers. He is an inventor of several new technologies and holds nine issued US and European patents and multiple pending patents, including for dendrimer synthesis, biomaterials engineering, and noninvasive analytical technologies. Current research in his lab focueses on applying wNMR to biologics manufacturing and quality control, including detecting counterfeit and substandard vaccines and drugs.
"As the first joint appointment between UMB and UMCP in 2007, I'm thrilled to receive the honor and recognition bestowed by the inaugural MPower Professorship," says Yu. "Our current work on biomanufacturing technologies can contribute to interactions between the two universities and to the economy and pandemic readiness in Maryland and beyond."
"Dr. Yu's unique expertise in biochemistry, biophysics, and bioengineering and his joint appointment with IBBR make him an exceptional MPower collaborator," says Natalie D. Eddington, PhD, FAAPS, FCP, dean and professor of the School of Pharmacy. "His selection as an MPower Professor indicates USM's recognition of his impact and investment in his research."
Yu received his bachelor's degree in biochemistry from Peking University in 1987 and his PhD in biophysics from Johns Hopkins University in 1996. His postdoctoral training was in nuclear magnetic resonance spectroscopy at the State University of New York at Buffalo and protein engineering at the University of Alberta. In 2007, he received a U.S. Presidential Early Career Award for Scientists and Engineers.
"With this investment, we are accelerating the pace of our research and the pace of our impact on the lives of Marylanders," says UMB President Bruce E. Jarrell, MD, FACS. "By supporting these MPower Professors, we are recognizing the commitment and drive they've already shown, and we are opening up new possibilities for their work, giving them the freedom to think big, tackle new problems, and achieve results much quicker than ever before."
"This inaugural cohort of MPower Professors includes stellar leaders who have created significant collaborations across the University of Maryland, College Park and the University of Maryland, Baltimore, and each received extraordinary support in the nomination process," says UMCP President Darryll J. Pines, PhD, NAE. "Our two campuses are strengthened by interdisciplinary research, and I congratulate and commend these faculty members for their initiative and dedication."
Each professor will receive $150,000, allocated over three years, to apply to their salary or to support supplemental research activities. These funds recognize, enable, and support strong collaborations between faculty in the joint research enterprise between UMCP and UMB.
"The MPower professorship is an extremely prestigious award that recognizes the truly interdisciplinary character of Dr. Yu's work through cross-campus collaborations," says Peter Swaan, PhD, professor and chair of PSC and the School of Pharmacy's associate dean of research and advanced graduate studies. "We are very proud to have one of these inaugural professors within our department and at the School."
The University of Maryland Strategic Partnership: MPowering the State is a collaboration between the state of Maryland's two most powerful public research institutions UMB and UMCP. It leverages the sizable strengths and complementary missions of both institutions to strengthen Maryland's innovation economy, advance interdisciplinary research, create opportunities for students, and solve important problems for the people of Maryland and the nation. Working together, UMB and UMCP achieve innovation and impact through collaboration.
The University of Maryland Strategic Partnership Act of 2016 strengthened and formalized the structured relationship between UMB and UMCP, which began in 2012. The law deepens the alliance and enables UMB and UMCP to pursue even greater transformative change and impact, far surpassing what each institution could do independent of the other.
Read more about the MPower Professors.
Related News Stories