PPS' Brandt Receives Clinician of the Year Recognition
Dr. Nicole Brandt was named the inaugural Clinician of the Year by the Foundation for Post-Acute and Long-Term Care Medicine.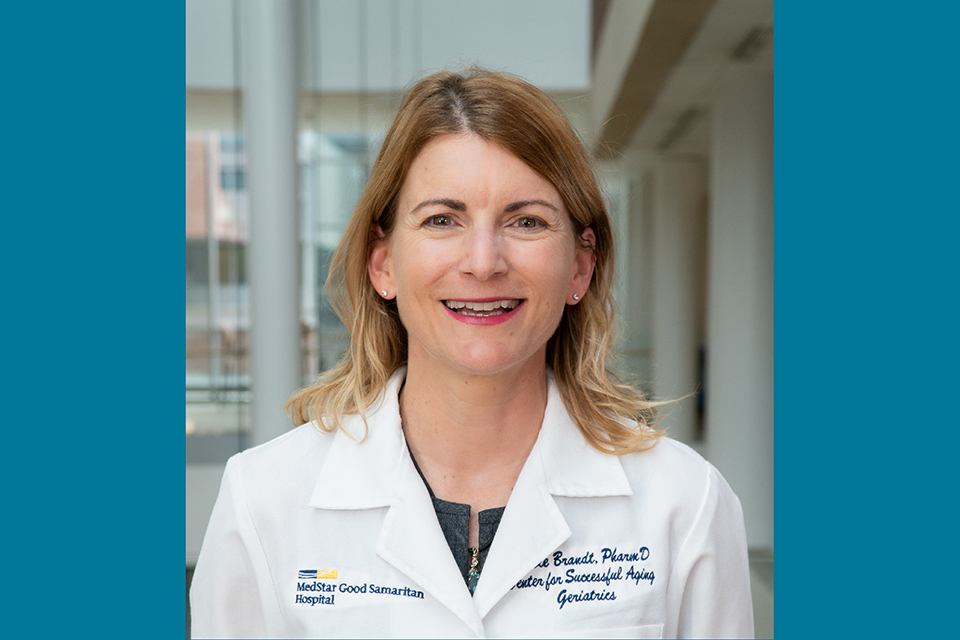 By Andrew Tie
June 2, 2022
Nicole Brandt, PharmD, MBA, BCPP, BCGP, FASCP, professor in the Department of Pharmacy Practice and Science (PPS) and executive director of the Peter Lamy Center on Drug Therapy and Aging at the University of Maryland School of Pharmacy (UMSOP), received the Clinician of the Year Award from the Foundation for Post-Acute and Long-Term Care (PALTC) Medicine.
The award recognizes a health care practitioner who serves in long-term care settings, is directly involved in treating and caring for people, and embodies excellence in patient/resident care. Brandt is the inaugural recipient of the honor, which she received at PALTC's 2022 annual meeting in March.
"I am deeply humbled and honored to be recognized by my peers with this award," says Brandt. "I have been a practicing pharmacist for nearly 25 years and have dedicated my career to improving medication use and safety for aging adults through education, practice, policy, and scholarly activities."
Since joining the faculty in 1999 following her 1997 graduation from UMSOP, Brandt has expanded geriatric training opportunities at the School, including the geriatrics/palliative care pathway in the Doctor of Pharmacy curriculum, the American Society of Health-System Pharmacists-accredited geriatrics residency, and a two-year post-PharmD fellowship. Recently, Brandt helped launch the Elder Care Medicine Network, a collaborative effort between three regional partners that aims to engage local communities in medication related patient-centered outcomes research. In addition to her academic responsibilities, Brandt has consistently maintained a practice as a clinical or consultant pharmacist specializing in the care of older adults.
A past president of the American Society of Consultant Pharmacists (ASCP), Brandt also has been active in AMDA – The Society for PALTC Medicine, speaking at many AMDA conferences and publishing in the journals Caring for the Ages and JAMDA.
"Dr. Brandt has been a regional and national leader in geriatric and long-term care for many years, and I am thrilled that she has been recognized as such," says Jill Morgan, PharmD, BCPS, BCPPS, professor and chair of PPS. "Dr. Brandt sets a high standard for balancing clinical responsibilities with teaching and administrative work. Her leadership has resulted in the creation of enduring resources for the post-acute and long-term care clinical community and for trainees across disciplines."
Brandt has led several projects that have focused on Medicare Part D Medication Therapy Management programs, high risk medications, and stewardship of antimicrobials and psychotropic medications. She served as a co-chair of and partnered with several colleagues and the United States Deprescribing Research Network to develop and widely disseminate a Deprescribing Implementation Guide for Post-Acute and Long-Term Care during the COVID-19 pandemic. She is also a co-author of the past three versions of the American Geriatrics Society Beer's Criteria.
"I have been fortunate and honored to work with Dr. Brandt in interdisciplinary education for many years, and I am so thrilled she is the first pharmacist to receive this award from PALTC," says Barbara Resnick, professor and the Sonya Ziporkin Gershowitz Chair in Gerontology at the University of Maryland School of Nursing. "I have seen Dr. Brandt's dedication to improving the lives of older adults, but she is also a skilled educator focused on exposing students and clinicians to educational opportunities in geriatrics."
Related News Stories