PATIENTS Partnerships Come Full Circle
Early supporters of the PATIENTS Program now serve together at a non-profit organization to champion patient-centered advocacy.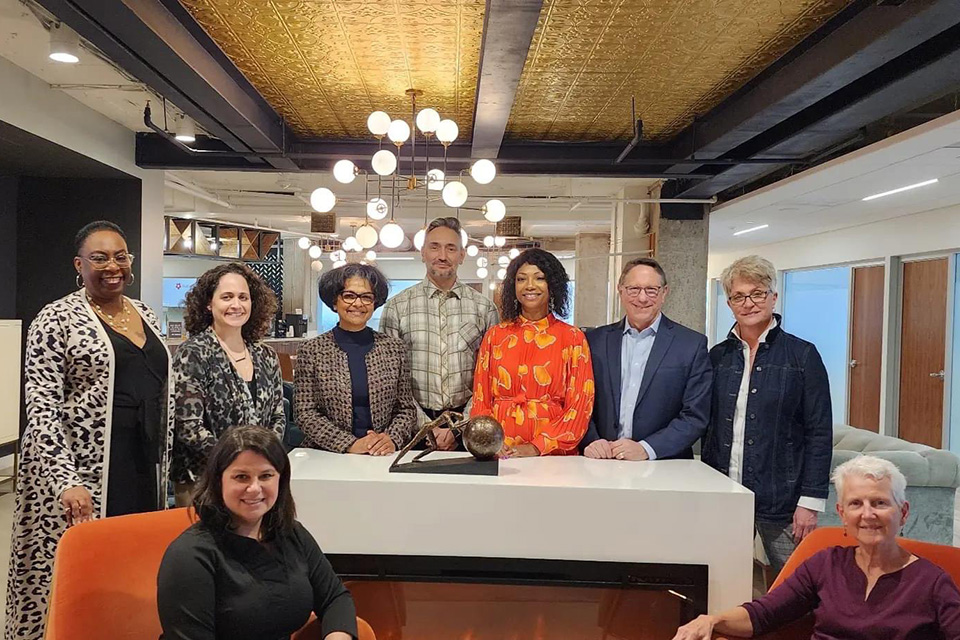 By Emily Parks
July 27, 2023
Featured image: Gail Graham (left) and Jennifer Moore (seated on left) along with other IMI governing board members.
Ten years ago, Gail Graham had barely heard of the PATIENTS Program and wasn't interested in contributing to research by sharing her experience living with HIV.
Ten years ago, Jennifer Moore, PhD, RN, FAAN, was a senior advisor and health scientist with the Agency for Healthcare Research and Quality (AHRQ), overseeing the implementation of the organization's grant awards. As an AHRQ program officer working with the Patient-Centered Outcomes Research Institute (PCORI), Moore was about to play an active role in shepherding the University of Maryland School of Pharmacy's PATIENTS Program from an idea to reality.
Ten years ago, the PATIENTS Program received an AHRQ $5 million Patient-Centered Outcomes Research Infrastructure Development (R24) grant. That was also when Graham was introduced to C. Daniel Mullins, PhD, executive director of the PATIENTS Program and professor in the Department of Practice, Sciences, and Health Outcomes Research, by her pastor, Franklin Lance. Graham resisted working with the PATIENTS Program, as so many groups had come into her community to collect data or biospecimens only to never come back with the results.
That all changed when she saw how Mullins and the PATIENTS Program engaged with the community at World AIDS Day, an event hosted by Graham at her church, Mt. Lebanon Baptist Church.
"They were talking to people and holding their hands," Graham said. "They showed a real respect for the community."
Graham and Moore Connect
Two early supporters of the PATIENTS Program, Graham and Moore now work together at a non-profit organization, Institute for Medicaid Innovation (IMI). Moore is the founding executive director and Graham is a governing board member.
IMI is a non-profit and nonpartisan community power-building organization that works to provide solutions to important clinical, research, and policy issues surrounding Medicaid, which provides health coverage to millions of Americans, including eligible low-income adults, children, pregnant women, elderly adults, and people with disabilities. The program is funded jointly by the states and the federal government.
To remain relevant and responsive to the evolving needs of the Medicaid population, IMI seeks to understand what works well in the Medicaid program, identify areas for improvement, and share innovative initiatives and solutions that address these critical issues.
Graham met Moore, both past Medicaid enrollees, at a speaking engagement and said she felt an "instant connection."
"To be on a board that can make a difference to consumers, that listens to the voices of consumers, I'm proud to be a part of that," Graham said. "Like the PATIENTS Program, IMI is about people. IMI listens to what I have to say and stops and asks me what I think. IMI is about working with health care professionals and the community to make a difference in the community and make an impact on Medicaid that benefits everyone."
Maintaining Connections to the PATIENTS Program
Over the past 10 years, Graham has served on several patient advisory boards on research projects with the PATIENTS Program and continues to use her voice as a PATIENTS Professor with the PATIENTS Professors Academy, a five-week, online program that connects and trains patients, caregivers, community leaders, health care professionals, and others about patient-centered outcomes research.
Graham credits the PATIENTS Program with helping grow her confidence as an advocate, which informs her role as an IMI board member.
"I learned not to be scared, to speak up with questions, always be prepared to ask to get information ahead of time," Graham said. "The patient's point of view has value. Your lived experience will mean something in the long run, and the community needs to know they have value."
Moore recognizes the intersection between the work of IMI and the work of the PATIENTS Program. She appreciates how both are grounded in communities and equity and value the contribution of a person's lived experience to policy and research.
These qualities of the PATIENTS Program have been around since its inception a decade ago, back before Moore helped launch the program through the AHRQ grant and community members like Graham began providing their voice to research. Graham and Moore's lived experiences as Medicaid enrollees inform their work, and Graham's lived experience with HIV fuels her passion for addressing issues surrounding HIV.
Graham and Moore are committed to advancing the lived experience of those in the Medicaid community and are excited for their continued partnership.
"The PATIENTS Program was an organization that took working with communities, individuals, and families most seriously and really emphasized the importance of lived experience," Moore said. "They led academia to work with communities and weave their lived experience and voice into research projects."
Related News Stories