P-SHOR Researchers Find Unintentional Impacts from Antipsychotic Reduction Initiative
Journal article examines 2012 federal policy shift.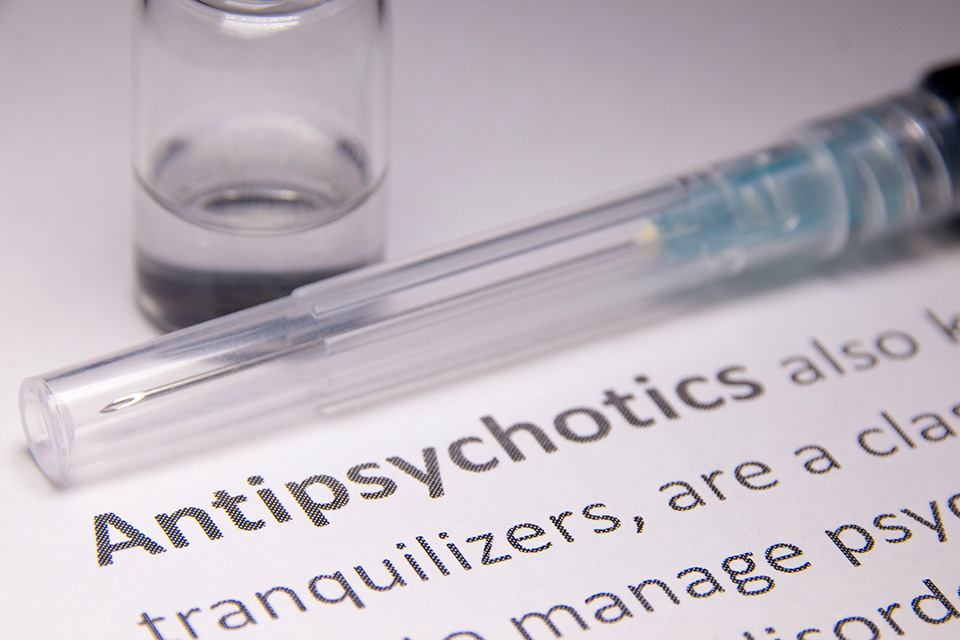 By Andrew Tie
April 20, 2023
Pharmaceutical health services scholars at the University of Maryland School of Pharmacy have found that a decade-old federal policy meant to reduce antipsychotic medication usage led to several unintended consequences.
Danya Qato, PhD, PharmD, MPH, associate professor in the Department of Practice, Sciences, and Health Outcomes Research (P-SHOR), and Linda Wastila, PhD, MPH, professor in P-SHOR and the Parke-Davis Chair in Geriatric Pharmacotherapy, have been researching the effects of the policy, called the antipsychotic reduction initiative (ARI), as part of their work with the School's Peter Lamy Center on Drug Therapy and Aging.
In an article published in the Journal of the American Geriatrics Society, Qato, Wastila, and other colleagues analyzed the impact of the 2012 ARI by the Centers for Medicare and Medicaid Services (CMS) on medication use and diagnosis patterns. CMS established the ARI to reduce high rates of antipsychotics given to long-term nursing facility residents with dementia or Alzheimer's disease.
After the implementation of the policy, those rates declined by more than 40 percent among individuals with Alzheimer's disease. However, the researchers also found that antipsychotic use declined in untargeted populations that had a recommendation for antipsychotic use, such as residents with bipolar disorder. The study further found that nursing home residents exempted from the policy due to diagnoses of schizophrenia, Huntington's disease, and Tourette's syndrome—all conditions in which antipsychotics play a vital treatment role—also experienced dramatic reductions in antipsychotic use.
"If you only look at a very basic measure and ask—did the ARI reduce antipsychotic use? —the answer is simple, yes it did. But that's not the only way we should measure the success of a health policy," said Qato, who is the corresponding co-author of the paper. "We wanted to assess the full scope of the impact of the ARI and ask more pointed questions, such as: Who did it reduce antipsychotic use in, and were these residents then started on other potentially inappropriate psychotropic agents?"
Another impact of the ARI is that the usage rate of seizure medications, such as gabapentin, and muscle relaxants increased while the rate of antipsychotics was decreasing.
"Our study demonstrates that many medication management policies, such as the ARI, can be too blunt a tool to modify potentially suboptimal prescribing," said Wastila, director of research for the Lamy Center and principal investigator of the NIH's National Institute on Aging grant that funded this research. "The drastic reduction in antipsychotics spilled over to unintended recipients, including vulnerable nursing home residents who likely required antipsychotics for their conditions. Beyond the medication substitution of seizure medications and muscle relaxants, however, we do not yet know the clinical and quality of life ramifications of reduction in antipsychotic medications in nursing home residents with schizophrenia, bipolar, and other relevant conditions."
Preliminary analyses of the data also suggest other patient groups may be differentially impacted by the ARI, including younger Medicare beneficiaries who qualify for disability, as well as racial and ethnic nursing home residents. More difficult to understand is the impact of the ARI on mortality and morbidity. The study team is continuing to pursue research related to the impact of the ARI on hospitalization, with a focus on differential hospitalization rates among racial and ethnic minorities predicated on antipsychotic use differences.
Related News Stories