M-CERSI Workshop Explores Advances, Challenges in Pediatric Drug Development
More than 100 researchers from academia, government, and industry come together to share existing knowledge, new approaches, best practices, and continued challenges in pediatric drug formulation.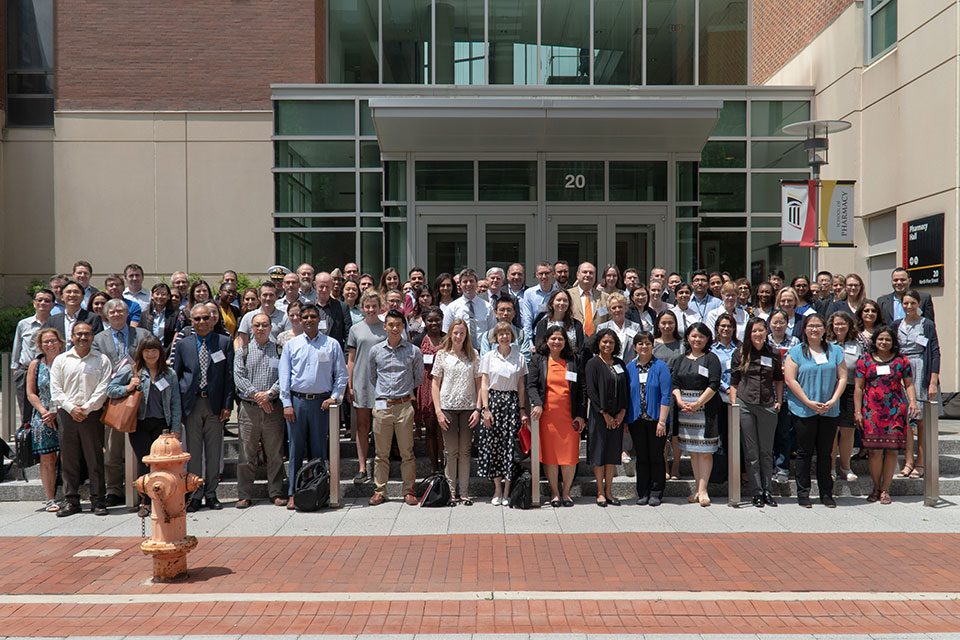 By Malissa Carroll
September 9, 2019
The University of Maryland School of Pharmacy welcomed more than 100 researchers from across academia, government, and industry to Pharmacy Hall this past summer for "Pediatric Formulation Development: Challenges of Today and Strategies for Tomorrow." Sponsored by the University of Maryland Center of Excellence in Regulatory Science and Innovation (M-CERSI), and in collaboration with IQ Consortium, this two-day workshop explored the formulation, analytical, and clinical elements of pediatric drug development, and featured perspectives from both regulatory agencies and industry.
"M-CERSI offers us a unique opportunity to bridge academia, industry, and regulatory agencies, and host a forum through which we can come together to share information with each other," said Stephen Hoag, PhD, professor in the Department of Pharmaceutical Sciences (PSC) at the School of Pharmacy and organizer of the workshop. "Everyone who works in the field of pediatric drug development faces similar challenges, and the goal of this workshop is for us to work together to learn what the best practices might be to address some of those barriers to optimal pediatric formulation development."
Pediatric drug development continues to be an important area of interest for both the pharmaceutical industry and regulatory agencies. The field presents a number of unique challenges not often encountered in drug development for adults, including the need to develop formulations that are easy to swallow, have a desirable taste, and use minimal excipients (inactive ingredients). This workshop expanded on a previous M-CERSI conference held in 2016, which aimed to identify challenges and strategies to facilitate formulation development of pediatric drug products. Featuring a combination of presentations and interactive, small group breakout sessions, the workshop aimed to identify the key barriers that inhibit the development of pediatric formulations, as well as develop strategies for addressing those barriers that leverage resources available across academia, industry, and regulatory agencies.
The workshop kicked off with a short presentation from Trupti Dixit, PhD, pharmaceutical consultant at Navigant Pharma Consulting. The presentation provided highlights from the 2016 M-CERSI conference, which featured six sessions that addressed a wide range of topics in pediatric drug development, including age-appropriate formulations, use of excipients, and potential effects associated with co-administering pediatric medications with food. Arzu Selen, PhD, associate director of scientific development in the Office of Testing and Research and Office of Pharmaceutical Quality at the U.S. Food and Drug Administration (FDA), followed Dixit with a presentation that outlined expectations for the current workshop.
"Pediatric patients account for one-third of the total patient population in the United States," said Selen. "Advancing pediatric formulations represents a tremendous area of unmet need – one of significant global impact, as evident in the ever-increasing need for accessible, age-friendly pediatric medicines and acceptable drug products to help ensure adherence to prescribed treatments."
She added, "But, it is also an incredibly complex challenge that will require many individuals across academia, industry, and regulatory agencies working together to resolve."
Karen Thompson, PhD, senior principal scientist for preclinical development at Merck, delivered a presentation that offered an industry perspective on pediatric formulation development. She noted that there are multiple factors that drive this field – including the patient's age, the medication's dosage form, and active ingredients used – and emphasized that, although advancements have been made, continued change will be gradual.
"Industry is evolving in the way that we get the proper tools in place to help further the development of pediatric drug formulations," said Thompson. "We will get to a place where developing these new formulations becomes second nature to us, but it will be a gradual change. It is going to take time, and it is going to take continued interaction among researchers like you, sharing your experiences and the challenges that you have had to overcome."
Breakout sessions held during the workshop offered attendees an opportunity to explore some of the barriers and challenges to pediatric drug development identified in the presentations in more detail. Topics addressed included dosing vehicles, mini-tablets, study design, and regulatory lessons learned.
Researchers and regulators had an opportunity to come together during the meeting to share ideas to improve pediatric medications and speed up their development.  Slides from the presentations delivered during the conference are available on the event website. A poster session was also held to further encourage participants to network and explore some the current research being conducted in the field.
"Technology has improved our capability to produce palatable and swallowable formulations," said Ann Zajicek, MD, PharmD, deputy director for the Office of Clinical Research at the National Institutes of Health. "However, these advances have not truly translated into much daily improvement in formulations. Attending this workshop has been an eye-opening experience. We are actually 'talking turkey' and developing strategies that will help us determine how to best address these challenges."
Related News Stories