Jill Hamilton Named UMB's August Employee of the Month
Contracts and grants specialist is recognized for her work on the Staff Senate and for embodying the University's core values.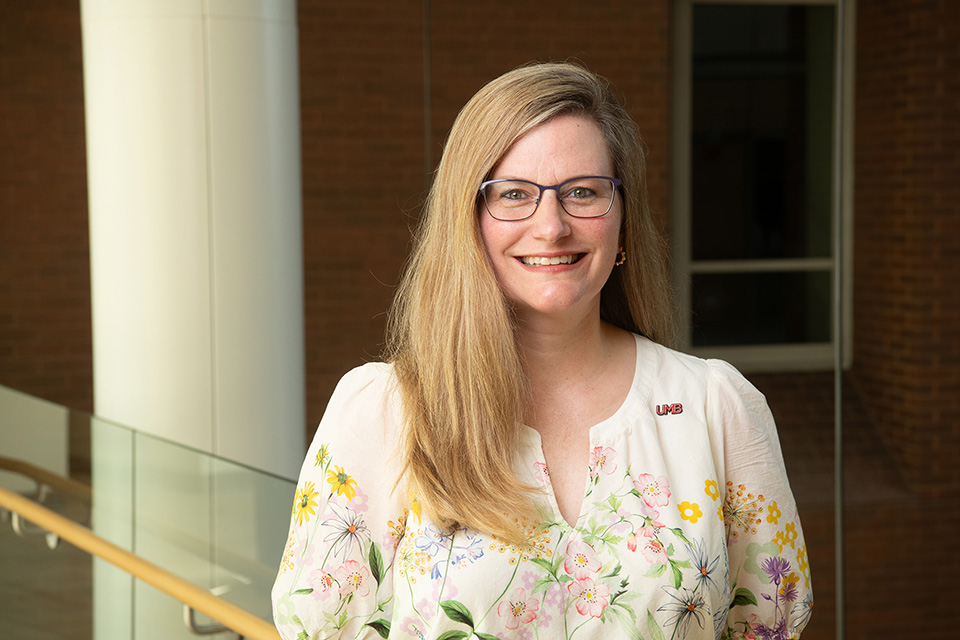 By Jen Badie
August 29, 2023
For a year, Jill Hamilton, MSW '01, attended the University of Maryland, Baltimore's (UMB) Employee of the Month meetings as a member of the UMB Staff Senate, cheering on colleagues from across the University and their many accomplishments.
On Aug. 8, it was Hamilton's turn to be recognized. UMB President Bruce E. Jarrell, MD, FACS, surprised the contracts and grants specialist from the University of Maryland School of Pharmacy (UMSOP), whose term as vice president of the Staff Senate ended this summer, with the news that she was UMB's August Employee of the Month. He was joined on the videoconference by Hamilton's UMSOP colleagues and many members of the Staff Senate who nominated her for the award.
"I had the pleasure of reading your nomination, and a whole lot of people chimed in singing your praises, and you're certainly deserving of this award," Jarrell told Hamilton.
In her role at UMSOP, Hamilton ensures that the post-award process goes smoothly for faculty in the Department of Practice, Sciences, and Health Outcomes Research (P-SHOR).
"I do the monitoring and the due diligence with making sure we are spending funds correctly, meeting the deadlines of the sponsors, and keeping our faculty informed of the grant progress on the post-award side," Hamilton said.
She said one of her favorite things about her job is making sure grant sponsors pay invoices, which requires persistence and being deadline-oriented.
"I take great pride in meeting deadlines. If you give it to me, it will be done," Hamilton said. "Getting invoices paid by sponsors can be a challenge, so I enjoy that. I love how there's so much to learn in this job, because we work with so many different sponsors."
Hamilton's supervisor, Megan Young, accounting director, P-SHOR, praised her teamwork.
"She really hit the ground running here on campus. And she's just grown and done wonderful things all across the department and campus," she said. "I'm so grateful I get to work with her every day."
Hamilton said she feels like she makes a difference in her UMSOP role.
"All these little things matter in the puzzle of creating grants and getting the grants. I support the work, so I'm doing good for the world," she said.
Shortly after Hamilton started working at UMB almost five years ago, she decided to become involved with the Staff Senate. During her tenure from 2019 to 2023, she was a senator, member at large, secretary, and vice president. Her colleagues praised her for her dedication, leadership, and the example she sets.
"Whether it is monitoring the various projects and initiatives that are in development, stuffing bags for donations, engaging with leadership in the President's Boardroom, or hopping on a call to talk strategy, Jill is the consummate leader. It was a boon to have her skill set on advancing UMB through the Staff Senate," said Staff Senate President Aaron Graham, JD, associate director of career development at the University of Maryland Francis King Carey School of Law, who led the nomination process for Hamilton.
"Jill's work ethic and commitment to excellence are outstanding. She consistently goes beyond to ensure that her work is completed to the highest standard, and she is highly regarded by her colleagues and peers. Her attention to detail, mind for structure, and battery of procedural knowledge are just some examples of her abilities."
Taylor DeBoer, MA, assistant director, the Graduate Research Innovation District, and Staff Senate member at large, agreed.
"Jill is an extremely organized, motivated, and detail-oriented leader. She's always prepared and never skips a beat," he said. "Working with her through the Staff Senate has been one of the joys of my time at UMB. She sweats every detail of every project with thoroughness and thoughtfulness."
Tim Casey, MBA, PMP, SPHR, SHRM-SCP, director, Business Analytics and Assessment, University of Maryland School of Dentistry, transitioned to Staff Senate secretary after Hamilton had held the role.
"In addition to her effectiveness, Jill has an irrepressibly cheerful outlook," he said. "I have heard repeated pronouncements of 'teamwork makes the dream work' and 'we have a strategic plan. … it's called doing things.' As humorous at they are, Jill lives these mantras and maintains a continuous direct course toward mission success at UMB. Jill supports routine and special events on campus and has devoted innumerable hours as a volunteer in support of the mission and vision of the University."
Hamilton said meeting people during her time on the Staff Senate was a highlight and added that she always felt heard by UMB's leadership.
"Shared governance is real on our campus with our president and our leaders," she said. "Because we advocate, it doesn't mean they're going to change everything, but they do listen. You may not get what you want, but they are listening to the concerns and doing the best they can for our staff."
Hamilton is serving as a co-chair for the Employee Well-Being Committee on the Future of Work Task Force. She also served on the yearlong Core Values Implementation Planning Committee, which is fitting since many of her colleagues said that she truly embodies the University's core values.
"When I think of core values, I think of Jill Hamilton," said Karen Park, MA, MBA, director of strategic projects and chief of staff to the chief business and finance officer/senior vice president for administration and finance who served with Hamilton on the core values committee.
Hamilton, who will receive a plaque, a letter of commendation, and an extra $250 in her next paycheck, thanked her Staff Senate colleagues who nominated her for the award.
"I'm just really excited to have won the award. We work with phenomenal people who do phenomenal things," she said. "I'm in the company of amazing, hardworking staff. I feel honored to be a part of people who improve the human condition. If I can make it so people get their grants and they get more funding, and it makes it so something can be discovered and help make the world a better place to be, I'm in."
Related News Stories