Fourth-Year Students Make "Matches" for Pharmacy Residency Programs
Pharmacy residency programs across the country find out who is joining their programs next year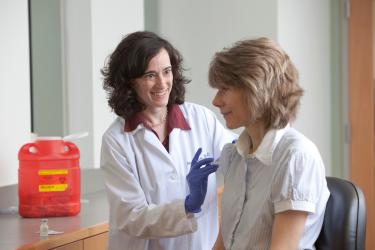 By Becky Ceraul
March 27, 2012
In a phenomenon known as Match Day, pharmacy residency programs at colleges and schools of pharmacy across the country found out on March 21 which new graduates will be joining their programs as first-year residents. The University of Maryland School of Pharmacy will have 11 new residents and two new fellows in specialties such as ambulatory care, community pharmacy, oncology, pediatrics, and toxicology.
"While not required to practice as a pharmacist, residency training provides an opportunity for those exploring careers in clinical pharmacy to further build their knowledge and confidence before practicing independently in advanced clinical settings," says Kristin Watson, PharmD, an assistant professor of pharmacy practice and science and coordinator of the University of Maryland's residency and fellowship program. "Additionally, some students pursue residency training to develop skills in pharmacy administration or in working with pharmacy benefits managers. Others look to develop teaching skills for possible careers in academia. The beauty of the University of Maryland's program is that we offer a variety of opportunities for our residents to meet all of their needs."
The University of Maryland provides residency training in 13 specialty areas. Residencies are one or two years in duration, and after completing the program, trainees are prepared to become successful practicing pharmacists and obtain competitive positions in their respective specialties.
"I matched to The Johns Hopkins Hospital (JHH)," says fourth-year School of Pharmacy student Janessa Smith. "Having worked as an employee for JHH during pharmacy school, I know it will be a very rewarding experience as a pharmacy resident. I hope that completing a residency will allow me to develop my clinical skills and better refine my communication skills so that I can provide the best possible patient care as a future clinical pharmacy specialist."
"I'm thrilled to have matched with the School of Pharmacy's Community Residency Program," says fourth-year School of Pharmacy student Taemi Cho. "As a resident, I will learn to develop and implement patient care initiatives that will directly impact the local community. The program also provides opportunities to receive comprehensive training while also taking part in world-class research and teaching. The School's residency program will position me to be a thought-leader in pharmacy, particularly as the field continues to expand and evolve."
Related News Stories