Center for Translational Medicine Receives $1.7 Million Gift in Kind
Gift of software will benefit students in the School's Master of Science in Pharmacometrics program and aid researchers in the Center for Translational Medicine.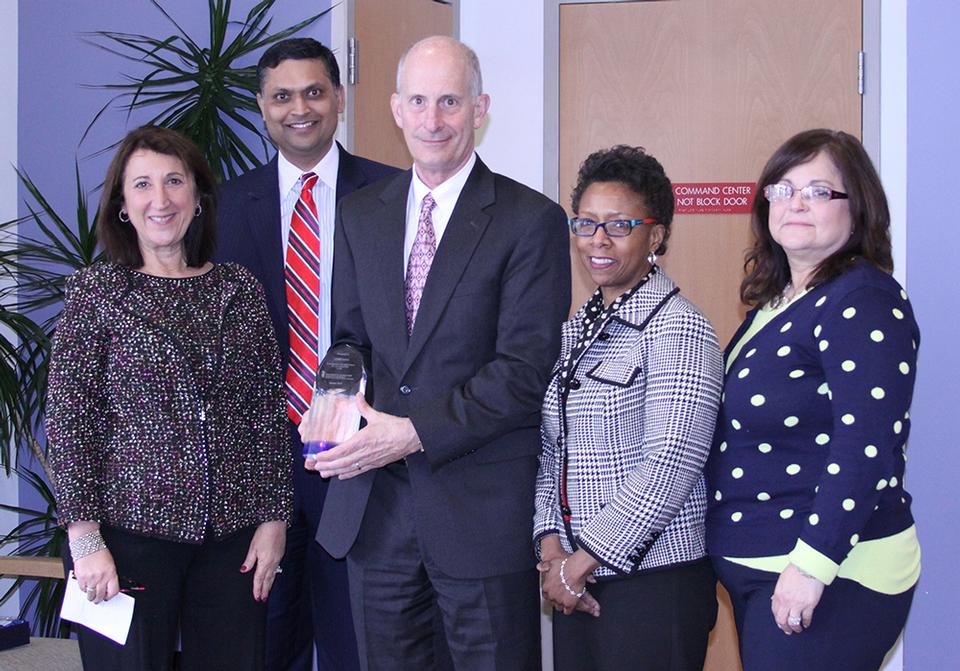 By Becky Ceraul
February 13, 2015
The Center for Translational Medicine (CTM) at the University of Maryland School of Pharmacy has received a $1.7 million gift-in-kind from Certara, a leading biosimulation company that provides technology-enabled solutions to the global biopharmaceutical industry. The gift consists of software and licenses that will be used in the Center's educational and research initiatives.
A reception was hosted at the School of Pharmacy on Jan. 29 to thank Certara for their support of the CTM, its faculty, staff, and students.
"This gift brings together the CTM's research, clinical, and educational expertise with Certara's IT infrastructure with the ultimate goal of generating new, innovative approaches to improve population health," said Natalie D. Eddington, PhD, FAAPS, FCP, professor and chair of the School of Pharmacy and executive director of University Regional Partnerships, in her remarks. "The collaboration between academia and industry is one that leads to new and improved treatments for chronic and acute diseases. On our own, it is difficult to move scientific concepts for new drugs and improved drug delivery techniques into the hands of those who need them most – the patients. Working together and harnessing our collective ingenuity, we are more likely to make a significant and real impact on human health. I am proud of the Center for Translational Medicine's partnership with Certara and offer my thanks and gratitude for the support Certara has shown to the School."
The CTM was founded in the Department of Pharmacy Practice and Science (PPS) at the School of Pharmacy in 2011 by Joga Gobburu, PhD, a professor in PPS who came to the School from the United States Food and Drug Administration. The Center analyzes and summarizes data from experiments and clinical trials using quantitative disease, drug, and trial models with a goal of reducing the time it takes to bring a drug to market. Its quantitative models, along with cutting-edge development techniques such as adaptive and enrichment trials, are integrated into tools that drug developers, regulatory agencies, and other research organizations can use to guide decisions pertaining to "go/no-go", dosage, patient population, design, endpoint, analyses, and therapeutics choices.
Certara's support of the CTM dates to 2012, when it named the CTM as one of its Centers of Excellence, a designation that provides opportunities for collaboration amongst the two groups through topical lectures and webinars on the application of model-based approaches to improve drug development knowledge and decision making.
Certara's recent gift is in the form of a software platform called Phoenix, which is being used to teach pharmacometrics principles to students enrolled in the School's online Master of Science in Pharmacometrics program. According to Vijay Ivaturi, PhD, a research associate professor in PPS who works with Phoneix, the software is one of the best tools to teach these concepts. "It makes learning easy due to its graphical user interface and the vertical alignment of features such as data preparation, modeling, and diagnostics. It has become an extremely valuable tool in our Master's program."
According to Certara, a published paper and survey from the International Consortium for Innovation and Quality in Pharmaceutical Development published by the American Association of Pharmaceutical Scienctists in February 2015 stated that Phoenix WinNnonlin was used by 100 percent of the leading pharmaceutical companies surveyed to support preclinical drug research.
"Certara's partnership with the Center for Translational Medicine at the School of Pharmacy is a wonderful example of industry-academic collaboration," says Daniel Weiner, PhD, a scientific advisor at Certara. "The CTM brings a unique regulatory and academic perspective on what the needs of its students are and how to work with us to address those needs. Certara brings a long history of developing scientific software and consulting in the support of model-based drug development. Students in the MS in Pharmacometrics program get the benefit of working with our dynamic software, and we get the benefit of receiving feedback on how to improve it. This collaboration also helps build the next cohort of pharmacometric scientists, a profession that is growing within the drug development industry."
"It is a great asset for a practice department to house a center focused on translational medicine and pharmacometrics research," says Magaly Rodriguez de Bittner, PharmD, professor and chair of PPS. "The Center for Translational Medicine complements our rich portfolio of practice initiatives with its emphasis on shortening the time it takes to bring a new medication to market and ultimately to the patients for whom we care. Certara's support of the department and the CTM demonstrates their commitment to improve medications for the treatment of chronic and acute diseases. We thank them for their partnership and support."
Certara is the global biosimulation technology-enabled drug development and drug safety consulting company. Its customers include hundreds of biopharmaceutical companies around the globe, together with several regulatory agencies. Certara's solutions, which span the discovery, preclinical and clinical stages of drug development, enable data-driven decisions, leading to more precisely designed trials with a reduced risk of failure and improved subject safety.
Related News Stories