Brandt Honored with ASCP's George F. Archambault Award
National award is presented each year to an individual who has made significant contributions to the field of consultant and senior care pharmacy.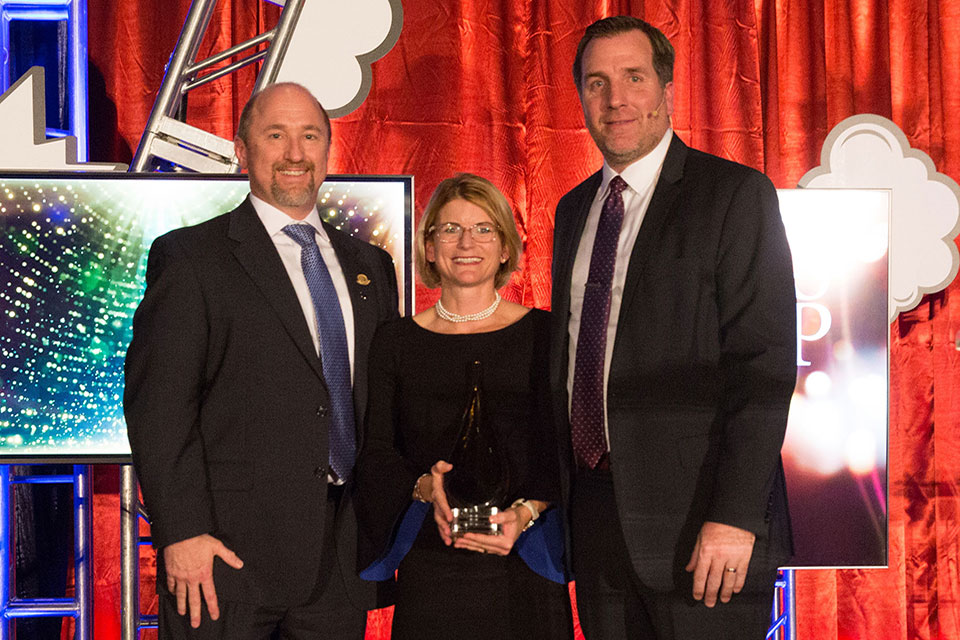 By Malissa Carroll
January 10, 2019
Nicole Brandt, PharmD, MBA, BCPP, CGP, FASCP, professor in the Department of Pharmacy Practice and Science (PPS) at the University of Maryland School of Pharmacy, was awarded consultant pharmacy's highest honor in late 2018 – the American Society of Consultant Pharmacists (ASCP) George F. Archambault Award. Named in honor of the "father of consultant pharmacy," the George F. Archambault Award is presented each year at ASCP's annual meeting to an individual who has made significant contributions to the field of consultant and senior care pharmacy.
Brandt, who also serves as executive director of the Peter Lamy Center on Drug Therapy and Aging at the School of Pharmacy, joins a distinguished list of past award recipients, including two of the Lamy Center's previous executive directors: Bruce Stuart, PhD, professor emeritus in the Department of Pharmaceutical Health Services Research (PHSR), and Peter P. Lamy, PhD, ScD, former faculty member and founder of the Lamy Center.
"Our department was thrilled to learn that Dr. Brandt had been selected as the 2018 recipient of the George F. Archambault Award," says Jill A. Morgan, PharmD, BCPS, BCPPS, professor and chair of PPS. "Dr. Brandt has dedicated her career to promoting optimal medication management for older adults, and her commitment to the patients she serves is reflected across her educational, clinical, and health care policy work. And, though she has already proven herself a leader in her field, we know that she will continue to make tremendous contributions that help further advance the field of consultant pharmacy and health care for older adults."
Brandt received her Doctor of Pharmacy (PharmD) from the School of Pharmacy in 1997. She also completed a residency in geriatric pharmacotherapy at the School in 1998, before joining the faculty in 1999. She later obtained a Master of Business Administration (MBA) with a focus on health care management after completing a short sabbatical at the Centers for Medicare and Medicaid Services.
As a faculty member, Brandt has worked to expand geriatric training opportunities for student pharmacists, including developing the Geriatrics and Palliative Care Pathway to increase students' awareness and knowledge of medical issues associated with aging and advanced illness, and the principles of medication management in these populations. She also expanded the School's PGY-2 Geriatric Pharmacy Residency Program, and spearheaded the launch of a new two-year, post-PharmD geriatric pharmacotherapy fellowship within the Lamy Center, which she reinvented as the School's first cross-departmental center in collaboration with PHSR.
"Dr. Brandt has served patients in consultant and senior care pharmacy for more than two decades," says Cynthia Boyle, PharmD, FAPhA, professor in PPS, who nominated Brandt for the award. "But, nowhere is her vision and impact more evident than in her role as an educator of future pharmacists and pharmacy residents. Anyone who has seen Dr. Brandt in action knows she is an amazing educator. She brings first-hand experience from her practice into the classroom, on rotations, and in resident teaching. Her pointed questions and challenging exercises engage all of her students and trainees in the practical aspects of accountability as a practicing pharmacist and as a member of the contemporary health care team."
In addition to her work as an educator, Brandt has served on numerous interdisciplinary teams across a variety of practice settings. She has directed projects involving multiple stakeholders focused on Medicare Part D Medication Therapy Management programs, high risk medications, and medication stewardship, and is currently leading initiatives to integrate sustainable pharmacist-directed services to help improve care for older adults with multiple co-morbidities at the MedStar Center for Successful Aging.
Brandt is also an active advocate for advancing health care policy at both the state and national level. She is one of the authors of the 2012, 2015, and 2018 American Geriatrics Society Beer's Criteria – a list of medications that health care professionals should avoid prescribing or use with caution in older adults – and the past-president and board chair of ASCP.
"It is incredibly humbling to be named the 2018 recipient of the George F. Archambault Award," says Brandt. "Many people have asked me, 'How have you been able to get where you are?' The truth is that it has taken a lot of dedication, hard work, and perseverance. I feel very fortunate to have a career that not only excites and drives me, but also affords me many unique leadership opportunities that allow me to share my passion with others and impact health care policy at both the local and national level."
Brandt received her award on Nov. 1, at the ASCP national meeting in National Harbor, Md.
Related News Stories